By

Jim Karpen
Updated 09/06/2021
Whether you're new to iPhone or have been using your device for a while—there are plenty of Siri tips and tricks you may have never tried. We know Siri has opinions on the meaning of life but what other things can you ask Siri to do? There are plenty of lists on the cool and funny things to ask Siri, but what about the useful things you can ask Siri? We've got you covered with 21 awesome and useful things Siri can do, many of which you've probably never heard of. If so, consider this a nice refresher. If not, prepare to be amazed as we scale the tip of the iceberg regarding things Siri can do. From using Siri as a calculator to finding your lost iPhone, Siri can do it all. Here are 21 Siri tips to make sure you're getting the most out of this wonderfully helpful assistant. Click on the each title to read the full tip detailing just what things to say to Siri and what the AI can do.
Related: How to Use Hey Siri
It's good to note that Siri is also able to connect with third-party apps to do far more than what you'll find below. But these stand-by tips and tricks will be things Siri can do for many years to come—Siri will simply be adding a whole lot more to what it can do when iOS 10 drops.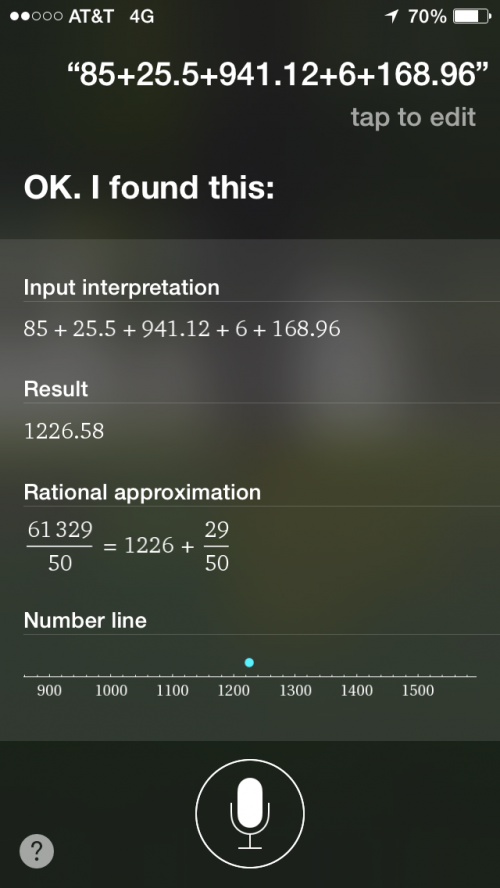 No need to tap in numbers into a calculator app. Just tell Siri "85 plus 25.5 plus 941.12 plus 6 plus 168.96." Make a mistake? Just tap to edit a number.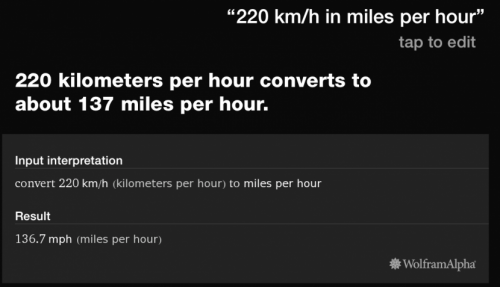 For currencies, ask Siri,"How many euros is $200?" For measurements, ask Siri,"What's 105 degrees in Celsius?" or "220 kilometers per hour in miles per hour." Siri can convert speeds, weights, fluids, temperatures, cooking measures, distance, area, time, decimals, and fractions.
Have trouble making decisions? Let Siri help by asking the AI to flip a coin. Siri can also roll the dice and pick a number. Simply ask Siri to, "Flip a coin," "Roll the dice," or "Pick a number." The latter defaults to 1 and 100, but you can specify any range.
Thanks to Siri's use of Wolfram Alpha, it knows some interesting things. Another thing you can ask Siri is, "What planes are overhead?" However Siri's use of Wolfram Alpha allows you to ask Siri a lot of other cool things such as "How many calories are in an apple?" or "What's the Morse Code for donut?" or "What's the scientific name of pheasant" or "What's the taxonomy of maple?" You can even ask Siri to give you a secure password by saying, "Wolfram password."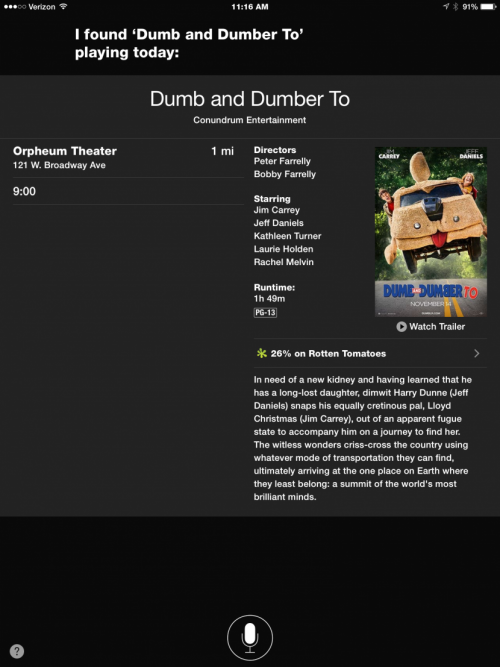 If you're in the mood for a movie, another thing you can ask Siri, "What movies are playing?" You'll get times and nearby locations as well as ratings. Or you can ask, "Show me the ratings for the movie Steve Jobs." Also, you can ask Siri to, "Show me the trailer for the movie Steve Jobs."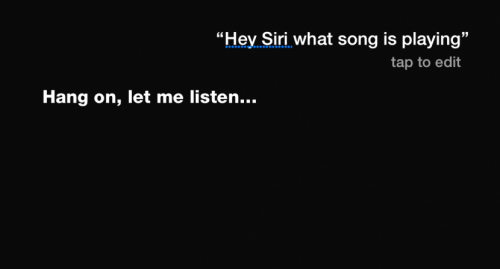 If you're hearing a song on the radio that you like and are wondering what it is, simply ask Siri, "What song is this?" or "What song is playing?" Of course, Siri will typically also give you an opportunity to purchase it. 
Launch apps with Siri by saying "Launch [app name]" or "Open [app name]." For games you can say, "Play [game name]." You can also use Siri to get apps from the App Store or to search for apps relevant to your interests in the App Store.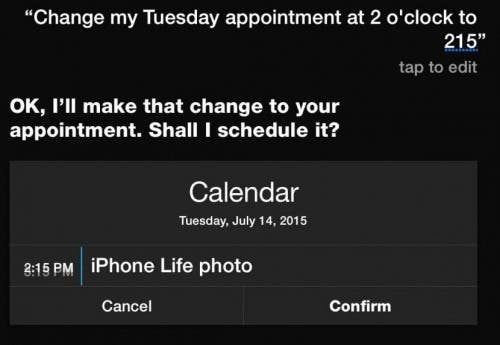 Creating an appointment via Siri is much faster than doing it manually. Simply say, "Schedule a haircut on Tuesday at 2 p.m." You can then edit that appointment by saying, "Change the time of my Tuesday appointment at 2 p.m." Siri will then ask the new time and date.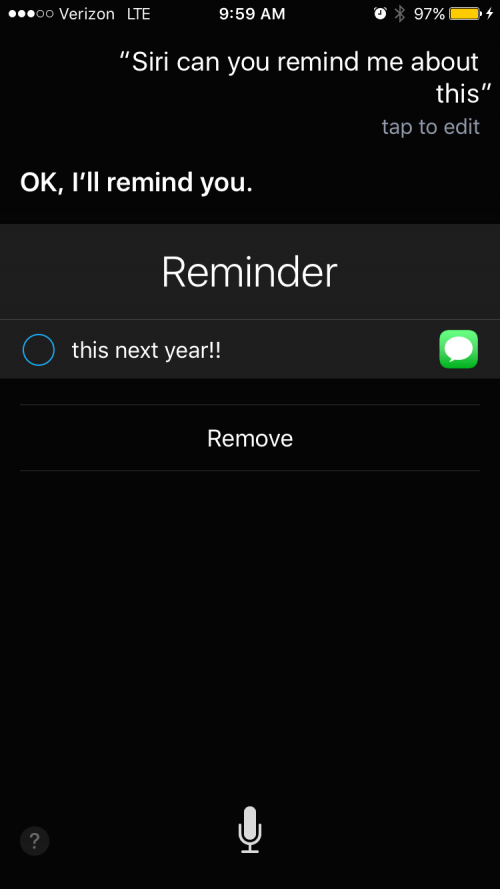 Creating reminders with Siri is a snap. Just say, "Remind me tomorrow at 10 a.m. to call my travel agent." With the Proactive feature, you can also ask Siri to remind you of something you're looking at on the screen. If you receive a text message but can't immediately reply, you can say, "Remind me to reply to this when I get home." 
To use Siri to make a Facetime call, simply say, "FaceTime [person's name]" or "Make a FaceTime call to [person's name]." If you want it to be audio only, simply say "FaceTime audio [person's name]."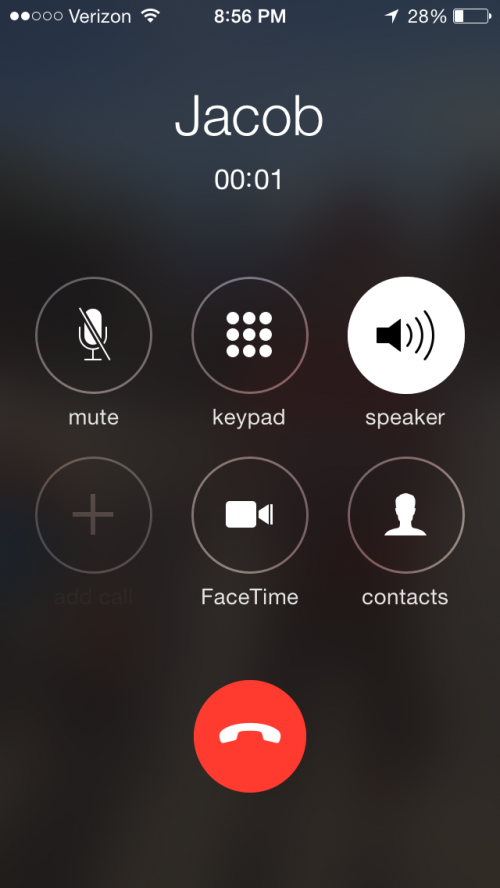 To make a call that uses the speakerphone, say, "Call [person's name] using speakerphone." If you're driving and your phone is plugged into a charger or you have an iPhone 6s, you can make a completely hands-free call by starting your request with "Hey Siri.".
If you want to see photos you took at a particular place and/or a particular time, you can simply ask Siri. For example, say, "Show me photos from Myrtle Beach last December." 
If you're planning to go out to dinner, you can say, "Make a dinner reservation for four tonight at 7 p.m." Siri will then show you a list of restaurants that have tables for four available at that time. Tap the one you want. If you have the free OpenTable app installed, Siri will make the reservation for you. Otherwise, Siri will give you the number to call.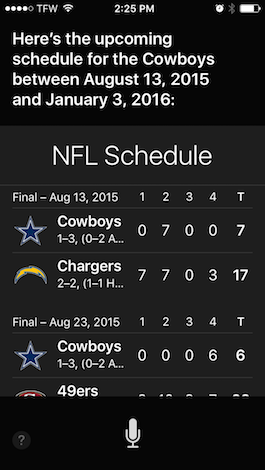 Siri can tell you scores, schedules, and more. For example, you can say, "Are the Iowa Hawkeyes winning?" of "Did the Iowa Hawkeyes win?" Also, "When are the Iowa Hawkeyes playing next?" And "Show me the season schedule for Iowa Hawkeye football."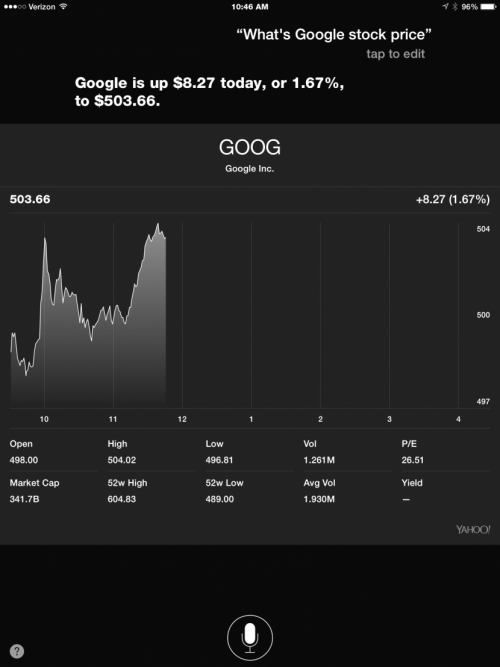 You can check a stock price or index performance by asking, "What's the price of Apple stock?" or "How is the Dow doing?" To compare performance, say, "Compare Apple and Google stock prices" or "Compare Apple and the NASDAQ." Or you can ask, "How are the markets doing?"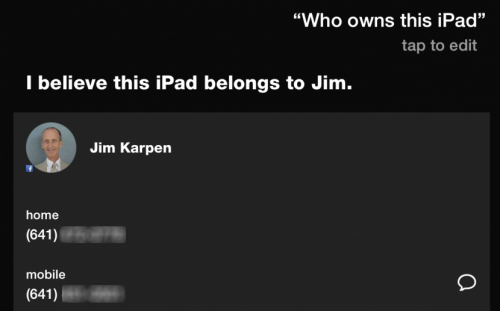 If you come across a lost iPhone or iPad and wonder who to return it to, you can simply ask Siri. Say, "Who owns this iPhone (or iPad)?" or "Who does this iPhone (or iPad) belong to?" Siri will give you the name and contact information for the person (provided the owner has enabled Siri Lock screen access in their Touch ID & Passcode settings).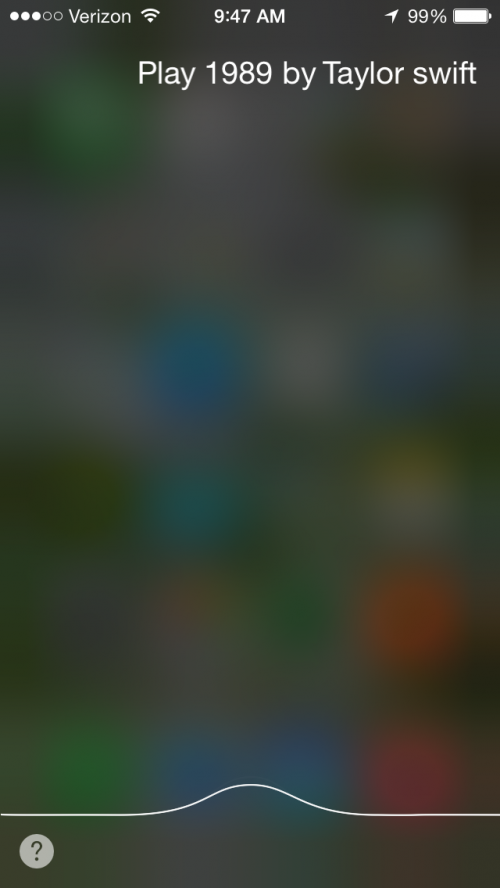 You can ask Siri to play specific songs, albums, or artists, to play a specific genre or playlist, to pause and resume, and to skip a track. For example, you can say, "Play Beethoven's Fifth" or "Play '1989' by Taylor Swift" or "Play some classic rock music."  
Use Siri to set an alarm by saying things such as "Wake me up tomorrow at 6:30 a.m" or, if you're taking a nap, "Wake me up in an hour." To change an alarm, you can say things such as, "Turn off my 6:30 alarm" or "Change my 6:30 alarm to 7:00." To set a timer, say, "Set the timer for a half hour." 
Entering text via Siri is so much easier than using the virtual keyboard, but you'll want to know how to add punctuation. As you write, just say the punctuation, too: "comma," "period," "semicolon," or "ellipsis." Add quotation marks and parentheses by saying, "open quotes," "close quotes," "open parenthesis," or "close parenthesis." 
Siri automatically adds a new reminder to the default Reminders list. But if you have add specific lists in Reminders such as Shopping, you can ask Siri to add a new reminder to a specific list. Say, "Add milk to my Shopping list." 
Finally, Siri herself will tell you all the sorts of requests you can make. Simply ask Siri, "What can I ask you?" and you'll see an extensive categorized listing of questions you can ask Siri. 
If, after all of this, you're sick of hearing Siri's voice, we can tell you how to mute Siri, or just change Siri's voice, too.