Are some of your tabs disappearing in Safari? Learn how to restore tabs on Safari on your iPhone or iPad.
By

Kenya Smith
Updated 01/09/2023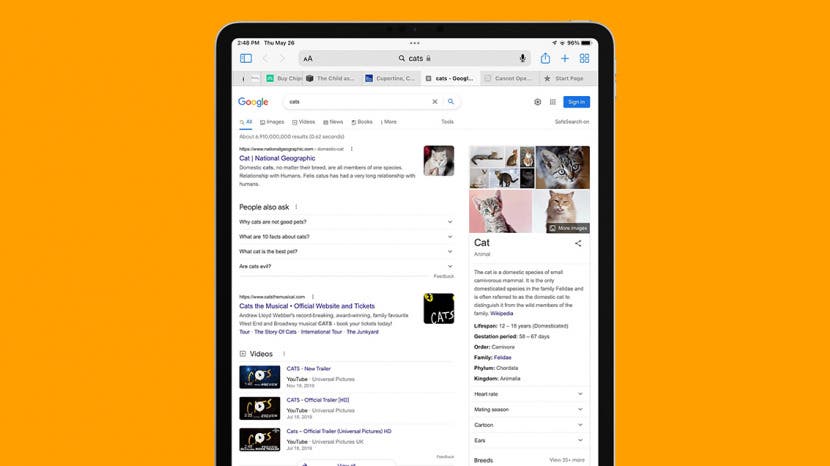 Are your tabs disappearing from the Safari app on your iPhone or iPad? Maybe you wanted to retrieve a few interesting recipes you saw online, but now the tabs for those recipes are nowhere to be seen in Safari. But don't panic! We'll show you how to retrieve those lost tabs on your iPhone or iPad. The steps will work on any iPhone running iOS 16 or iPad running iPadOS 16.
Related Article: 8 Ways to Manage Tabs in the Safari Web Browser
Jump To:
Show Missing Tabs on iPad
If you're browsing the web on an iPad and you have Safari in split-window view, then you won't be able to see your tabs. These steps will allow all your open tabs to appear in the current window. This potentially includes some tabs that weren't visible in the Tab Overview screen.
Open Safari.


Press and hold Show Tab Overview.



Tap Merge All Windows. 


The end result should be that all of your tabs will appear in the window.


Reveal the Shelf on iPad
This method will show any open windows directly above the Dock. As a result, you will be able to switch between windows and potentially reveal lost tabs. 
Long press the Safari icon in the Dock or on the Home Screen.


Select Show All Windows.



All your open Safari windows and tabs should now be visible

 
Access Recently Closed Tabs
The purpose of this method is to find and reopen tabs you may have accidentally closed. 
Open Safari.


Long press the Plus icon to view tabs that you've recently closed.



You can now locate the closed tab and tap it to reopen it.


Disable Auto-Close Tabs
Another cause of Safari tabs disappearing is a setting that automatically closes open Safari tabs after a set amount of time. This can prevent the problem of too many open tabs but can also lead to tabs you still want open getting closed. Here's how to solve this issue on your iPhone or iPad.
Open Settings.


Tap Safari.



Tap Close Tabs.


Select Manually.


Bookmark Open Tabs
Once a tab is bookmarked, you will always be able to find it, even if it's closed or your browser history is closed
Open Safari.


Select a tab.



Long press the Bookmark icon on your iPhone or the address bar on your iPad, and a menu will pop up.


Tap Add Bookmarks for [X] Tabs. The X represents the number of tabs.



Create a name for the new folder. Now you can find your saved tabs anytime by tapping the Bookmark icon in Safari


Tap Save.