By

Mike Riley
Thu, 02/13/2020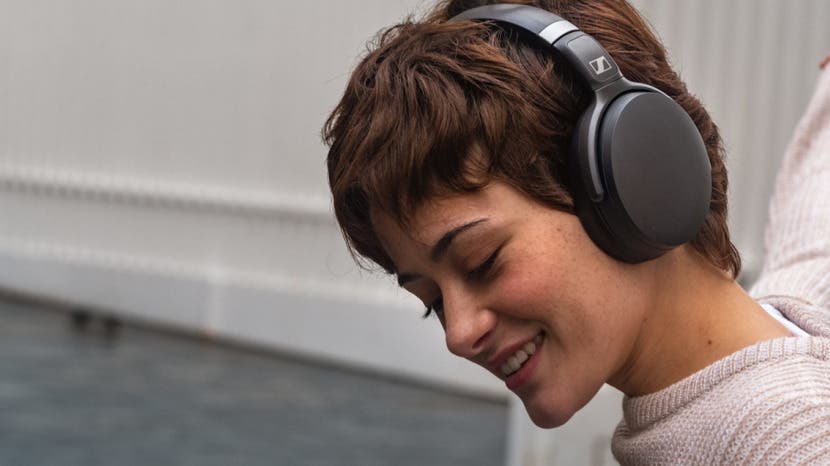 The wireless headset market is saturated, which is why I find it so interesting to see how established, expert audio manufacturers compete in such a crowded space. Some emphasize features over performance while others strive for an impeccable sonic experience with minimal features. Then there are companies like Sennheiser that strive to balance a fine line between these aspects. Read on to find out if their latest high definition headset is able to achieve this objective.
Related: Buyer's Guide: Best Bluetooth Headphones & Earbuds
The Sennheiser HD 450BT headphones ($199.95) offer Sennheiser's audio reproduction expertise in a relatively economical package (especially when compared to Sennheiser's high-end headsets). The HD 450BT mostly delivers on that intention with some compromises made in the materials used and a somewhat confusing array of control buttons on the right side of the headphones.

Discover your iPhone's hidden features
Get one daily tip each day (with screenshots and clear instructions) so you can master your iPhone in just one minute a day.
Unsurprisingly, these headphones sound fantastic. The over-the-ear cups coupled with superb active noise cancellation deliver an encapsulating sonic experience. Wearing these headphones while traveling by plane or train is akin to wearing a sonic sponge that insulates your eardrums from the cacophony of noise generated by our fast-paced modern world. I was stunned by how loud the train I ride during my morning commute was after removing the HD 450BT while testing out the headset.
Another benefit of this effective active noise cancellation is that you don't have to blast the audio volume to hear spoken conversations like podcasts and audiobooks. Doing so further protects your hearing by keeping the audio volume well below eardrum-damaging levels. That's not to say the headset's general audio volume is low. If you choose to blast the music to make your head throb, cranking the headset's volume to the max produces an extremely loud yet crystal clear listening experience.
Rounding out the headset's audio capabilities is how it can be further personalized via Sennheiser's free Smart Control app. In addition to equalizing your listening experience, the app also allows you to configure voice prompt actions and patch the headset with any firmware updates.
Another excellent feature that impressed me was the headset's 30-hour battery life. I used the headset for a full morning and my iPhone reported that the headset battery was still at 100 percent charge while my iPhone itself was at 87 percent. At that rate, I would need to recharge my iPhone at least three times before I had to worry about recharging the HD 450BT. Even if the headset required a full recharge via its USB-C charging port, doing so would only take about two hours to top off the battery.
While I am quite satisfied with the overall product, there are two minor criticisms. First, the exterior plastic shell feels a bit on the cheap side compared to other over-the-ear headsets in its price range. While it certainly makes the headset lighter, the lack of texture or leathering does signal where the company opted to compromise in order to keep the price below two hundred dollars.
Second, I found the control buttons for power, volume, and Siri requests, mixed together with the USB-C charging port and headphone cable jack initially difficult to navigate. With so many bumps and ridges to discern using the tip of my thumb, I frequently found myself pressing the wrong buttons to increase volume, trigger Siri, and power the headset on or off. While other headsets have similar layout issues, it took more mental effort to focus on the intended action compared to more intuitive controls I've used on other headphones. After a few days of use, the controls became much easier to use but I still needed to reference the manual to recall which button was power and which was for bringing up Siri, since they are nearly similarly sized but each on opposite ends of the control array.
Regardless of the button layout or the perceived quality feel of the outer shell, there is no denying that the HD 450BT sound great. If you're already a fan of Sennheiser audio equipment, these headphones will not disappoint. For the uninitiated, you may need to overlook the criticisms to truly appreciate the quality audio engineering and high quality sound that the HD 450 BT delivers.
Pros
Excellent active noise cancellation
High-quality audio
Long battery life
Cons
Plastic construction
Confusing control button array