By

Mike Riley
Updated 12/01/2021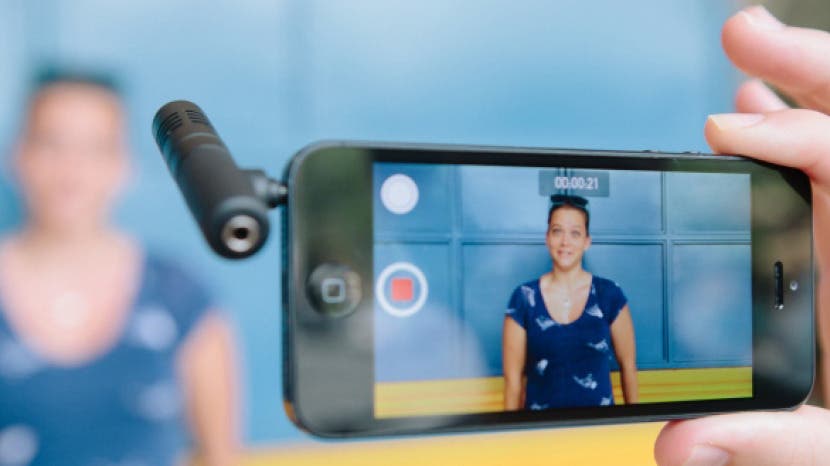 With the incredible video-processing technology embedded in Apple's latest iPhones, the optics and 4K video capture make them highly capable video cameras. Unfortunately, the most significant limitation of the iPhone's portability is the reliance on its embedded iPhone microphone to capture audio. AmpRidge has addressed this constraint head-on with two external microphones for iPhones. Let's take a closer look at what each iPhone mic has to offer iOS videographers.
Related: Editor's Choice: Best Bluetooth Wireless Headphones of 2017
AmpRidge's MightyMic S+ is a shotgun mic designed to pinpoint targeted video subjects. This small condenser microphone does a remarkable job of clearly picking up sound from several feet away while filtering out unwanted environmental noises. This iPhone mic can come in handy when recording individuals in noisy areas or when subjects in quiet environments are far away. The package also includes a foam windscreen to cover the mic during windy shoots.
In addition to the MightyMic S+ itself, the package also includes a lightning clip mount for iPhone 7 and later models that don't have a 3.5mm headphone jack. Unfortunately, the package does not include the Apple Lightning to 3.5mm Adapter ($9), so you will need to purchase this additional accessory if you want to use the MightyMic S+ on Apple's latest iPhones. Fortunately, since the mic relies on either a 3.5mm headphone jack or Apple's Lightning to 3.5mm Adapter to operate, no additional electrical sources are necessary to power the mic. The mic's housing also has headphone jack located on the back of the MightyMic S+. This gives iPhone videographers the ability to monitor audio being captured in real-time, something that can't be done reliably using Apple's built-in iPhone mic.
Given that the mic is about the size of a filter-free cigarette, I didn't expect the audio it captured to be as clear and focused as it was in my tests. It performed as advertised, doing a good job of limiting extraneous noise beyond the periphery of the individuals I was recording. Setup is slightly kludgy on headphone jack-less iPhones but the custom clip AmpRidge provides came in handy for the necessary adapter cable management. The MightyMic S+ is a bit more expensive than I expected, but I do appreciate the fact that it can be used with hardware that still have headphone jacks such as iPads and Android phones. 
In addition to the S+ shotgun model, AmpRidge offers another iPhone mic specifically designed for fully wireless audio capture. The S+ is optimal for video shoots that best rely on lapel mics such as a one with a single stage presenter or orator. The S+ is essentially a small Bluetooth microphone for iPhone smaller than a pack of gum that can be clipped on the subject's shirt to wirelessly record their speech or conversations up to 60 feet away. The MightyMic W+'s rechargeable battery lasts up to five hours of continuous use, and the package includes a short USB to microUSB battery charging cable. Unfortunately, audio from only one MightyMic W+ can be recorded at a time, limiting its use to one individual per recording (unless the other people talking to that person are intentionally making an effort to speak into the clipped S+ mic).
Companion Audio Apps for Ampridge iPhone Mics
To best utilize either iPhone mic, you'll need an app to take advantage of the mic hardware configuration. AmpRidge recommends using MightyMic Pro Recorder ($2.99) for audio recording and MoviePro ($5.99) for video recording. Both apps are quite functional and fairly intuitive to use, and they offer the additional bonus of allowing users to monitor audio while recording (a huge confidence booster to verify levels are set correctly). They also are the only way to adjust either mic's recording sensitivity, as there are no manual sensitivity controls on board the mics themselves.
Both mics also come with a zippered carry bag to help contain the package's additional wires and clips. These carry bags come in handy due to the small size of each mic and the need to keep track of them and their required accessories.
Final Verdict
If you are lamenting how your iPhone-shot videos suffer from too much audio wind shear or your subjects being recorded are too difficult to hear due to extemporaneous noise, the MightyMic S+ and W+ microphones for iPhone do a commendable job of rectifying those problems. Given the current constraints of the iPhone's embedded hardware limitations, AmpRidge's mics may be the best alternative for those videographers intent on improving audio capture when using their iPhones as their primary video capture devices.