Slide a toggle to adjust the location boundaries set for your Focus Mode so it only activates when you want it to.
By

Ashleigh Page
Thu, 10/14/2021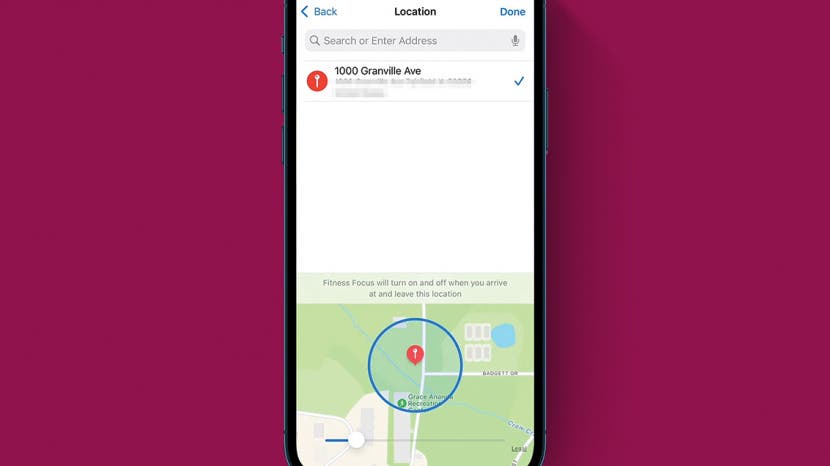 iPhone location based alerts not working? Maybe you've found that your Focus Mode is erroneously activating when you're near the set location, or is not activating even though you're at the location. In either case, we'll show you how to adjust the geofence boundaries for location alerts on your iPhone so that your location based Focus Modes will function smoothly. 
Related: How to Use Do Not Disturb for Individual Contacts on iPhone
Jump To: 
What Is Geofencing? 
In short, a geofence is a virtual perimeter set for a real-life geographic location. When you set a Focus Mode to activate at a specific address or business name, a virtual perimeter is set for that area. Then, whenever you cross that virtual perimeter, your iOS 15 Focus Mode is activated. Sometimes though, the geofences are poorly set. If a geofence is too large, your Fitness Focus Mode might activate as you are driving down the same street your gym is on. If a geofence is too small, your Focus Mode might not activate even if you are at the location. The good news is that you can adjust the size of your Focus Mode geofence by simply sliding a toggle. 
How to Adjust the Focus Mode Geofence on iPhone
Before moving on to adjust the Apple geofence for your iOS 15 Focus Mode, I recommend you first check to make sure that Wi-Fi and Bluetooth are on and that Location Services are enabled. Having these features enabled will help your iPhone to accurately determine your location. Once you've done that, follow the steps below to refine the boundaries of the location-based Focus Mode.
Open the Settings app. 


Tap Focus. 


Select the Focus Mode you want to adjust the location for. 


Tap the set location.


Because you cannot edit a location once it is set, tap Delete Automation. 


Tap Add Schedule or Automation to add the location back again. 


Tap Location. 


Type in the address or business name of the location. 


Drag the slider to adjust the geofence set for the location.


If you are having issues with being on the location and the Focus Mode not enabling, drag the slider to the right to increase the size of the geofence. 


If your Focus Mode is being enabled when you are nearby but not at the location, drag the slider to the left to shrink the geofence. 


Tap Done. 


iPhone Location Not Working? Other Solutions
If you've gone through the steps above and are still having issues with the location based alerts for the iOS Focus Mode, you may want to consider automating your Focus Mode in other ways. For more handy tips on how to get the best use out of Focus Modes or iPhone apps, consider signing up for our free Tip of the Day. 
Set a time based Focus Mode. For example, if you have a set workout schedule you can set your Focus Mode to activate at specific times during the week. This is great for any activity with a fairly consistent schedule. The best part? If you want to manually activate your Focus Mode outside of the set times, you can do so without messing up your time-based settings. 
Set an app-based Focus Mode. If you use a specific app during some of your Focus Mode activities, this is likely your best option! An example of this would be setting a Focus Mode to activate while the Books app is open. 
Manually enable your Focus Mode. This option may not be as fun, but once you've set up which apps, people, and notifications you want to silence, you can easily enable a Focus Mode with the press of a button. I'm all for automating where I can, but if this activity doesn't take place at a regular time or use a specific app, manually enabling this Focus activity is probably best.