By

Tamlin Day
Updated 03/27/2019
Last week, to very little fanfare, Apple released the iPad Mini 5, the next generation iPad Air, and the new AirPods. Apple's reason for the quiet soft-release of its new hardware was to avoid robbing attention from the March 25 announcement today in Cupertino, California. But was Apple's services-oriented announcement worth quietly releasing the highly anticipated iPad Mini 5 ahead of the event? We've got all the details on Apple's new subscription-based services, from the Apple TV Plus collection of original content to the brand new Apple Card. Read on to learn all about Apple's pricing for their new services, availability, and all of the relevant details Apple didn't share today.
Apple News Plus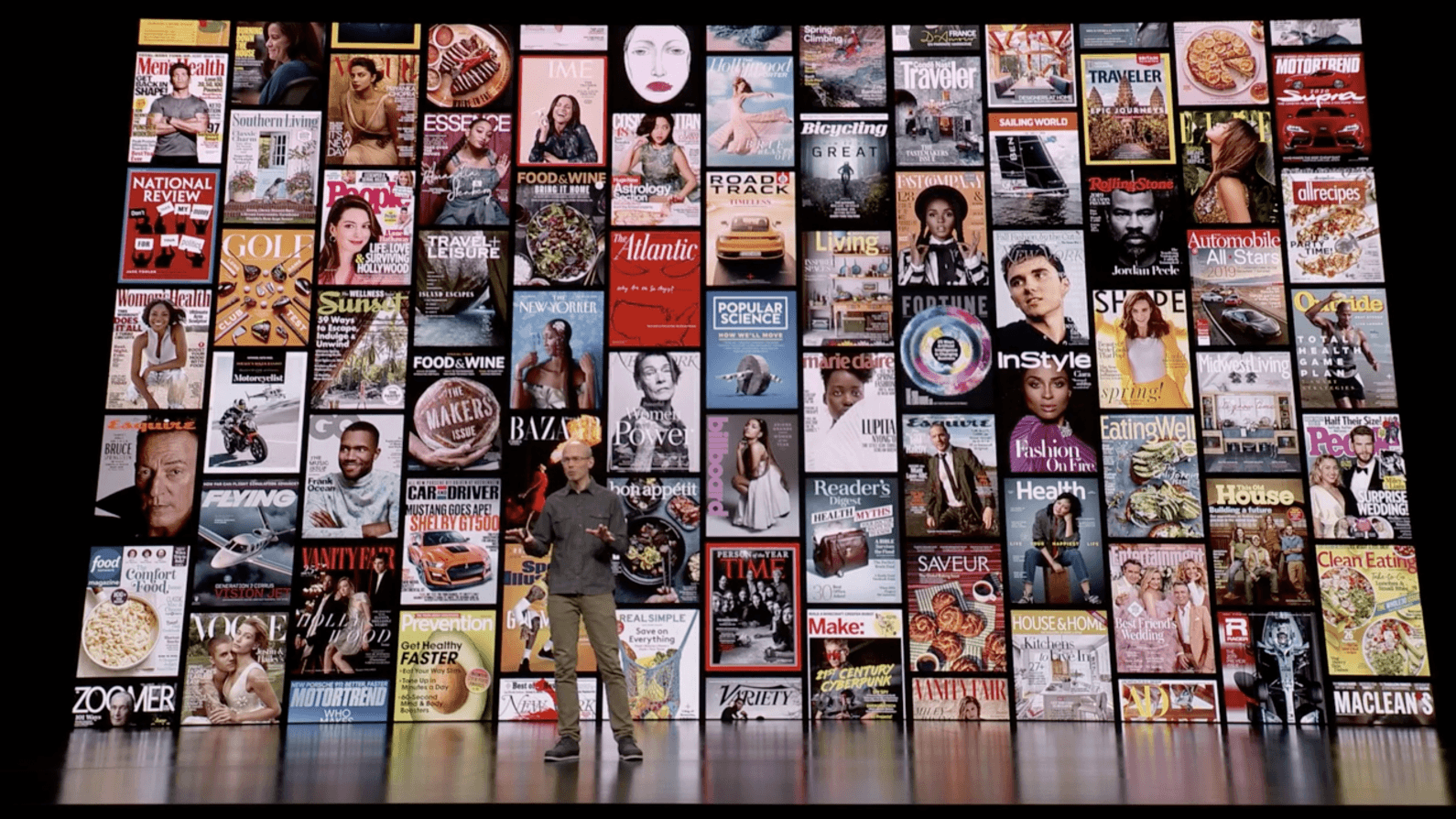 Apple is taking another stab at creating a digital newsstand, and it honestly looks pretty nice. Back in March of last year, Apple purchased Texture, a newsstand app that promised to do everything Zinio couldn't. Since then, Apple has been hard at work integrating Texture with the Apple ecosystem. The end results, available now, look sleek, interactive, and simple to navigate.
If you want to subscribe, you'll need to make sure you've updated to iOS 12.2 as well as the Apple News app. But is it worth the price? We'll break it down briefly.
For $9.99, you get access to over 300 magazines as well as a small handful (two to be precise) of newspaper subscriptions. The rumors appear correct; Apple had some difficulty selling its desired profit split to potential publications. Even given Apple's trouble with signing-on newspapers, Apple News Plus has some fun offerings in the catalog, including the Wall Street Journal, the Los Angeles Times, and National Geographic.
A big question leading up to this announcement was whether or not Apple would be able to accommodate the unique design needs of digital publications on mobile devices. The demo video eased some, but not all, of those concerns by showing off what a Live Photo looks like when applied to a magazine cover.
Beyond neat graphics, will Apple News Plus be able to offer interactive experiences to its readers that are uniquely suited to each publication? It would be difficult to apply the same format to every magazine, and many periodicals already have apps designed specifically for their content and tailored to their audience. Although the subscription service is available as of today, it will take some time to get proper reviews on how well each publication integrates within Apple News Plus. While the service is available now in the US and Canada, in both English and French, the next expansion, Australia and the UK, isn't slated until the fall of 2019.
Apple Card
Today, Apple announced its foray into the exciting world of consumer credit. Apple introduced the Apple Card, a credit card that comes with a redesigned Wallet that's basically just the fitness app with dollar signs instead of steps. That's because the Apple Card app is based on the same infrastructure that supports the Health app. The Apple Card will track your financial fitness through a complex collection of graphs, charts, notifications, and real-time fraud protection. Unlike previous iOS updates, this particular enhancement will be hidden behind a paywall; to take advantage of the Apple Wallet improvements, you'll have to apply for a credit card.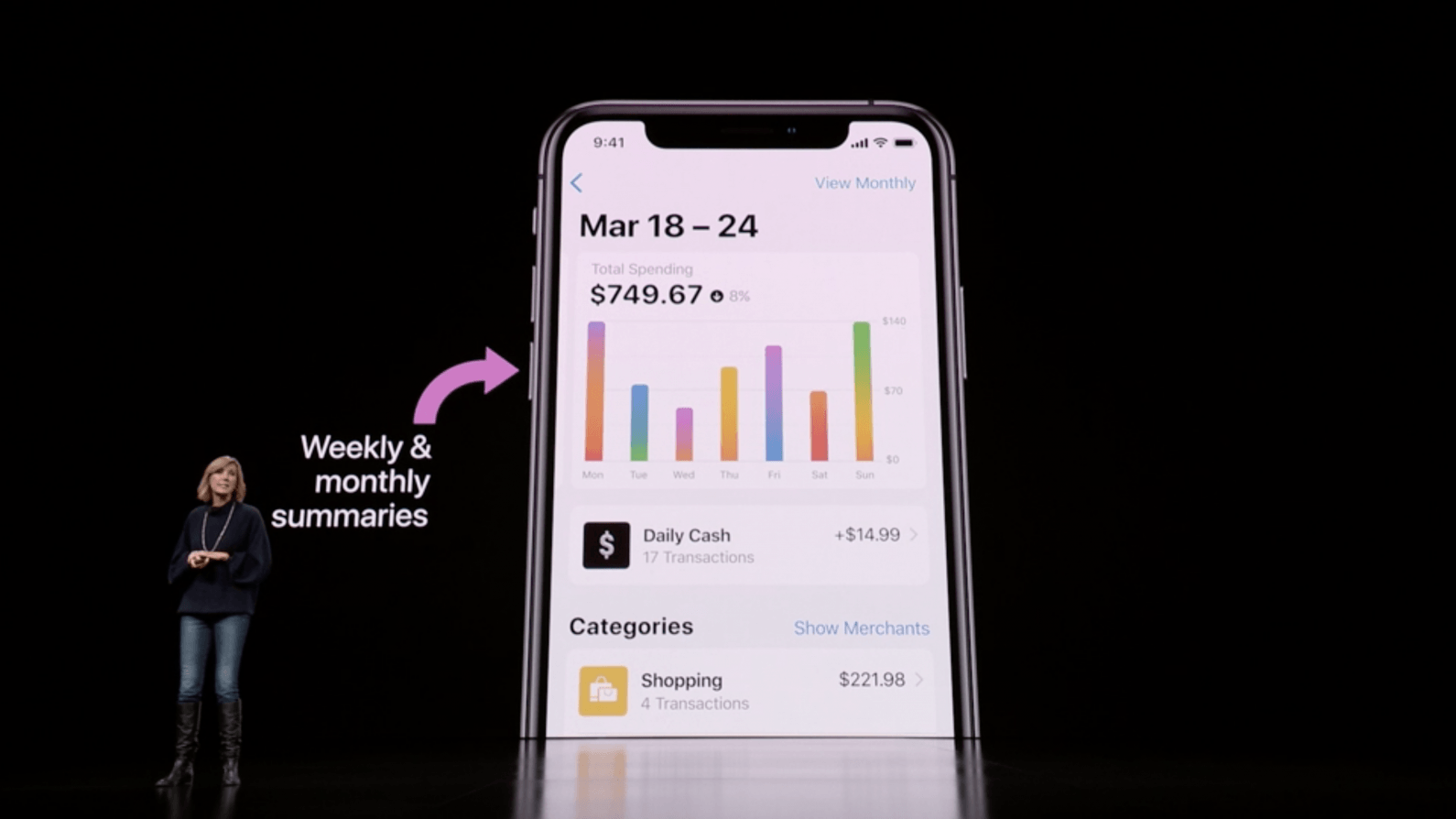 As predicted, Apple is combining forces with Goldman Sachs to provide a credit card that is fully integrated with Apple's ecosystem. The Apple Card has no sign-up fee, low-interest rates, is private and made secure via an elaborate system created by Apple, and uses the MasterCard payment network to manage transactions. This potential announcement didn't get much attention outside of the pages of Bloomberg, but at the end of the day, it's one of the more promising, and potentially controversial, services announced for Apple's spring release.
Let's talk turkey; this card might not be available to everyone. Unlike other Apple products, the Apple Card will likely require a credit check. While that might not seem like a big deal at first glance, consider not being able to sign-up for Apple Music because you forgot to return a book to the library in 1989. If Apple imposes the same strict guidelines for lines of credit as most banks, there will be some iOS users without access to this service. If, however, Apple is willing to be flexible, then some users, those with poor credit, will likely be given higher-interest rates with smaller lines of credit. 
Regardless of what the final cost of the card winds up being, Apple has promised there will be no hidden fees. No late fees, no penalty interest charges for delayed payments, and no over-limit fees if you overspend. Apple seems to be trying to make this card affordable and convenient for users. There'll be real-time customer support via the Messages app so that you can get important questions answered right away. The bill will come on the last day of the month every month instead of randomly.
Given that Apple's promoting this service as a means to increase our financial health, it's possible that the card will either ignore bad credit or offer secure lines of credit to those hoping to improve their finances. But this is all speculation. What facts do we have following the announcement?
The Apple Card will have a physical counterpart, meaning you will be able to use your card in locations that don't accept Apple Pay. Speaking of locations, the Apple Card will integrate with Apple Maps. This integration means that your monthly statements won't have cryptic line items that leave you wondering what you bought from Minneapolis at midnight two weeks ago. Apple Maps will update your statement's to include where, when, and what you purchased to make it simpler for you to track down any fraudulent charges. Fraud seems like it won't be a big problem, or at least, that's what Apple is promising. Each transaction you make with your Apple Card will generate a unique serial number, based on your Apple Card number. That card number will be stored on your phone, not local servers, to keep your information secure.
In addition to heightened security, Apple Card's tracking looks pretty comprehensive. Like other money management apps, Apple Card divides your spending habits into categories. There will be multiple ways to view your spending; bars, graphs, pie charts, and achievement badges for meeting your spending goals. Apple's also paying you back for what you spend. Instead of points, Apple Card will put money in your Apple Cash account. Here's the breakdown: you get one percent back on purchases made anywhere that Apple Pay isn't accepted, two percent back on every Apple Pay purchase, and three percent back on anything you buy from Apple. That three percent includes the App Store, iTunes, and in-app purchases.
Apple Arcade
Last week, Google announced Stadia, a cloud gaming service that lets users stream PC and console games onto mobile devices or even onto the TV via Chrome Cast. Unfortunately for Apple, the Apple March 25 event took place after Google's Stadia announcement. One could assume that Google's event might have taken the wind out of Apple's sails. Fortunately, Apple Arcade will be different from any other mobile gaming service on the market.
While we won't know the full breadth of the Apple Arcade catalog until the service's release this Fall, Apple's presentation on the service was promising. Instead of streaming games from other platforms, Apple Arcade will offer original and exclusive content not available anywhere else. Apple Arcade will offer a collection of over 100 paid games under one subscription. According to Apple, this new service is designed to support games that are fully functional and ready to play without any ads or in-app purchases. And because this isn't a streaming service, you'll be able to download your games and pick up where you left on any iOS device connected with your Apple ID.
Apple says there won't be any data collection without user consent. The wording here is a bit tricky; we're all familiar with the lengthy user agreements that none of us read before signing our names to get access to mobile content. While it's a bit of an empty promise in practice, it's nice that Apple continues to consider user privacy when designing new hardware or services. The service will also include Family Sharing for up to six family members so that you and yours don't have to sign up for multiple subscriptions. It's not clear how it will interact with Screen Time, but in all likelihood, guardians will be able to control access to Apple Arcade as well as access to individual games that have been downloaded onto specific devices.
While fall might seem a long way off for a new service, those interested in gaming should keep an eye out on E3 in June to see if Apple, or any of the designers working with Apple, will have an E3 announcement in advance of the release of Apple Arcade. With Apple stepping out into so many new areas in terms of content, we'll have to see how far Apple can move in any one direction before stretching itself too thin.
Apple TV Redesigned
Arguably the most polished, if not the most anemic, announcement for the March 25 event, the Apple TV and Apple TV Plus segments took advantage of the star power in attendance at the event to promote not just an overhaul of the Apple TV app, but a whole catalog of programming that is coming later this year. While this was one of the more unusual presentations we've seen from Apple, we still got the same slick look with a few stilted jokes peppered in for good measure. So what were the pre-event rumors, and what did Apple deliver?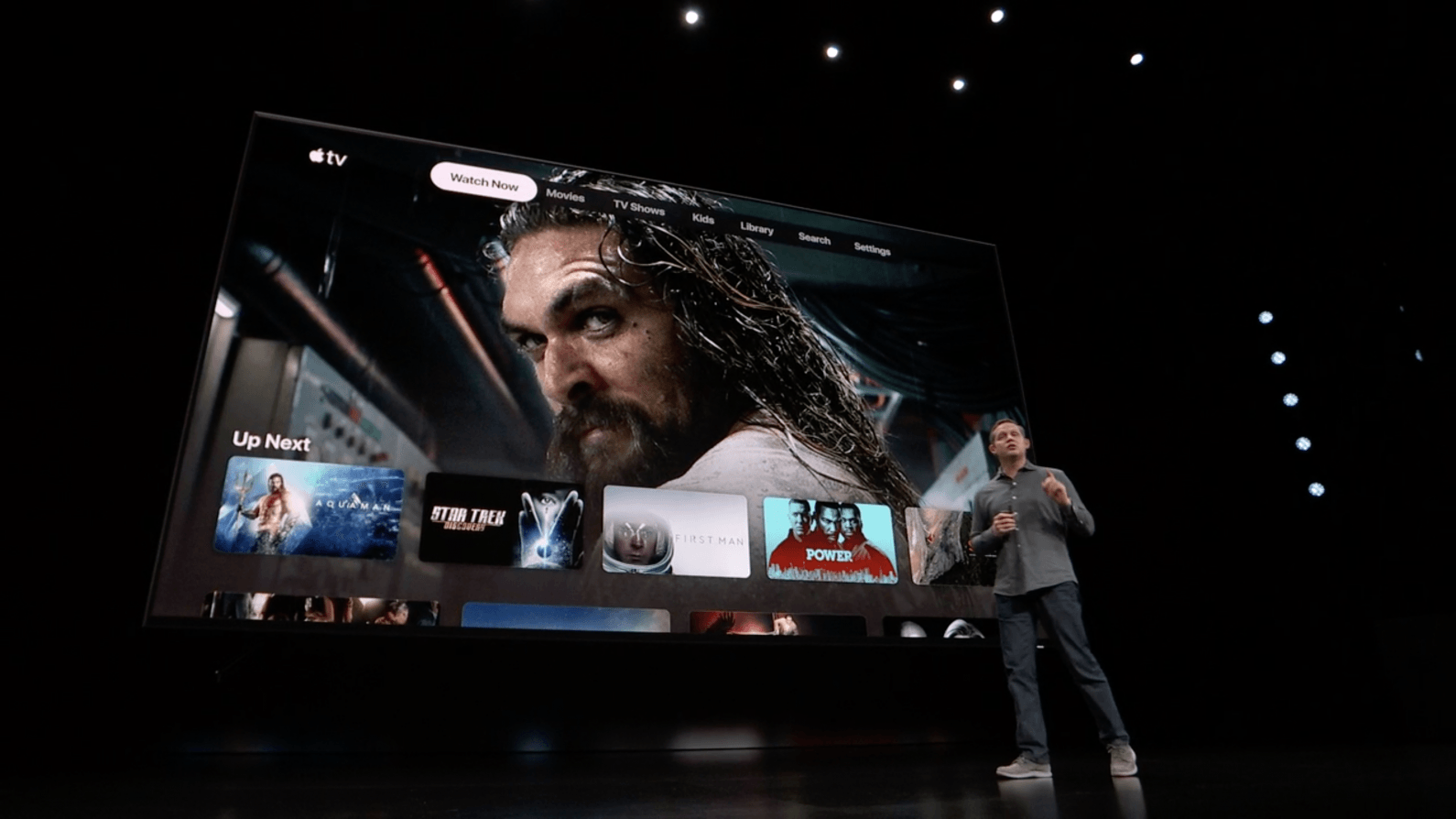 Early rumors were that Apple was trying to combine as many existing streaming services under one paid for subscription as possible. The idea was that Netflix, Hulu, Amazon Prime, HBO, Showtime, and other big-name providers would be rolled into one subscription. Unfortunately for Apple, that didn't work out. Apple wanted to offer something similar to Apple Music or Apple News Plus, where users would pay one fee for multiple channels. But while Apple wanted to charge users only $9.99 per month, the profits for content providers weren't promising enough for those providers to ditch their own individual subscription fees.
The inability to sell its service to networks put Apple in a bit of a bind. The original pitch for Apple TV would have made Apple's original content available for free to all users while premium content like Amazon Prime and Hulu would have fallen under one universal subscription alongside HBO, Showtime, and Starz. Now, those roles are reversed; Apple TV will provide access to individual channels with individual subscriptions, and Apple TV Plus will be another channel that users can sign-up for at cost in addition to other streaming services.
That might be disappointing for your wallet, but the redesign for the app looks fun to use and even, dare I admit it, innovative. Even though Apple didn't get the pricing it wanted, the integration of different channels into one catalog looks flawless. For example, if you subscribe to Hulu and Netflix, then content from both Hulu and Netflix will show up side by side in the Apple TV app. No more flipping back and forth between different content providers; you'll have one app where you can download entertainment to watch on or offline from all your subscription services. 
With all this content available from one app, Apple is poised to improve your curated recommendations. Instead of having content recommended by Amazon and Netflix and Hulu, Apple will look at your viewing habits across all of your subscription services to offer the most personalized watchlist we're likely to have ever seen until now. Apple TV also has a skip intro feature, like Netflix, that will be applied to channels like Amazon Prime that did not previously allow for a skipped intro. 
In essence, Apple TV is taken the best parts of the different subscription-based services and combined everything into one location under an app that will be available on both iOS and third-party devices.
But let's not get ahead of ourselves on the accolades, because we noticed a few names missing from the catalog of channels that are supposed to be available beginning in May. Netflix was conspicuously absent from the touted lineup of providers like Hulu and Amazon Prime. We also don't know what the subscription costs to access the different channels will be. Hulu and Amazon Prime both require a subscription fee for their basic service with add-on fees for special channels like HBO and Showtime, but Apple did not address costs at all during the announcement. Looks like we'll have to wait until May to find out the subscription costs for sure.
Apple TV Plus
This overwhelming list of incomplete services brings us to Apple TV Plus. What, exactly, is Apple asking us to buy? Over the past three years, Apple has created its own studio and has been bringing in some heavy hitters to develop exclusive content. At the March 25 announcement, we saw presentations by Stephen Spielberg, JJ Abrams, Jennifer Aniston, Jason Momoa, and even singer-songwriter Sarah Bareilles, all in attendance to tell us about their projects. And some of the shows sound pretty cool.
The sci-fi drama See, by Jason Momoa and Alfre Woodard, reimagines a world in which humanity has adapted to life without sight. Another sci-fi offering, Amazing Stories, by Stephen Spielberg, revisits the creator's family-friendly anthology series with new content for a new audience. There'll also be comedies, like Morning Show, a collaborative effort by Reese Witherspoon and Jennifer Aniston about gender dynamics in television. Apple also announced Little America, a show that documents the experiences of everyday immigrants and their incredible journeys that promises to be funny, touching, and joyful. 
All of this content, plus a lot more, will be available this fall for an undetermined price.
One More Thing
And then, suddenly, there was Oprah. Instead of reinventing the pencil or the television set, Tim Cook has reinvented Oprah. She came out, following an inspirational trailer about the human spirit, to announce two new documentaries as well as a new book club that will be available through Apple TV Plus.
One documentary, Toxic Labor, will investigate the effects of workplace harassment on both victims and perpetrators. In a similar vein, Oprah's second and still untitled documentary will be a multi-part series on mental health exploring addiction, PTSD, grief, and other topical mental health issues. As for the book club, while the details were sparse, it sounds like Oprah will be providing an interactive experience via the Apple TV app. While Oprah definitely announced something that a lot of people clapped for, there were no concrete details as to how she plans to use the iPhone to create a new book club experience, but she did promise it would be "the biggest, the most vibrant, the most stimulating book club on the planet."
One More One More Thing
Although Apple's new devices were not announced at the March 25 event, a spring roundup would feel incomplete without acknowledging that while Apple is trying something new in terms of subscription services, it has not stopped developing new ways to consume content. The return of the iPad Mini, the iPad Air, and the upgrades to the AirPods are worth talking about while we wait for the release of Apple TV and Apple Arcade. 
iPad Mini 5
The last time we saw a new iPad Mini was back in 2015. Apple has been pretty lax on its budget items lately, and it's nice to see Apple return to tech that's affordable for the everyday consumer. Here's what you're getting if you pick up the iPad Mini 5.
Wi-Fi: 64 GB for $399 or 256 GB for $549
Wi-Fi + Wireless: 64 GB for $529 or 256 GB for $697
Colors: Silver, Space Gray, or Gold
Specifications:
7.9-inch Advanced Retina Display
First-Generation Apple Pencil Support
Three times the performance and nine times faster graphical support than the iPad Mini 4
Front- and back-facing cameras
A12 Bionic Chip with Neural Network for the same workflow, AR, and 3D game support as the iPad Pro
iPad Air
This will be the first iPad Air since Apple officially discontinued the product following the release of the second iPad Pro in 2016. Arguably a better machine than the iPad Mini 5, the specs for the iPad Air, and the price, are looking pretty good in today's economy.
Wi-Fi: 64 GB for $499 or 256 GB for $649
Wi-Fi + Wireless: 64 GB for $629 or 256 GB for $779
Colors: Silver, Space Gray, or Gold
Specifications:
10.5-inch Advanced Retina Display
First-Generation Apple Pencil Support
70 percent fast and twice the graphics capability than its discontinued predecessor
Front- and back-facing cameras
A12 Bionic Chip with Neural Network for the same workflow, AR, and 3D game support as the iPad Pro
AirPods
After being promised an improvement in the AirPods for over a year, it's nice to finally have a wireless charger that's compatible with existing AirPods as well as a new set of AirPods with specifications that should excite Apple enthusiasts on any list.
Improved Bluetooth connection between wireless devices
2x faster seamless switching between devices and 1.5x connecting to phone calls
30 percent lower gaming latency
H1 chip, providing improved battery life for three hours of talk time or five hours of audio
"Hey, Siri" integration for a truly hands-free experience
Improved support with Live Listen for the vision-impaired
The Take-Away
Apple has a way of using misdirection to turn heads while sticking its tendrils in our wallets. The presentation of the March 25 announcement was heavy with buzz words like Inclusion, Togetherness, Conscious Buying, and Global Communities. But the application of the new streaming services is incongruent with the lofty promises Apple is trying to make. Rather than an ethical statement, Apple might have done better to steer into what was really happening; hardware sales are down, and the future of retail is in digital services.
Because Apple invited so many stars ahead of the event, there was very little wiggle room to adjust the announcement as needed. Unfortunately for Apple, that meant the release of the budget items got buried by a crowd of A-list celebrities who looked as unsure about being in the Steve Jobs Theater as we felt about watching their presentations. That isn't to say it wasn't fun. A lot of the new shows sound interesting. The Apple Card integration looks excellent, the Apple News Plus catalog has a clean layout, and the Apple TV app has needed a redesign since the failure to launch in 2006.
But at the end of the day, this particular announcement felt disconnected from the average consumer. Instead of being presented with budget items, we were presented with celebrities. Instead of being given our favorite television content in one convenient bundle, we got a Netflix competitor. And, instead of access to all of our favorite newspapers, we continue to face the same paywalls, but at least we can read our Cosmopolitan subscription anywhere in the world.
Does Apple have the promise of an influx of cash from this announcement? Absolutely. But we are left with some concerns about the direction Apple is moving. By emphasizing services over hardware, Apple ultimately will restrict some of the iPhone's capabilities behind its own paywalls, something that, aside from Apple Music, the company has shied away from in the past. Hopefully, Apple will find the appropriate balance between premium services and future updates that won't all require a paid subscription to unlock.