How to unfreeze your iPhone without losing your data
By

Conner Carey
Updated 05/04/2022
No one wants to deal with a frozen iPhone; the darn thing needs to just work! But there are steps to take when your iPhone keeps freezing. We'll cover what to do when just one app is freezing on an iPhone and what to do when your entire iPhone is frozen. If your iPhone keeps freezing with iOS 14, we'll also offer some short-term solutions that should help until Apple finally fixes the latest iOS update problems. But first, we'll cover how to unfreeze your iPhone, since you'll need to do that before any of the other troubleshooting tips. Let's jump in.
Related: iOS 14 Draining Your iPhone Battery Life? 13 Ways to Save Battery on Your iPhone
Jump To:
Unfreeze Your iPhone with a Hard Restart
A hard restart will power down your iPhone and give it a fresh start. But any active underlying issues causing your iPhone to freeze will probably still be there. However, if your iPhone is frozen and clearly not going to unfreeze on its own, a hard restart is the answer. After hard restarting your phone, we'll go over troubleshooting tips for a phone that freezes chronically.
Can't use the buttons on your iPhone to shut it off? You may need to use a specific method to turn off your phone without using buttons.
How to Hard Restart an iPhone 12, 11, X, & 8
Quickly press and release the Volume up button.

 
Quickly press and release the Volume down button.

 
Tap and hold the Sleep/Wake button, which Apple is now referring to as the Side button, until the display shuts off. This will take about ten seconds.

 
Continue holding the Side button until your display lights back up with the Apple logo that shows it's powering on.
How to Hard Restart iPhone 7 or 7 Plus
Press and hold both the down Volume button and Sleep/Wake (aka Side) button until the display shuts off.

Continue holding until your screen lights back up and the Apple logo appears.
How to Hard Restart iPhone 6s or Earlier
Press and hold both your Home button and the Sleep/Wake button until the display shuts off.

 
Continue holding until your screen lights back up and the Apple logo appears.
How to Restart a Frozen App
If your problem is contained to a single, frozen app, here's how to unfreeze it:
Open the App Switcher: Double click your Home button if your phone has one. On an iPhone X or newer, swipe up from the bottom of the screen about a quarter of the way. Then let go and the App Switcher will open.
Swipe up on the app that's frozen to close it. 


If one app consistently freezes, you may want to check for an update, delete the app and reinstall it, or report the constant freezing to the developers, so it can be resolved in a future update.
Back Up Your iPhone as a Precaution
Now that your phone is unfrozen (for now), we'll cover how to get to the bottom of chronic freezing issues. However, before we move forward with any troubleshooting tips for getting your iPhone to stop freezing, it's recommended you create a backup for your iPhone. That way, if you need to restore your iPhone, all your data will be saved. We've covered how to back up your iPhone in both iTunes and iCloud:
Tips for Troubleshooting an iPhone That Keeps Freezing
Have You Updated to a New iOS Recently?
First things first, have you recently updated to iOS 14 on your iPhone? If your iPhone is freezing after you updated to iOS 14, you can still take the following steps to help alleviate the problem. If none of these help, iOS 14 may itself be the problem. In that case, your absolute best bet is to ride it out. I know that sucks; but if the software running on your device is the issue, everything you do will most likely be a temporary fix.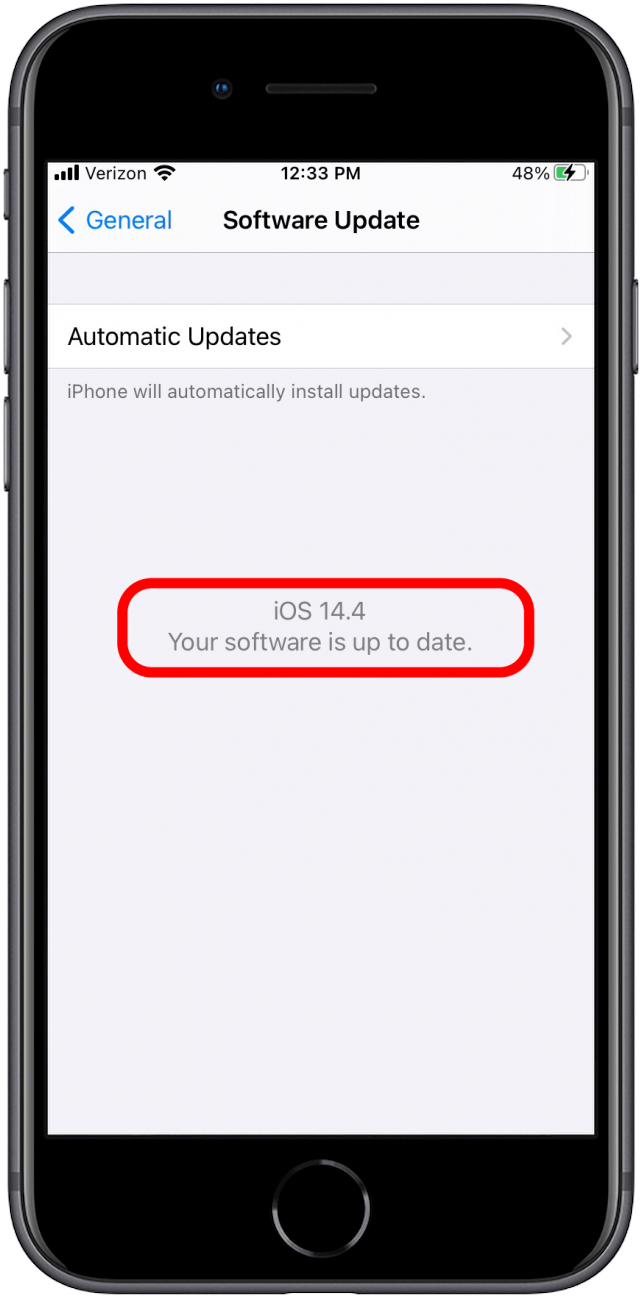 If your iPhone is freezing because of a recent iOS update, I highly recommend closing all apps and looking for the problem in analytics (see below), but I wouldn't go through the steps outlined below to reset Settings or restore your device yet (unless it's so bad that you're ready to try anything). Apple will fix the issues associated with iOS 14 on iPhone; it's just going to take longer than anyone wants it to. I promise the company is working on it. Definitely keep your eyes and ears open for any new updates that tackle the iPhone freezing issue.
See If You Can Spot the Problem in Analytics
It's possible that a single app is causing the bulk of your iPhone freezing problems, and you may be able to take a look at analytics to determine if this is the case. Here's how to look at the the analytics your iPhone has collected:
Open Settings.


 
Select Privacy.


 
Tap Analytics & Improvements


 
Select Analytics Data.


 
Here there will be a long list that may look like gibberish to you. This list includes app crashes, and you should be able to see if a particular app frequently crashes. That may be a sign that something is going amiss with that particular app or service. If you find helpful information here, consider either deleting that app or leaving it closed until it gets a new update.


Try Resetting All of Your Settings
While resetting all of your settings isn't ideal, it's a good step to take if you're pretty sure that your iPhone freezing has nothing to do with your downloaded, third-party apps. Resetting your settings will return your iPhone to default settings without touching your data.
Open Settings.


 
Select General.


 
Scroll down and tap Reset.


Tap Reset All Settings.

 
Enter your passcode to confirm.


Last Resort: Restore Your iPhone
Make sure you have a recent backup before restoring your iPhone. As long as you have that recent backup, you won't lose anything when restoring your iPhone. Restoring your iPhone is a bit of a pain, but I think it's more nerve-wracking than anything. To restore your iPhone:
I repeat, make sure you make a recent backup first!
Open Settings and select General.


 
Tap Reset.


 
Tap Erase All Content and Settings.


 
Once your iPhone goes through the process of deleting everything off of your iPhone, it will power down and power back up as though it were a brand new device.
Follow the on-screen instructions to setup your iPhone. When it comes time to restore your device from a backup, choose either iTunes or iCloud backup restore, depending on how you created the backup.
Once your iPhone has been restored with the backup, it should be exactly the same as before the restore, minus the freezing problems.
Sometimes you may experience what is dubbed the iPhone pink screen of death. If that happens, do this. If your iPhone is restarting at unexpected times, check out our guide on troubleshooting this issue.
Contact Apple Support or Visit an Apple Store
Last but not least, if all of this doesn't help the iPhone freezing problems you're having, you should consider simply going into an Apple store and asking for help at the Genius Bar. Alternatively, you can contact Apple Support online. If your iPhone freezing always happens while you're using the Camera app, try this next.