By

Olena Kagui
Updated 02/28/2022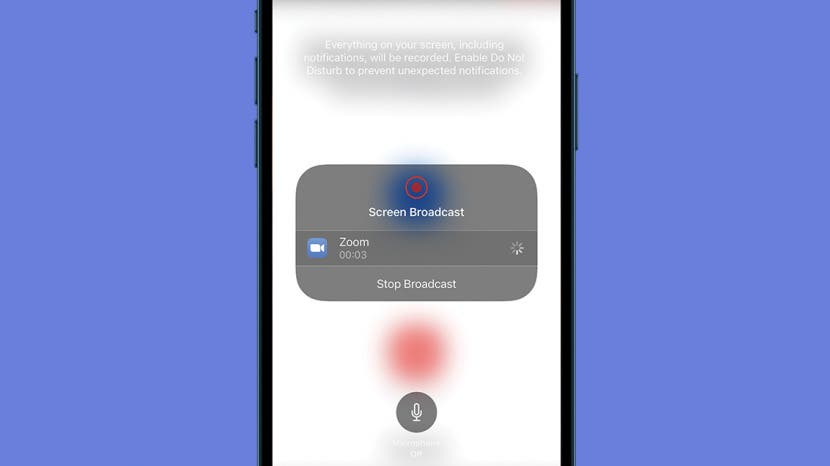 What app is best for screen sharing? Zoom is a strong contender, mainly because even its free version offers basic screen sharing! In this article, we will teach you how to share your screen on Zoom plus some useful tips about sharing a screen on Zoom!
Related: FaceTime Not Working? 10 Ways to Fix It in iOS 15
Jump To:
How to Screen Share on Zoom
Both ends of the call need to have the Zoom app installed. You can get the app from the iOS App Store and the Mac or PC versions from the Zoom.us website. We will demonstrate the process on the iPhone. To learn more about ways to use Zoom and other apps, check out our Tip of the Day newsletter.
Open the Zoom app.


 
Tap New Meeting.


 

You may toggle Video On as you see fit. You won't need to use your iPhone's cameras for screen sharing to work, and while screen sharing is working, your audience won't see your face via the cameras. But you might want to say hi before sharing your screen.


 
Tap Start a Meeting. This will begin a web meeting.


 

Once the conference starts, tap Participants. The menu for these options automatically hides when you aren't using it. Just tap the screen to get it back.


 
Tap Invite to invite your audience into the meeting.


 

Choose a method to send your invitation. I'll demonstrate with Send a Message. 


 
This opens the Messages app. Choose who you want to send it to, then tap the send arrow. They will receive a link that will automatically open their Zoom app.


 

Back in the Zoom app, tap the Share Content icon.


 
On the list of content, tap Screen.


 

If you see multiple options under Screen Broadcast, choose Zoom. The other options will create a screen recording and save it to that app. 


 
If you want to talk while sharing your screen, make sure the microphone is on. If it is off, you can tap the microphone icon to turn it on.


 

Tap Start Broadcast. After a three-second timer, you will be sharing your screen.


 
You are now broadcasting your screen to the members of your Zoom call. Tap anywhere on the blurry background to return to the Zoom app and swipe up to minimize the app. The participants will be able to see any apps, photos, texts, or other content you have on your screen until you stop screen sharing.


 

To stop, tap the clock on your iPhone screen.


 
A popup will ask if you want to stop. Choose Stop.


 

This will end screen sharing but it won't stop the Zoom call. To do that, you'll have to tap the clock again.


 
Tap End.


 

If you are the host, you'll have to tap End Meeting for All. Or you can tap Leave Meeting so the other participants can continue without you.


That's the best way to share your iPhone screen on Zoom.
Why Zoom Is Best for Screen Sharing
When someone asks, "What is the best free screen sharing software?" our answer is: Zoom. It's a great way to set up screen sharing on an iPad, iPhone, Mac, and even PC and Android. Screen sharing is slightly limited on the free version of Zoom, but it is still one of the best options out there. Next learn how to screen share from your Mac!