By

Tamlin Day
Updated 03/03/2021
It might surprise you to learn that the selfie portrait has a history dating all the way back to 1839 when Robert Cornelius snapped a pic of himself in a full-length mirror. Fortunately, taking a selfie is much easier now than in the days of billows and silver nitrate. Your iPhone is the perfect tool for creating both fun and professional-looking self-portraits with minimal hassle. Read on to learn more about taking the perfect selfie with your iPhone.
Related: The Ultimate Guide to Selfie Sticks
What is Portrait Mode?
Portrait mode was introduced with the release of iOS 10 and the iPhone 7 Plus. This mode introduces a unique bokeh effect that blurs the background while keeping the subject in focus. This effect is only available on some new generation models and is not available on the front-facing camera of most iPhones. Read on to find out what your iPhone model is capable of and how to optimize your model's selfie capabilities.
Get to Know Your iPhone's Camera
Each generation of iPhone has made improvements to the camera, so it's good to know which model you have and what types of selfies you'll be able to take with each model. Here's our list of which models support Portrait, Portrait Lighting and Live Photo modes:
iPhone X
The iPhone X is the only model with a TrueDepth front-facing camera. The TrueDepth camera adds an infrared emitter to your front-facing camera that enables facial recognition and also allows your iPhone to take front-facing selfies in Portrait mode.
iPhone 8 Plus & iPhone X
Both of these models include Portrait Lighting, although only iPhone X allows you to swap to the front-facing camera while inside Portrait mode.
iPhone 7 Plus, iPhone 8 Plus & iPhone X
All of these models have a dual rear-facing camera. With this model, you can still take a selfie in Portrait mode, but you'll probably be doing so in the bathroom mirror because camera-swapping is not available for Portrait mode on models without the front-facing TrueDepth camera.
iPhone 6 Plus & All Non-Plus Models
The dual rear-facing camera is unique to newer Plus models of the iPhone and the iPhone X. The lack of dual cameras eliminates the ability to shoot in Portrait mode, but you can still take Live selfies and tradition selfies using the Camera app.
iPhone 6 & Earlier Models
All earlier models of the iPhone allow you to take still selfies but do not support Live photos.
Portrait Mode Selfies
If you have an iPhone X, you can take front-facing selfies in Portrait mode. Here's how:
Open your Camera app and select Portrait.
Tap the camera-swap icon in the lower right corner.
Select your lighting effect by holding tapping and holding the Portrait Lighting icon to bring up the radial menu.
Drag left or right to select the Lighting effect you prefer.
Live Selfies
Regardless of which model camera you have, you can still take Live selfies in your Camera App. To take a Live selfie:
Open your Camera app and select Photo.
Make sure Live is enabled by tapping the Live icon at the top of the screen. The icon will be yellow if Live mode is active.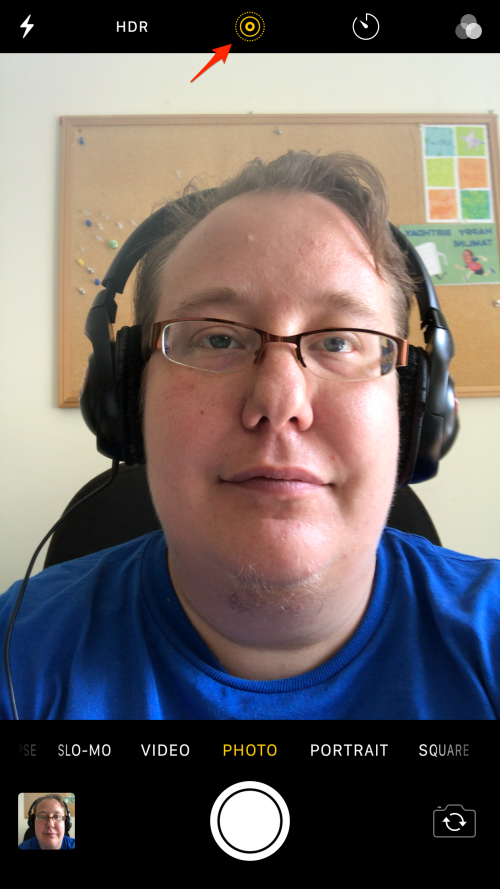 Tap your shutter once, move, then tap your shutter a second time.
Swipe up to view your Live options. I like to use either Loop or Bounce to animate my Live selfies.
Traditional Selfies
If you want to take a selfie without all the bells and whistles, make sure Live mode is turned off. The icon will be white.
Tap the camera-swap icon to switch to your front-facing camera.
Position your camera and tap the shutter.
Pro tip: get the perfect photo by learning how to zoom in and out while taking selfies.
Filters
Regardless of your iPhone model, you can apply filters to any selfie prior to hitting the shutter.
Tap the Filter icon.
Scroll right or left to select your desired filter.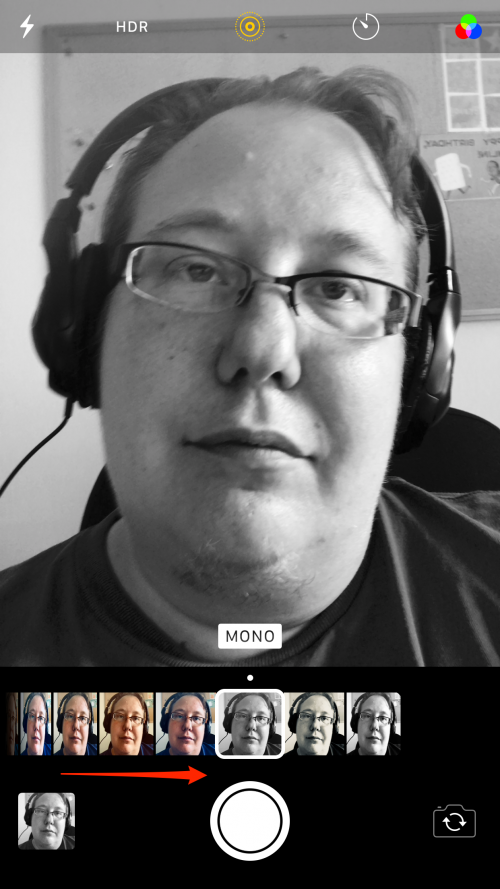 Those are the basics for taking selfies in Portrait, Live, and Photo modes on the iPhone 6 Plus, iPhone 7 Plus, iPhone 8 Plus, and iPhone X. Take it to the next level by learning how to incorporate your Apple Watch into your selfie routine!
Top image credit: baranq / Shutterstock.com