No cable, no problem! Here's how to watch football without cable.
By

Dig Om
Updated 12/23/2021
If you're a football fan without cable, figuring out how to watch the NFL season online is important. Whether you want to watch Monday Night Football, the Thursday games, or the NFL Sunday ticket, we'll cover your options for watching the NFL season on Apple TV without a cable subscription. We'll include how to watch NFL games online, on Amazon, with an over-the-air TV antenna, on Sling TV, and more.
Related: How to Watch the NBA Playoffs Online without Cable on Your iPhone, iPad, or Apple TV
NFL games are broadcast Monday nights, Thursday nights, Sunday afternoons, and Sunday nights on different networks: CBS, Fox, NBC, ESPN, and the NFL Network. This can make it hard to see every NFL game you want to without a cable subscription. Fortunately, there are a lot of options for watching the NFL season without cable. For more great Apple device tutorials, check out our free Tip of the Day. 
Over-the-Air TV Antenna
Compatibility: Varies between manufacturers. 
Cost: Prices vary from company to company; I've seen anywhere from $17.99–$149.99. 
Pros: Free content from local broadcasters.
Cons: Some companies charge a monthly fee to use the app associated with their antenna. 
OTA stands for over the air; in other words, an antenna! Yes, it's true, you can legally pick up locally broadcasted channels and stream them to your TV with an antenna. While you might be envisioning the old-fashioned version that looks like a laundry rack attached to your roof, there are now lots of OTA options that stay right inside your house. Some can boost signals, as well, which is really helpful if you live in a rural area. Some OTA options include AirTV, HD HomeRun, and Mohu, but there are lots more out there!
Amazon Prime NFL Games
Compatible Devices: Apple TV, Amazon Fire TV, Mac and PC, and Microsoft's Xbox One.
Cost: Must be Amazon Prime member.
Pros: Free if already an Amazon Prime user.
Cons: Only a limited number of games will stream on Amazon.
Amazon bought the rights to stream 11 of the NFL season's Thursday night games online. The Amazon games will still be available on NBC, CBS, and the NFL Network, as well as with NFL Mobile Verizon app.
Free NFL Mobile App - Yahoo Sports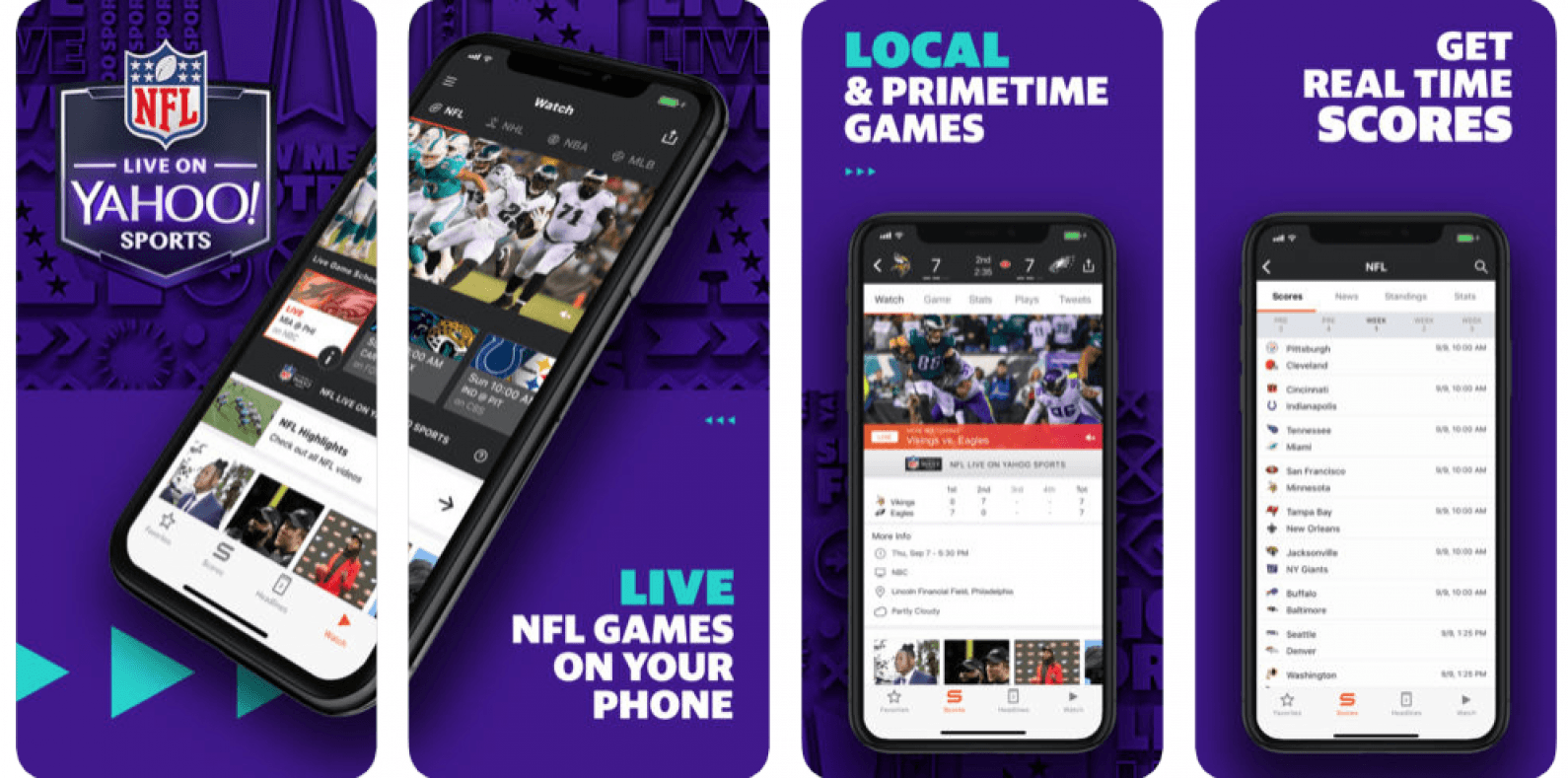 Compatible Devices: iPhones, iPads, Apple TV 4 and later.
Cost: Free
Pros: News, highlights, and live games.
Cons: Data charges may apply. Can only watch games live, no replay.
Free football? Yep. A range of live local and prime-time regular-season games are available on the Yahoo! Sports app. These games include Sunday afternoon in-market local games, as well as Sunday, Monday, and Thursday night games, and even all eleven playoff games, the Pro Bowl, and the Super Bowl! If you were hoping to catch every Sunday afternoon game, this deal probably won't cut it for you. However, it is one of the few free options for football fans who want to watch the NFL season without cable. 
ESPN & NFL Network on Sling TV  
Compatible Devices: Apple TV, Chromecast, Roku, iPhone and iPad, Mac
Cost: Blue ($35), Blue and Orange together ($50)
Pros: No commitment. Can subscribe only for the NFL season and then cancel.
Cons: Doesn't carry CBS. You will need to subscribe to both packages for the fullest coverage at which point paying for cable might be worth it. Not all local channels are available in all markets.
Sling TV offers two packages, Blue and Orange and Blue together. But since Sling Blue offers the NFL Network and Sling Orange offers ESPN, Fox, and NBC, serious NFL fans will probably want to sign up for the combined Orange and Blue package and possibly add the RedZone channel for an additional cost per month. At that point, the cost is equal to some cable packages. In addition, neither package offers CBS, and not all channels are available in every market. See which local channels are available in your area here.
DirecTV NFL Sunday Ticket 
Compatible Devices: Apple TV, Xbox, PlayStation, and Chromecast
Cost: Up to $139.99/month
Pros: Can watch every out-of-market Sunday game live.
Cons: May not offer all Monday and Thursday night games.
DirecTV's NFL Sunday Ticket is included with the Choice Package, but only offers Sunday NFL games; subscribers will need to find another option for watching Monday and Thursday night NFL games. This option really only makes sense for college students who want to watch NFL games online; they can get the service at a big discount.
NFL Game Pass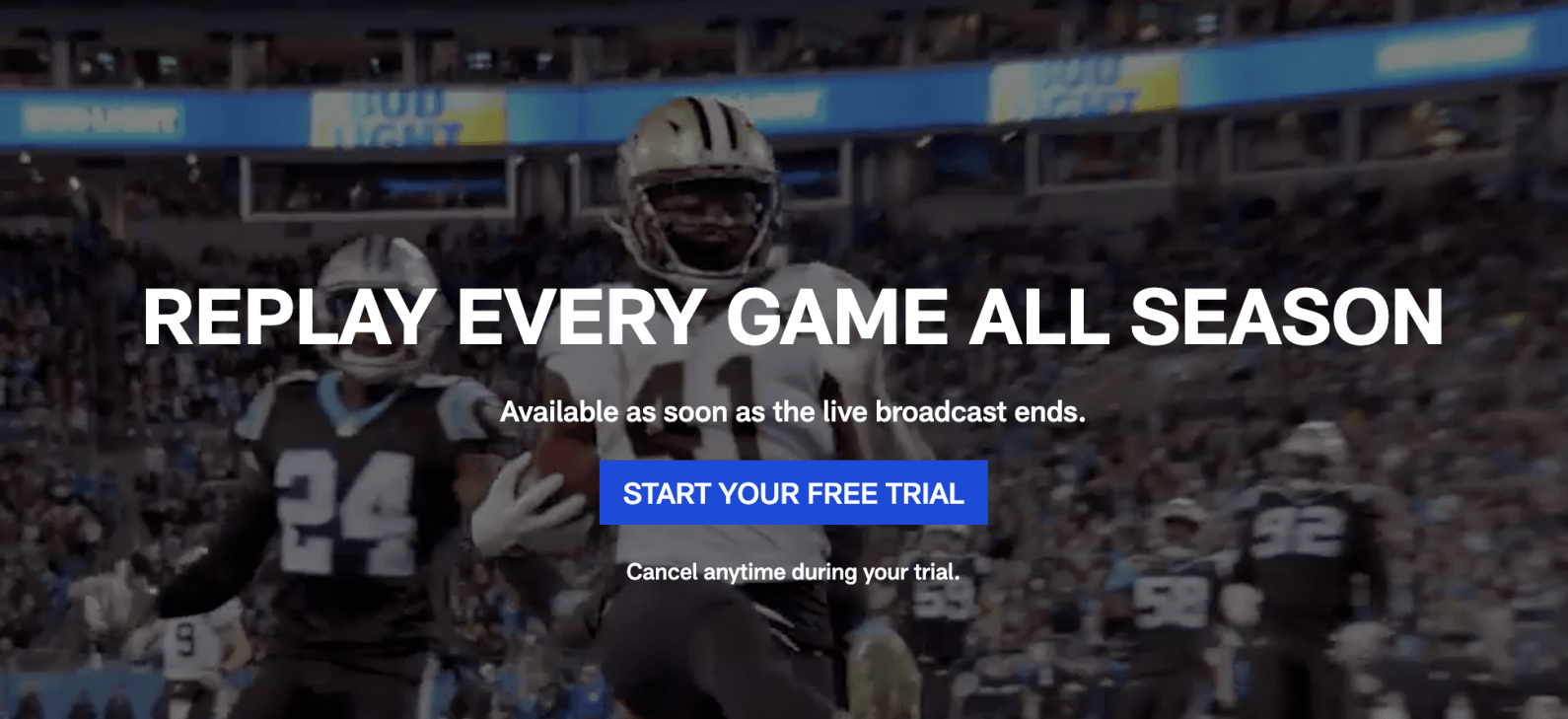 Compatible Devices: Apple TV, iPhone, and iPad
Cost: Seven-day free trial, then $9.99/month. More for an out-of-country subscription.
Pros: Can replay every single game of the season.
Cons: You will need to use a VPN to simulate an out-of-country IP address if you want to watch games live.
Those who live in the U.S. and want to watch the NFL games without cable will only be able to watch replays of the NFL games once they are finished; NFL Game Pass does not allow you to live stream games. In fact, this has been a source of frustration for many cord-cutters. Since Game Pass subscribers who live outside the U.S. are able to watch live games, some subscribers have resorted to the questionable practice of using a VPN to create an out-of-country IP address. Buying a UK subscription is most frequently recommended. Note that you will need to set up your out-of-country IP address before subscribing to Game Pass.
fuboTV
Compatible Devices: Apple TV, iPhone, and iPad
Cost: Seven-day free trial, then from $64.99/month to $84.99/month
Pros: Includes NFL Network, RedZone, ESPN, and broadcast networks
Cons: Costs as much as some cable packages
fuboTV broadcasts live TV over the internet. It offers over 100 channels, including the NFL Network, RedZone, ESPN, CBS, FOX, and NBC, so most of your NFL needs will be covered. fuboTV uses your location to determine which local affiliates to serve you, so, unless you use a VPN, you'll see the same games you would if you were watching your local network stations.
NFL Games & the Future of Streaming
The fact of the matter is that the NFL still has a vested interest in supporting cable providers first and foremost, and it is not bending over backward to deliver live-streamed NFL games online to cord-cutters. Do I think this will eventually change? Yes, I do. Just as every media outlet and entertainment provider has had to adapt to the changing landscape of streaming services and content on-demand, I think that the NFL and other major sporting franchises will eventually have to get on the live-streaming and multi-platform bandwagon. However, this does nothing for those of us interested in live streaming this season's NFL games. 
Top image credit: Jamie Lamor Thompson / Shutterstock.com