By

Ashleigh Page
Updated 12/15/2021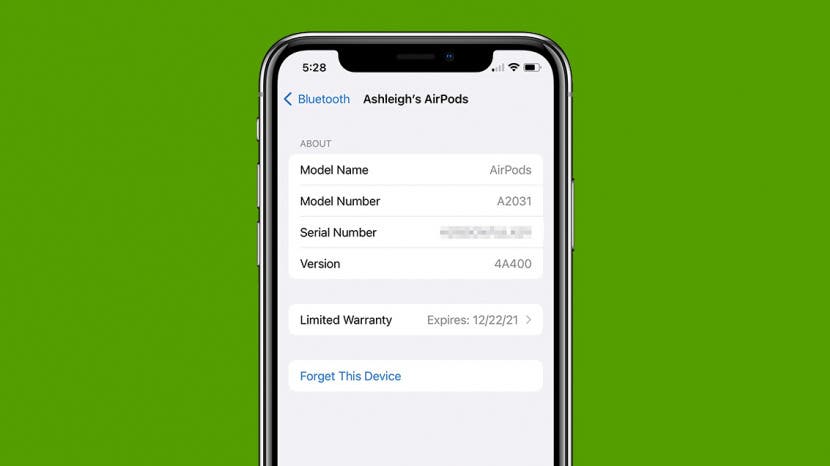 The new firmware version for AirPods Pro provides bug fixes and gives you access to new features, such as Conversation Boost. Whether you're troubleshooting or simply excited about the new functionalities, we'll show you how to check whether you have the AirPods latest firmware and how to update your AirPods Pro if it hasn't already been installed. 
Jump To:
How Do AirPods Pro Software Updates Work?
Apple has released the new firmware version 4A400 for AirPods Pro, AirPods Max, and second-generation AirPods. Once updated, your AirPods Pro will include features such as Conversation Boost, which is designed to help people with mild hearing challenges. It works by amplifying the volume of the person in front of you as they're talking, with the additional option to reduce ambient noise (perfect for busy streets and restaurants). 
If you didn't initially realize that your AirPods Pro required software updates, you're not alone. This is because Apple designs your AirPods and AirPods Pro firmware updates to happen entirely in the background as you use them. You're not alerted when a firmware update is available or when the update is completed. To make sure you have the latest AirPods Pro firmware, we'll show you how to check your AirPods version on your phone. If the new AirPods Pro firmware hasn't yet been installed, we'll also walk you through some quick steps to get that update started. 

Discover your iPhone's hidden features
Get a daily tip (with screenshots and clear instructions) so you can master your iPhone in just one minute a day.
How to Check Your AirPods Firmware Version
Your AirPods Pro have a surprising number of hidden features! To learn handy tips about AirPods Pro, consider checking out our free Tip of the Day. While we've tailored this content to focus on AirPods Pro, you can also follow the steps below to find the firmware version for your AirPods and AirPods Max. Now, here's how to check whether you have the latest AirPods Pro firmware: 
Open the Settings app on your iPhone.


Tap Bluetooth.



Tap the info icon next to your AirPods Pro.


If Version shows 4A400, you have the latest AirPods Pro firmware.


How to Update to Current AirPods Pro Firmware
If you find that your AirPods Pro has not yet installed the available update, here's a few simple steps to get the update started: 
Make sure your iPhone's battery is at least halfway charged and that it is connected to Wi-Fi. 
Place your AirPods in the case and start charging the case. 

Place your iPhone near to your AirPods. 
While charging your AirPods case is not required to start the update, it does ensure that the update isn't being delayed to save battery. Wait half an hour, then follow the steps above to check whether the AirPods firmware update has taken place. 
That's all there is to it! Now when you check your version you should see the latest AirPods firmware listed, and you can immediately begin taking advantage of those fun new features. Doing this can help fix software issues, but if you still experience problems, like one AirPod not working, read this.