Can you FaceTime without Wi-Fi? You can, but you'll need to make sure you have cellular set up. Here's how.
By

Amy Spitzfaden–Both
Mon, 02/21/2022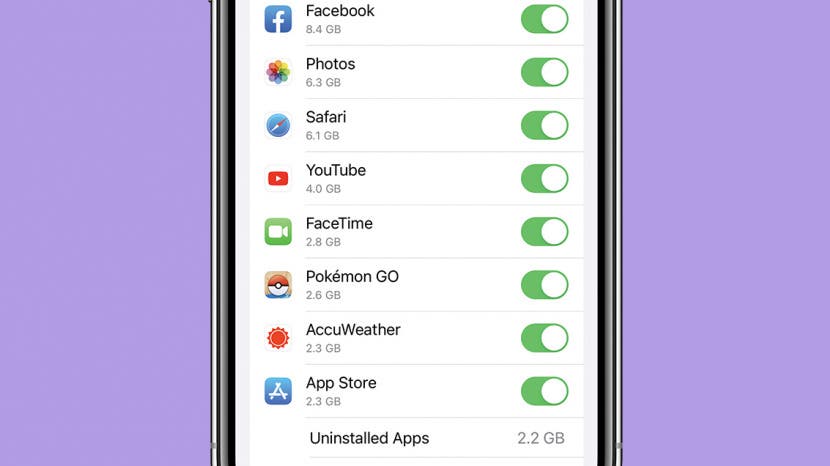 Can you FaceTime without Wi-Fi? This is a common question, especially when you have an urgent call to make and your Wi-Fi has suddenly died. Or maybe you're out and about and don't have a public network to connect to. Fortunately, you can use FaceTime without Wi-Fi, though it does take up a lot of cellular data. Here is how to FaceTime without Wi-Fi
Related: FaceTime Not Working? 10 Ways to Fix It
Jump To:
How to Use FaceTime without Wi-Fi
If you don't have Wi-Fi but you want to make a FaceTime call, you have a couple of options: you can connect using cellular data, or you can try to connect to someone's hotspot. They both have benefits and drawbacks, and neither is likely to be as good as a solid Wi-Fi connection, but they should be able to accomplish the task at hand, if you or someone willing to share their hotspot has a strong cellular connection. To learn more about FaceTime and other Apple apps, check out our Tip of the Day newsletter.
How to FaceTime without Wi-Fi through Cellular Data
Wi-Fi is definitely the ideal way to use FaceTime, but you can use FaceTime through your cellular data, too. This means you'll use your cell service's data plan instead of the internet to make the call. In order to do this, you'll need to be somewhere where you have cell service, so you'll be out of luck in a dead zone or if you're traveling internationally and don't have a compatible phone plan. You need to make sure cellular is enabled for FaceTime. It comes automatically enabled, but in case it got turned off, here is how to enable cellular data for FaceTime.
Open Settings and tap Cellular.


 
Make sure cellular is toggled on for FaceTime. The slider should be to the right and the bar should be green.


 
Open FaceTime and make your call.


If this is set up, and you're somewhere where there's enough service to support the call, you'll be good to go!
How to FaceTime without Wi-Fi through a Hotspot
If you don't have cell service and you're near someone who has a Wi-Fi connection or a stronger signal, you can connect to their Wi-Fi or data through a hotspot. They will need to set it up, and you will likely need to know the password for their hotspot, so you won't have luck trying to sneak onto a stranger's hotspot. Also, keep in mind hotspots can drain the host's battery quickly. If you're using data, it will come from the host's data plan, not yours, so be mindful of how much you are using. You might want to know the answer to, "How much data does FaceTime use?" before tapping into someone else's plan.
Once the other person has a hotspot set up, you can either connect to the hotspot through Bluetooth, or connect as you would to a normal Wi-Fi network, though you might need to ask them for the password.
If the other person needs a reminder, they can learn how to use their iPhone as a personal Wi-Fi hotspot.