By

Sarah Kingsbury
Updated 10/24/2023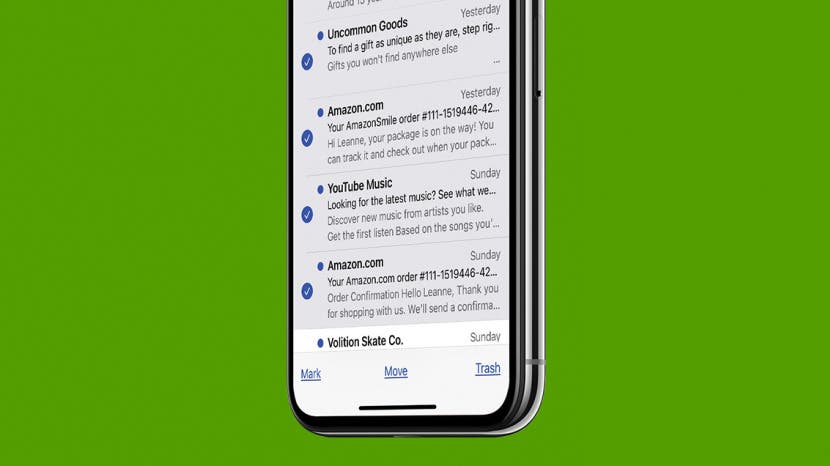 Here's how to delete multiple unread emails at once on your iPhone, and how to delete all emails on your iPhone. These tips work for deleting emails in Gmail, Yahoo, Outlook, and any other email account you have synced to your Apple device. Here's the hidden workaround to mass delete all emails, or just all unread emails quickly. 
How to Delete All Unread Emails Quickly on Your iPhone & iPad
We've already gone over how to delete or remove an email account from your iPhone. Now, let's learn what to do if you don't want to delete your entire account. Here's how to delete multiple emails in Gmail, another email account, or All Inboxes. For more great email tutorials, check out our free Tip of the Day.
Open the Mail app.


 
Tap All Inboxes, or select a specific email account.


 

Tap the Filter icon at the bottom of the screen, then tap Edit in the upper-right corner.


 
Without pressing, start at the empty circle to the left of the first email you want to delete and swipe down to bottom of the page with your finger and hold it there until all the unread emails are selected. 

You'll see all the circles become highlighted in blue, and the number of emails you've selected at the top of the page. If a preview of the first email pops up instead, you have used too much pressure.
Once you've selected all the emails you'd like to delete, tap Trash.


 

Before I started this process, I had over five hundred unread emails in my Inbox.
After a few seconds of swiping, I deleted hundreds of unread emails.


 
If you realize at this point that you've messed up and don't want to delete everything, after all, don't panic. Undo the mass deletion by using Shake to Undo. Just give your iPhone a shake and then tap Undo. It may take a while to restore the emails. Do you ever unsend text messages? If so, you can learn about the downsides of unsending text messages, as well as who can still see your deleted texts!

Discover your iPhone's hidden features
Get a daily tip (with screenshots and clear instructions) so you can master your iPhone in just one minute a day.
How to Delete All Emails in Gmail, Yahoo, or the Whole Mail App on Your iPhone & iPad
If you want to delete all your emails at once in a particular Mailbox, or even All Inboxes, you can. Let's go over how to delete all emails in Gmail, or any other email account, on your iPhone.
First, tap the Mailbox you'd like to empty (this could be All Inboxes, or a specific inbox like Gmail or Yahoo).


 
Tap Edit.


 

Tap Select All.


 
Now, tap Trash, and all the emails in the Mailbox will be deleted.
If you're trying to clean up space on your device, consider learning how to delete apps from your iPhone and iPad.