Remove unwanted apps on your iPad with these quick steps.
By

Conner Carey
Updated 08/25/2022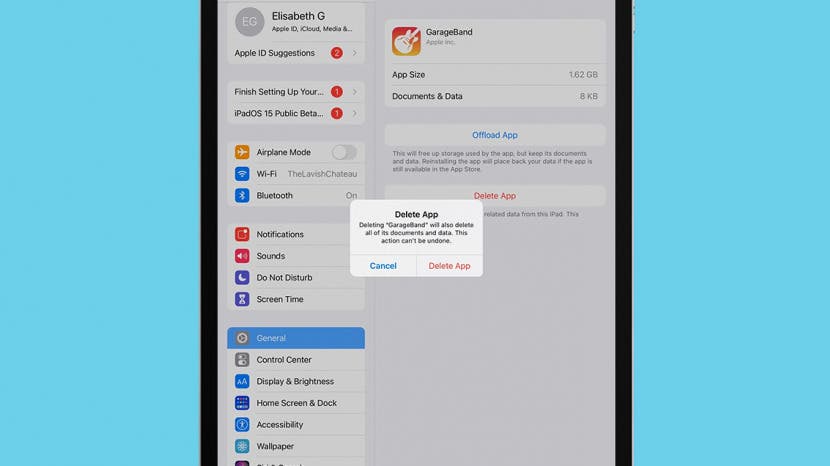 Cluttered iPad Home screen? Figuring out how to remove apps from iPad can feel like a chore, but luckily there are a couple of easy ways to do so, and you can always get the apps back if you need them later! We'll go over the two methods to delete iPad apps and free up iPad storage space.
Related: The Complete Guide to iPad Multitasking: Split Screen, Slide Over & Picture-in-Picture
Why You'll Love This Tip
Learn how to uninstall an iPad app to free up storage space and improve Home screen organization.
Delete apps on iPad to make sure apps you don't trust aren't able to collect your data.
Delete apps from the Home screen or from Settings.
How to Delete Apps on iPad: Home Screen Method
First, it's good to know that there is no difference between deleting an app and uninstalling it from your iPad—the terms are interchangeable, and will remove the app and its contents from your device. If you get rid of apps that you later decide you need, you can visit your Purchased list in the App Store to re-download any apps you've bought in the past using the same Apple ID. This will work for all of your Apple devices that use the same Apple ID. These steps will work whether you have iPadOS 15 or iPadOS 16 installed. Currently, you can delete 25 pre-installed apps, and with iPadOS 16 arriving in the fall, you will be able to delete 29 pre-installed apps. To learn more about managing apps across your devices, sign up for our Tip of the Day newsletter.
Long press an empty space on your iPad's Home Screen until the apps begin to jiggle.


You'll see a minus symbol in the upper-left corner of each app icon that can be deleted.
To delete an app, tap the minus symbol for that app.


Select either Delete App or Remove from Home Screen. If you select the latter, the app will still be on your iPad, and you can find it using the App Library or Search. Choosing Delete App will remove it from everywhere on your iPad.


Tap Delete to confirm.


 
Tap any blank spot on the screen to return to the normal Home Screen view. That's one way, and it's very effective. For those of you looking for another method, the next section will show you how to delete iPad apps in Settings.
How to Uninstall Apps on iPad in Settings
When you remove something through the Settings app, you'll be given the option to delete the app manually. We'll cover how to delete apps using the Settings app in this section. Before we get started, you should know the difference between "offloading" and "deleting" an app. Offloading an app removes an app from your iPad but preserves the app's data so that the app no longer uses storage space on your device but can be reinstalled later with no data loss. Deleting an app removes the app entirely, including any settings you saved, like a username or password associated with the app. So, if what you want is a permanently removed app (that you could reinstall later via the App store) then follow these steps:
Open the Settings app.


Tap General.


Select iPad Storage. You'll see a list of all the apps you have downloaded on your iPad.


Tap on the app you want to delete.


Tap Delete App.


Tap Delete App to confirm.


Go through the list and delete all the apps you want to remove from your iPad. These are the two easiest, fastest ways to delete apps from an iPad. You can use these tips to delete apps from your iPhone too!