Apple Maps allows users to create collections, called Guides, of locations to save for later. This comes in handy when you're making vacation plans, saving favorite restaurants, or earmarking other significant locations.
By

Tamlin Day
Updated 07/14/2021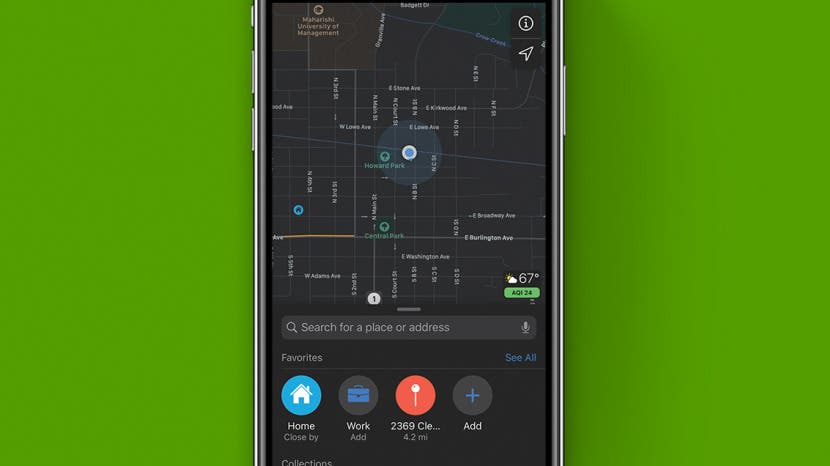 If you're planning a big trip or a busy weekend, you can use the Apple Maps Guide feature to create a list of the places you'd like to go, sort of like having a personal handheld travel guide. You can also save other important locations like nearby stores or restaurants, the airport, hotels, and any other known locations. Personally, I used mine to plan my walking routes when I was exploring downtown Anchorage, and it made it much easier to navigate, including finding a good spot for lunch on my way back from the walking trails and sightseeing landmarks. In certain locations, Apple Maps Guides can also suggest Guides for you, if that sounds like an adventure you'd like to take! You can even share Guides, in case you want to show a friend your itinerary or let your loved ones know where you plan to be. We'll show you how to create your own Guide in Apple Maps, step by step.
* This post is part of iPhone Life's Tip of the Day newsletter. Sign Up. *
Related: How to Save & Share a Location from Apple Maps on iPhone & iPad
How to Create a Guide in Apple Maps
We've gone over how to name, edit, and change home and work addresses in the Maps app, how to share your ETA with a contact in Apple maps, and how to save and share a location from Apple Maps. For more great iPhone tutorials, check out our free Tip of the Day.
Open the Maps app.
At the top of the menu panel you'll see a small gray bar. Slide the bar up.


 
Tap New Guide.
Enter a title for your Guide and tap Create.


 
Select your Guide to begin adding locations to it.
Tap Add a Place.


 
Enter your desired location into the search bar.
Tap the blue plus sign next to the location you want to save.
Tap Done.


 
To add more locations or to edit your Guide, swipe up again on the gray bar at the top of the menu.
Tap the blue plus sign in the bottom-right corner to add a location.


 
Alternatively, you can tap the share icon to share your list, or tap Edit to make changes.


 
You can also swipe left on a specific location to share or delete that location.


Now you can open your Guide and get directions to any of the locations at any time with Apple Maps.