Pair your wireless Bluetooth headphones to your Mac laptop or desktop computer.
By

Jivan Hall
Updated 05/31/2022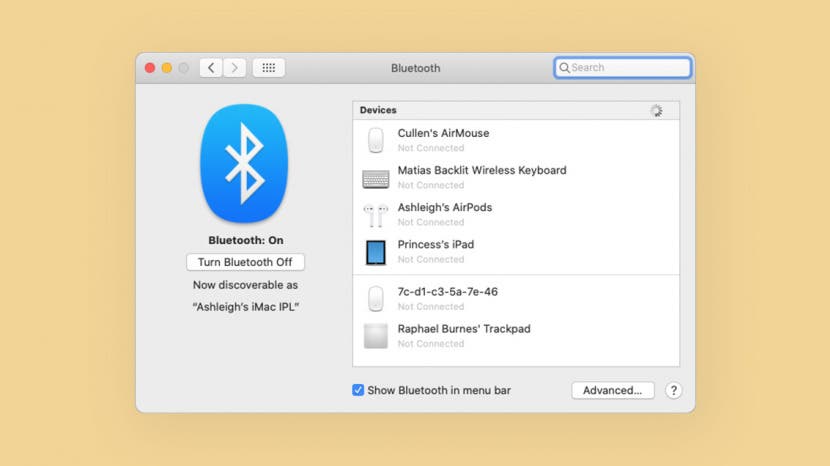 * This post is part of iPhone Life's Tip of the Day newsletter. Sign Up. *
If this is your first time attempting to pair wireless headphones to your computer, you will likely be pretty happy with how seamless and reliable it is nowadays. Let's cover how to enable Bluetooth on Mac and pair your wireless headphones.  
Related: How to Check AirPod Battery & How to Know if AirPods Are Charging
Why You'll Love This Tip
Listen to music, podcasts, or movies wire-free without sacrificing high quality sound.
After pairing your earbuds, enjoy your audio and multitask up to 30 feet away from your computer.
How to Pair Bluetooth Headphones to Mac
Before beginning, make sure your Bluetooth headphones are charged and close by. You might need to look up instructions for placing your Bluetooth headphones in pairing mode, as this can differ slightly between brands. Typically, it's just a matter of pressing a designated pairing button on the device. For more handy Bluetooth tips, consider signing up for our free Tip of the Day Newsletter. Now, here's how to connect Bluetooth headphones to your Mac:
Click the Apple icon in the top-left corner of your screen.


 
Select System Preferences.


 
Click Bluetooth. 


 
If your Bluetooth is currently off, click Turn Bluetooth On.


 
Your Mac is now in discoverable mode and ready to pair with your headphones.


 
Put your Bluetooth headphones in pairing mode. (If you are using AirPods, do this by placing them in the case and opening the lid.) You should see the name of your Bluetooth headphones appear in the Devices list.


 
Click Connect.


 
If your headphones are compatible with Siri, you may see a window asking whether you want to use Siri with your headphones. Select Enable to use Siri with your Bluetooth device, or click Cancel to refuse access.


 
If not already selected, click Show Bluetooth in menu bar. This will create a Bluetooth shortcut at the upper-left corner of your screen.


After the initial setup, your Mac will remember the Bluetooth device you have just paired. If you added the Bluetooth shortcut on your menu bar, you can turn Bluetooth on and off from there. Enjoy your newfound freedom! Next, learn how to troubleshoot common iPhone Bluetooth issues.