Cancel your Netflix membership with a few easy steps!
By

Tommy Boynton
Updated 04/28/2022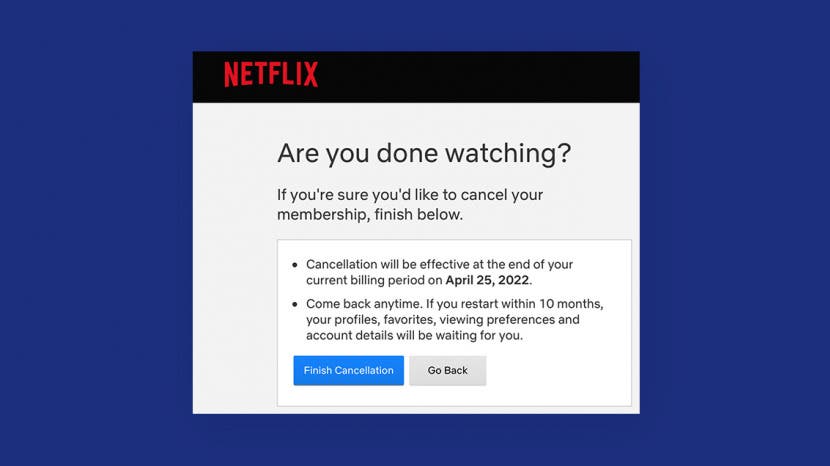 There are so many streaming platforms these days, and maintaining a subscription to all of them isn't necessarily sustainable. Some apps make unsubscribing an unnecessarily difficult process, but the good news is that Netflix isn't one of them. You can unsubscribe from Netflix anytime after signing up, and can easily cancel in a few easy steps. Read on to learn how to cancel your Netflix subscription.
Related: How to Find Hidden Apps on iPhone 
How Do You Cancel Netflix If You Signed Up with Apple ID?
If you subscribed to Netflix on a web browser by providing an email address and password, you'll be able to unsubscribe by logging in and following the simple instructions in the section below. Most people will be able to unsubscribe using this method. However, there is an exception to the rule. If you subscribed to Netflix on the Netflix app on your iPhone or iPad, your subscription might be linked to your Apple ID instead. You can't unsubscribe directly from the Netflix app, however, you can follow the simple steps in this article to cancel the subscription on your iPhone or iPad. Using this method, you'll simply access your subscriptions via the Settings app or the App Store to cancel your Netflix membership.
How to Cancel Netflix Membership 
It's important to note that simply signing out of your Netflix account or deleting the Netflix app does not cancel your Netflix membership. For more handy tips, consider signing up for our free Tip of the Day Newsletter. Now, follow the steps below to learn how to cancel a Netflix subscription.
Sign in to your Netflix account.
Click the down arrow in the top-right corner next to your profile icon.


Select Account.


Under Membership and Billing, click Cancel Membership.


Click Finish Cancellation to cancel your Netflix membership.


That's all there is to it! Once you've canceled your account, you'll still be able to use Netflix until the end of your current billing period. After that, you'll need to re-subscribe if you want to continue using the service.  If needed, you can also learn how to cancel Amazon Music.