By

Ashleigh Page
Updated 01/09/2023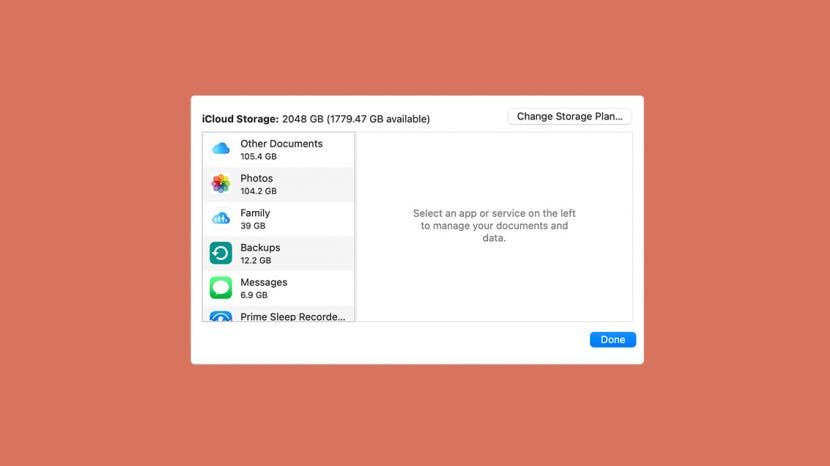 * This post is part of iPhone Life's Tip of the Day newsletter. Sign Up. *
Did you know that you can use iCloud to back up your Mac's files, photos, and more? Learn how to back up your MacBook Pro, Air, or iMac in the easiest way possible! Setting up an Apple backup through iCloud is best to do before a software update, when upgrading to a new Mac, or just as a routine precaution to keep your data safe.
What's in This Article?
How to Back Up Mac to iCloud
How do I back up my MacBook Pro, MacBook Air, or iMac? Creating a Mac backup on iCloud is simple and can be customized to your liking. If you'd like to learn more about Apple device backups and iCloud, sign up for our free Tip of the Day newsletter to see more top tips! To find out what kind of iMac you already have and check your software compatibility, check out our article on all the different iMacs and how to identify them. In the market for a new M1 MacBook? Check out our review on the MacBook Pro M1 Max to help make your decision. 

Discover your iPhone's hidden features
Get a daily tip (with screenshots and clear instructions) so you can master your iPhone in just one minute a day.
Here's how to create an iCloud Mac backup:
Click the Apple icon.


 
Open System Preferences.


 

Click on Apple ID.


 
Select iCloud in the menu on the left if it isn't already selected. Sign in to iCloud if prompted.


 

Click to check the box next to iCloud Drive if it's not already checked.


 
Click the Options button next to iCloud Drive.


 

Check the box next to anything you want stored in your iCloud drive, such as your Desktop & Documents or your Mail data.


 
Click Done.


 

To save space on your Mac, you can select Optimize Mac Storage. Note: this means some documents may only be stored in iCloud and not on your local drive, so be aware of that if you also use an external hard drive to back up your data.


 
If you need to purchase more data storage and sign up for a monthly subscription, click Manage.


 

Select Change Storage Plan to purchase more iCloud storage space.


 
To see your Mac iCloud Drive, open a Finder window.


 

Then, click on your iCloud Drive folder to open it. You can copy and paste or drag any folder from your Mac to add it to your iCloud Drive.


Once this is done, you should be able to access these files on your other Apple devices! Now that you have a backup of your Mac's data in iCloud, you can rest easy knowing that your data won't be lost if something happens to your computer.
Pro Tip: Are you wondering how to save everything to iCloud? Go back to the steps above and make sure to check everything you can under step 7.
Related: How to Back Up a Mac with Time Machine
What Is iCloud Backup & iCloud Drive?
An iCloud backup is essentially a copy of the information on your device saved online so that if anything happens, you can quickly access and restore your data. When you create an iCloud backup, you can select what you want included, and it will happen automatically. 
You can access your iCloud Drive by going to www.icloud.com. You can also save files to this iCloud folder manually as you please. iCloud Drive can be compared to Google Drive and DropBox, and it is compatible across various devices, even PCs and Android phones and tablets.
How Much iCloud Storage Do I Need?
For a full Mac backup (like the one you'd do on an external hard drive), Apple recommends having twice the amount of storage space available to you as you use on your Mac. That said, iCloud backups tend to include a smaller amount of data than external drive backups since iCloud only backs up specific files and data, not all of the data, programs, and settings on your Mac. You won't need as much storage on iCloud as you would with an external hard drive, but you'll likely still need more than the free 5 GB of iCloud storage that each user has access to by default.
To back up more than 5 GB (remember that iCloud is the backup space for all of your Apple devices), you will need to sign up for a monthly subscription. Fortunately, iCloud storage plan pricing is pretty affordable! If you already have other Apple subscriptions, you may even be able to save money with an Apple One bundle.
Now you know how to back up a Mac to iCloud! You can use iCloud to back up your Mac's files, photos, and more, so you'll never have to worry about losing your data. Setting up an Apple backup through iCloud is probably the most straightforward option you have available, although there are other ways to back up your Mac, including Time Machine backups. Keep in mind that every user gets 5 GB of free iCloud storage with their Apple ID, but users can opt to upgrade their storage amounts by signing up for an affordable monthly plan. Paid plans also give users more features through iCloud+!