By

Jim Karpen
Updated 01/10/2018
More than 160 million people use Snapchat every day, and developers keep rolling out new, versatile features to keep Snap fresh. Whether you want to use Snapchat to send a photo, video, or message to one friend or to a whole group of followers, live video chat, or discover short-form content from publishers and celebrities, there's a lot to keep you connected and engaged. Beyond that, Snapchat allows users to send and receive money through Snapcash, create avatars, augment content with filters and AR lenses, stickers, and a drawing feature, and share locations for still shots and live chat. Formerly a non-archival platform, Snapchat now allows users to save photos and videos, called snaps, with their Memories feature. A frustration many Snapchat users share is the inability to download Snap for iPad. Snapchat for iPhone is super convenient, but when you have the ability to use an iPad, it sure would be great to have a larger drawing surface so you can add more detail to your still shots and filters, and have more screen space to explore Stories. Although Snapchat for iPad is not officially available, there's an easy trick to install Snapchat on iPad. Let's get started learning how to get Snapchat on iPad! 
Snapchat for iPad: Let's Go!
Want to put Snapchat on your iPad? Open the App Store app on your iPad and type in "Snapchat." As you can see, the autocomplete feature even suggests there's an iPad version of Snapchat.
But when you do the search, the Snapchat app doesn't appear. The only Snapchat apps that come up are third-party apps that interact with your Snapchat account, that's because the App Store recognizes that you're on an iPad and only shows you apps designed for that device.

Discover your iPhone's hidden features
Get one daily tip each day (with screenshots and clear instructions) so you can master your iPhone in just one minute a day.
To download the actual Snapchat app, go to the top left corner of the App Store app and tap on "Filters", a dropdown menu will appear.
The dropdown menu lets you select "Supports." Tap "Supports", then tap "iPhone Only." Now you'll be able to download iPhone apps that haven't been designed specifically for the iPad.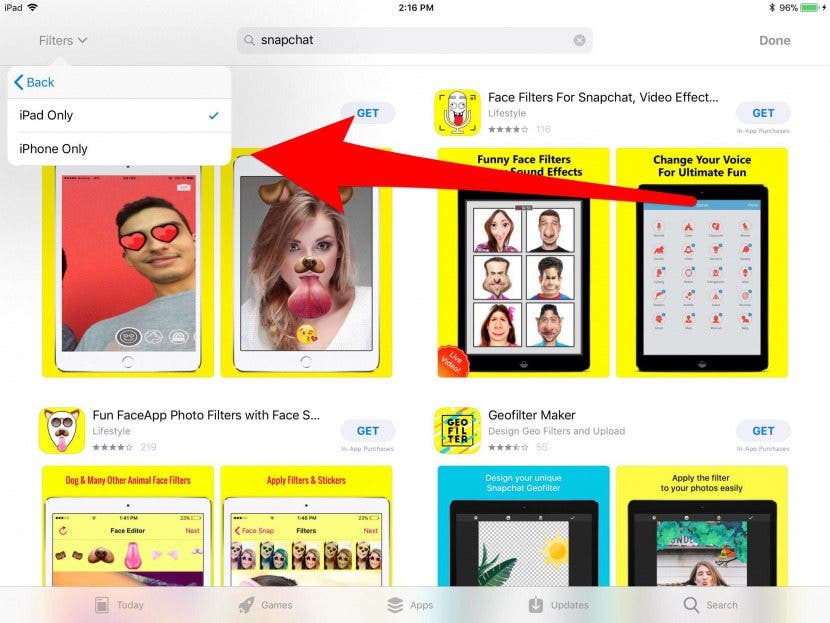 Once you've selected "iPhone Only", the app automatically executes the search again. The Snapchat app will now appear in the search results. You can now download it to your iPad!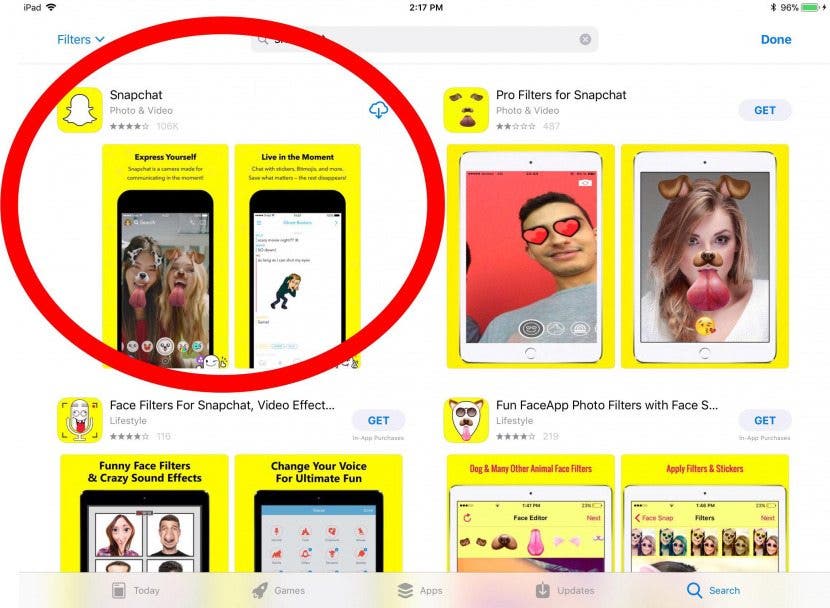 Top Image Credit: Kudla/Shutterstock.com