Is your iPad, iPad Mini, or iPad Pro waterproof? Find out how to protect your device from water damage with a waterproof iPad case.
By

Olena Kagui
Updated 07/12/2021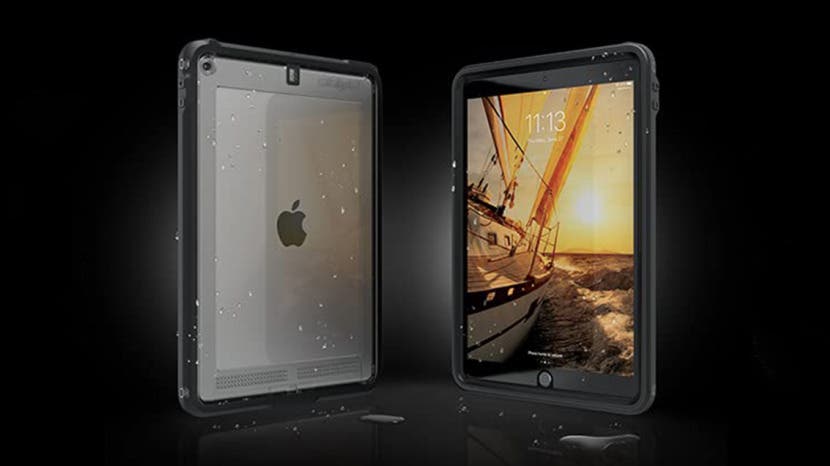 Are iPads water resistant or waterproof? Unfortunately, no. Even the new iPad Pro isn't water-resistant, and it doesn't even have a water resistance rating. The best way to keep your iPad safe from water damage is by using a certified waterproof iPad case. Luckily, there is an option for every model, style, and budget!
Related: Are Apple AirPods Waterproof? Everything You Need to Know
Jump To:
How Water Resistant Is iPad Pro?
There are always hopes that the new iPad will finally be water-resistant, but Apple hasn't given in so far. The latest iPad Pro may boast the M1 chip, but it is still as susceptible to water damage as any other iPad.
What Happens If Your iPad Gets Wet?
It depends on the iPad, liquid, and the amount of time it was submerged. But the quick answer is, there will be water damage. If you get a splash of water on your display, it shouldn't be a big deal. But if a water droplet gets in the slots or buttons, it could cause permanent damage.
Since Apple is known for being overly conservative about promising water resistance for its devices, there have been whispers about iPads being secretly water-resistant after all. Tablet News did a test back in 2016, and unfortunately, the iPad Pro 9.7 did not survive to tell the tale. In fact, it only took 15 minutes underwater for it to be irreparably destroyed.
If you think your iPad has water damage, contact Apple directly. While Apple's standard warranty doesn't cover water damage, it might be covered under AppleCare if you signed up for it when you purchased your iPad. 
5 Waterproof iPad Case Options
There are many waterproof iPad cases out there that can fit any iPad model. These are not listed in any particular order!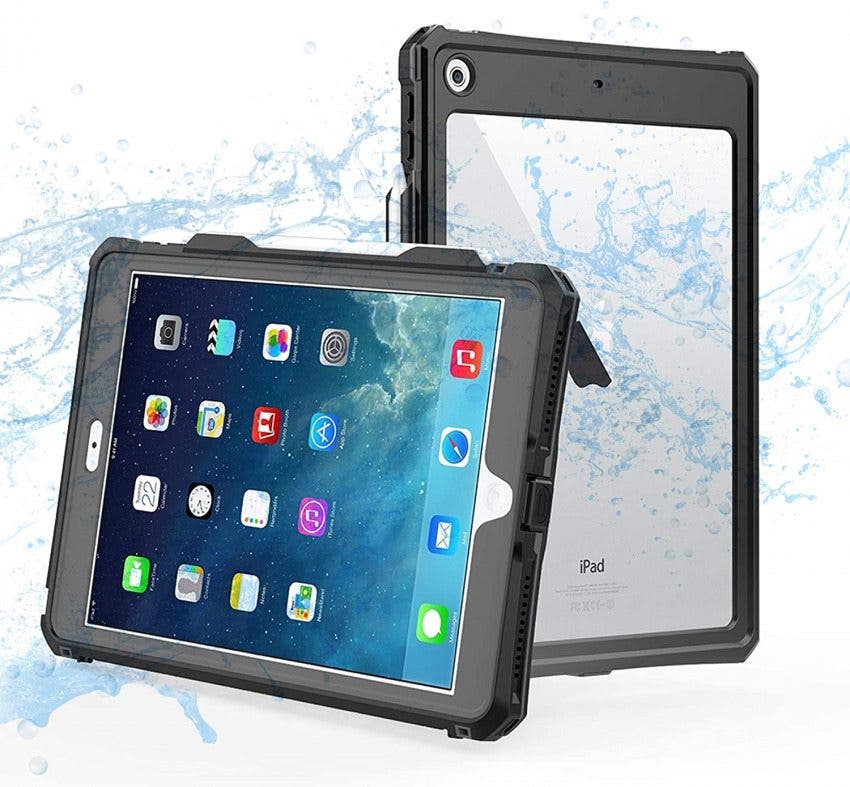 The ShellBox Case is waterproof and shockproof, plus it is compatible with several iPad models, including 7th- and 8th-generation iPads. They have options for 7.9-inch, 10.2-inch, and 11-inch iPads. The case has excellent reviews, and it has a super handy kickstand, shoulder stand, and Apple Pencil holder.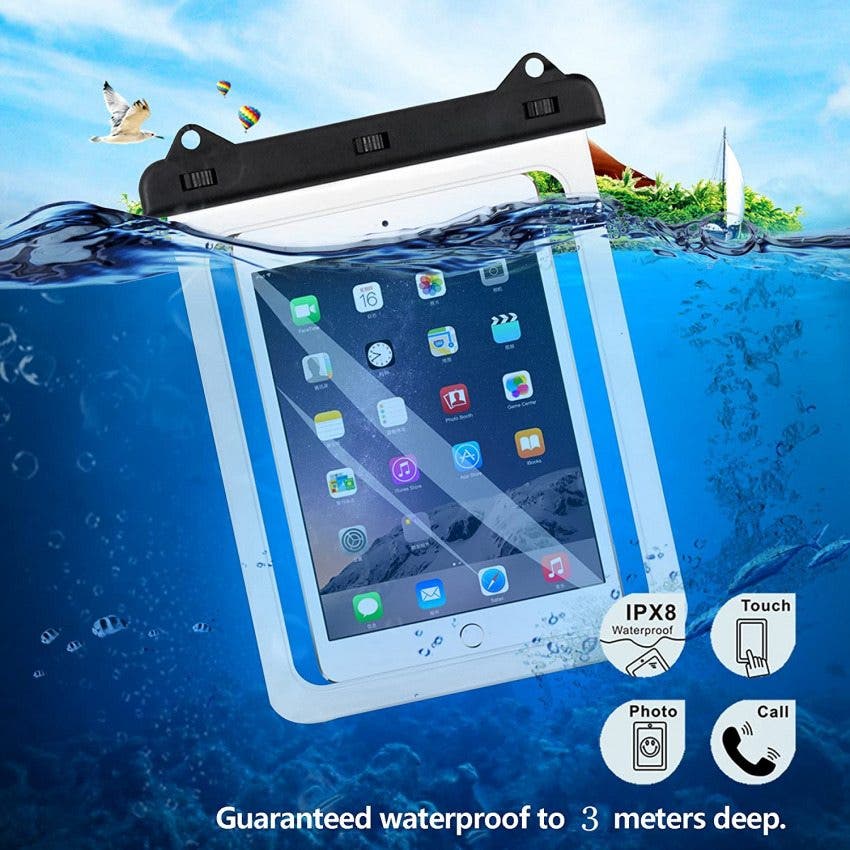 AICase offers one of the most budget-friendly waterproof iPad cases that also happens to be universal. If you have multiple iPads that you like to use on different occasions, this could be the best option. Plus, you can keep using it after an upgrade! However, it can be bulky and harder to use than a fitted case because it's universal.
The Joy Factory's aXtion case is rugged with an easy to hold hand strap. It is waterproof, shockproof, and has a built-in screen protector. This case even comes with an official water resistance rating of IP68, which means that it can withstand continuous submersion at a depth of 3.3ft (1m) for up to 30 minutes. Plus, it is smart keyboard compatible!
The Weuiean dry bag pouch is the best of both worlds. It is compatible with various iPad and table models, but it also has a hand strap that makes it easy to hold. Of course, it also comes with a lanyard, so you have various ways to handle and operate your iPad. 
The Catalyst waterproof case is on the pricier side, but it promises perks that other cases don't. Not only is it safe to use in any environment, even a dangerous construction site. The most exciting feature is that the Catalyst case is reported to enhance sound and take crystal clear photos up to a depth of 6.6ft (2m.)
Make your iPad Pro waterproof with a case to enjoy it to the max this summer! Until Apple starts creating water-resistant iPads, we are left to use cases. Luckily, there are so many great options out there! However, keep in mind that if a waterproof iPad case malfunctions, it could still destroy your iPad. Next, read about the water-resistance levels of your other Apple devices, including the Apple Watch, MacBook, AirPods, iPhone, and more.