Feel like your Apple Maps app is screaming at you? Or maybe it's so quiet you can't even hear it? Learn how to change the Apple Maps voice volume.
By

Elisabeth Garry
Updated 02/22/2022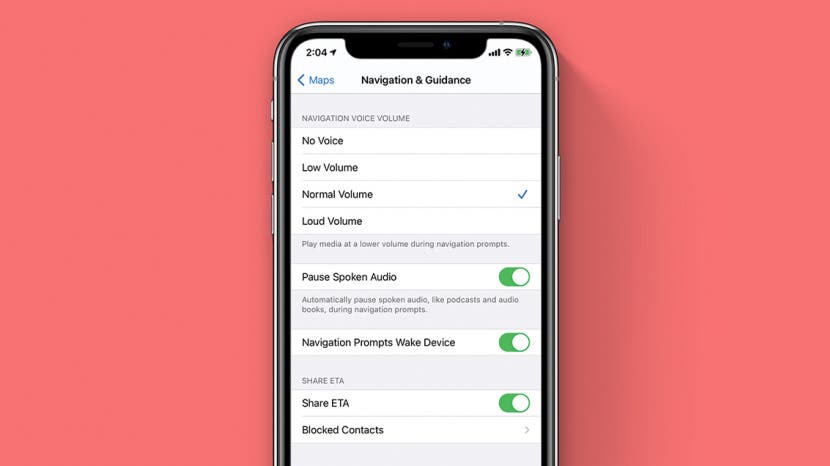 The Loud Volume setting in Apple Maps often startles me as I'm driving. Because of this, I tend to select the Low Volume setting as my default. However, if you have kids in the car, like loud music, or struggle to hear the lower volume, adjusting this setting can be important. Whatever your situation, choosing an appropriate volume setting can help you avoid having to look at your phone screen so you can better focus on the road ahead. Here's how to change the default volume setting for the Apple Maps app:
Related: 5 Handy Apple Maps Tips for Easy Travel
Jump To:
Change Apple Maps Voice Volume in Settings
Open the Settings app and select Maps.


 
Tap Navigation & Guidance.


 
To turn off the spoken directions, select No Voice. To turn the voice on, select your preferred navigation prompt volume.


 
For the Normal Volume and Loud Volume settings, you can also enable or disable the Pause Spoken Audio toggle.


Whenever I do use the Normal Volume and Loud Volume Settings, I like to enable the Pause Spoken Audio toggle. This will not stop your music, only lower its volume. But with this setting, podcasts and audiobooks will be automatically paused during navigation prompts. This way, I can hear my navigation prompts more clearly and can avoid missing key thoughts in my audio. To learn about more ways you can use the Apple Maps app, check out our Tip of the Day newsletter.
Change Apple Maps Voice Volume in the App
If you've set a destination and started turn-by-turn directions, you can also change the volume in the Apple Maps app. Here's how:
Swipe up on the gray route card.


 
Tap Audio.


 
Set your preferred volume for the guidance voice.