By

Leanne Hays
Tue, 03/27/2018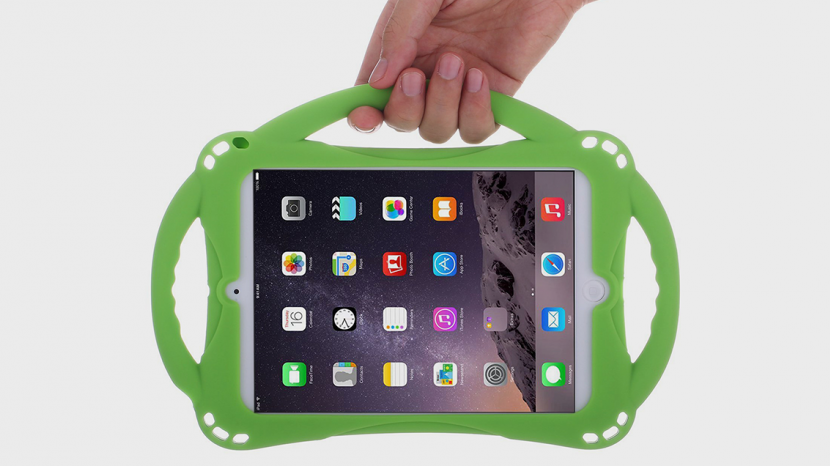 Kids love iPad time as much as the rest of us, but am I the only one who can almost see my iPad cringe at my child's enthusiastic appreciation? My standard protective iPad case can handle the wear and tear of adult and teenage use, but isn't up to the task of drops, bangs, and spills that a younger child dishes out. Therefore, I've set about to find the very best iPad cases for young children so that I can safeguard my iPad and my nerves from the perils of our preschooler in residence. I'm looking for three key features in my search for the best iPad case for kids: it must be drop proof, easily cleaned, and cute. Let's get started on our review of my findings so you can decide which of these iPad-saving cases you'd choose!
Related: Which iPad Do I Have? How to Identify the Different iPad Models & Generations
Best iPad mini Cases for Kids
​

Griffin Fox ($10) and Panda ($11.95) KaZoo Animal Cases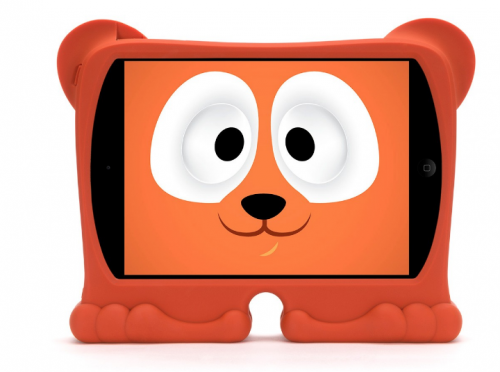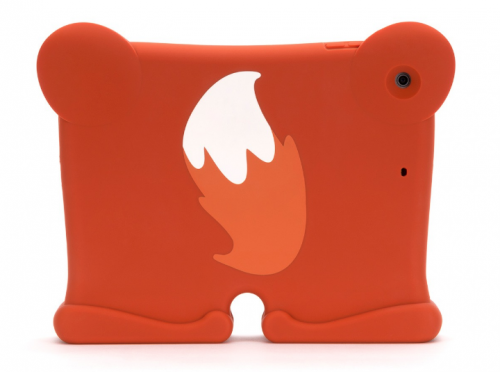 Fits: iPad mini, iPad mini 2, iPad mini 3
Features: Large, silicone frame is easy to hold, washable, and protects your device from drops and bumps. The feet serve as stylus storage, a sturdy base for vertical viewing, and create an ergonomic angle for horizontal use.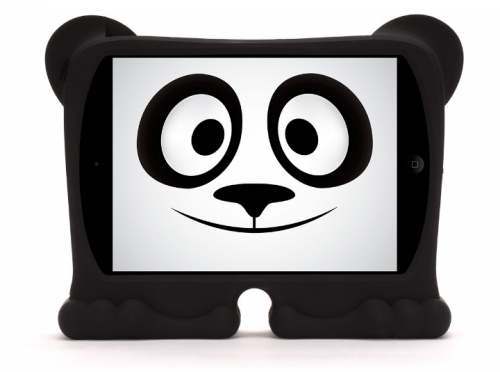 ​Pros: Besides the instant "aww factor," these iPad mini cases​ caught my attention because of the large, cushioned area they create around the iPad's display. I also love the fact that this is a simple, one-piece case with no kickstand-style prop for vertical use. As my fellow parents know, any movable piece on a toy or device will get played with and yanked until it breaks. The KaZoo case has solved that issue handily!
Cons: Unfortunately not available for iPad mini 3 or other iPad versions. Also, doesn't come with a screen protector.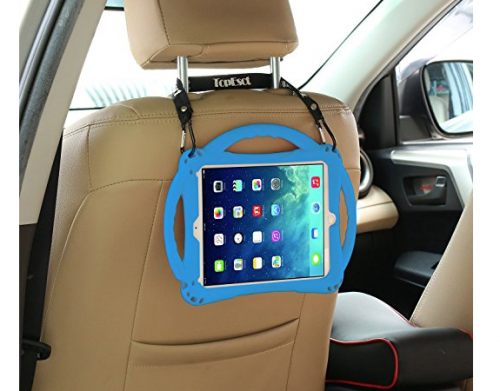 Fits: iPad mini, iPad mini 2, iPad mini 3 and iPad Mini Retina Models (only comes in green)
Features: Large, silicone gel frame with easy-grip handles on three sides and holes for carabiners at all four corners. Drop resistant and shockproof as well, easy to remove and wash.
Pros: Includes a tempered glass screen protector, comes in four bright colors. I love the idea of using the included lanyard to hang this iPad over the headrest in the car, so the kids don't squabble about who gets to hold the iPad. No one gets it, kids; it's going in the middle where you can't reach it, the end!
Cons: Has the kickstand-style prop for vertical viewing, but you can hang it as an alternative to using this feature. 
Fits: iPad, iPad 2, iPad 3, iPad 4, iPad mini, iPad mini 2, iPad mini 3, iPad mini 4, iPad Air, iPad Air 2, iPad Pro 9.7 Inch 
Features: Made of EVA foam, this military-grade drop tested iPad case is lightweight, flexible, and super cute. The feet allow it to stand freely for vertical display and for setting the screen at just the right angle for horizontal use. 
Pros: Gorgeous colors, intense cuteness, rugged durability, easy to clean, comes in a wide variety of sizes.
Cons: No included screen guard.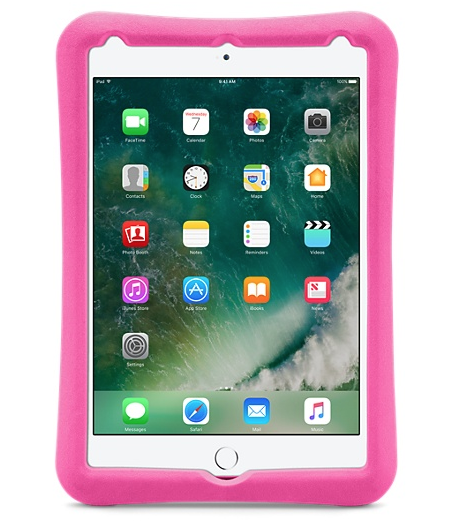 Fits: iPad mini 4, iPad Air 2
Features: Lightweight, all-angle drop protection, circular handle that fits into the back of the case for a seamless feel when closed.
Pros: Dishwasher safe. I repeat, dishwasher safe. This  iPad case is the only that I've found with this feature, and it's almost enough to make me buy it right now.
Cons: Pink and blue only for colors, really guys? I would have loved to see some gender-neutral choices here. Also, no included screen protector. I'll withhold my usual kickstand complaint as this one looks like it's extremely well constructed!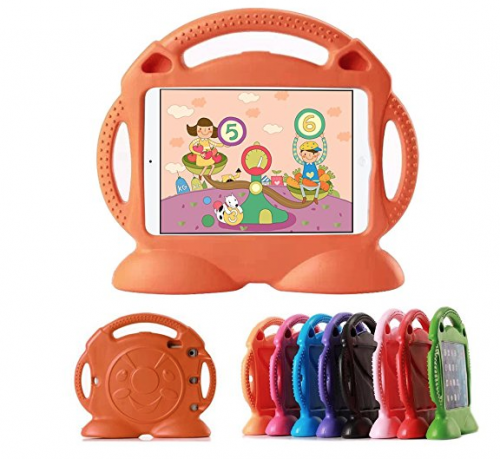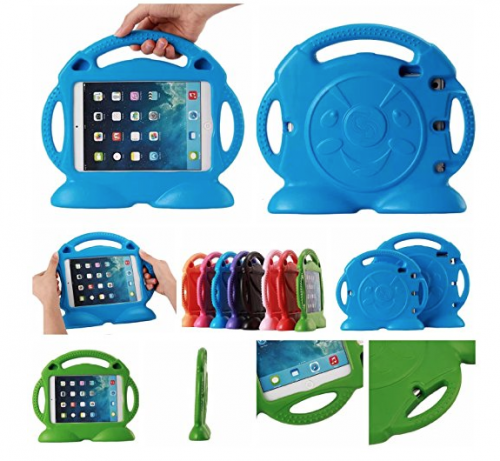 Fits: iPad Air, iPad Air 2, iPad Pro 9.7 inch
Features: This protective case is made of lightweight, non-toxic silicone foam. Grippy carrying handles on the top and sides. Cute, chubby feet for vertical viewing also provide just the right tilt for horizontal use.
Pros: Comes in eight bright colors with no movable parts to break. The cover is completely washable.
Cons: No screen guard included, the case has a slightly cheap look with visible seams.
Best iPad Cases for Kids: Which Would You Choose?
After much consideration, my favorite is the TopEs iPad Mini Case. What sold me on this accessory versus the other brands is its versatility. I love that kids can safely carry it around the house, as well as bring it in the car; the included lanyard for attaching to a headrest is such a helpful feature! The lanyard would be great to use in the house as well, to tether the iPad to one location so that it doesn't get misplaced or brought into the bathroom (house rule there.) The one-year warranty and included tempered-glass screen guard clinched the deal for me.
Which of these iPad covers would you consider purchasing? Do you have any other suggestions for our readers? Please comment below.