By

Dig Om
Tue, 01/31/2017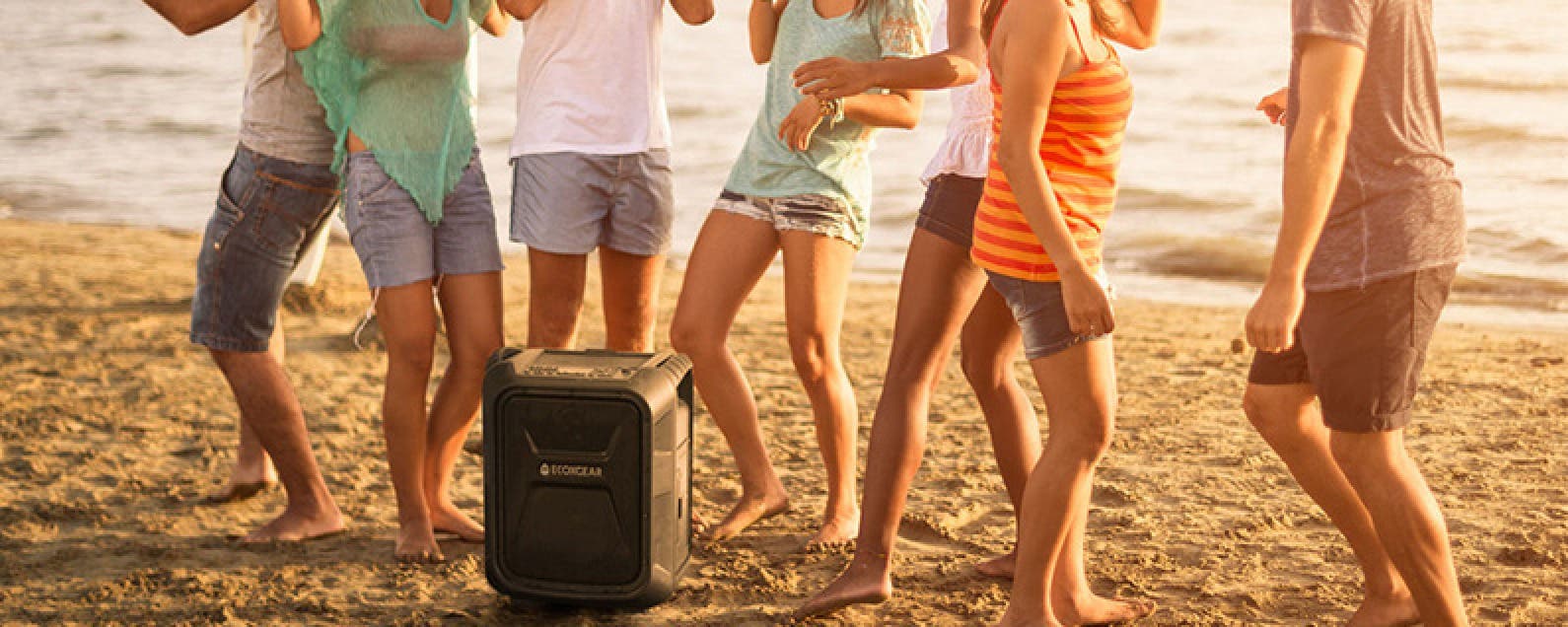 If you are on the hunt for a powerful outdoor Bluetooth wireless speaker, one that can pump out massive volume and is also well-equipped to handle extreme environments, then the following head-to-head review of these two behemoths will be for you. I'm putting two of the best modern Bluetooth boomboxes to the test, to see which one of them fares the best.
Both of the following outdoor Bluetooth speakers are loud, both are rugged, both command respect. But in the end, only one can come out on top in this showdown of the two loudest portable Bluetooth speakers.
These two top-rated Bluetooth speakers actually have more commonalities than they do differences; so for starters, let's consider the ways in which they are similar before we talk about what makes these portable Bluetooth wireless speakers unique.

Discover your iPhone's hidden features
Get a daily tip (with screenshots and clear instructions) so you can master your iPhone in just one minute a day.
What They Have in Common
Physically, both Bluetooth speakers are roughly the same size and heft. Approximately the dimensions of a small of carry-on suitcase, each portable speaker features telescoping handles and two wheels at their base, allowing you to easily cart them around, despite their large size and heavy weight. They also feature a convenient slot for securely mounting your iPhone or iPad.

In both speakers you'll find a powerful rechargeable battery that not only powers the thunderous sound that these speakers deliver, it also allows you to plug your devices in and keep them charged up.

Both Bluetooth speakers have programmable FM radios which allow you to play music without relying on having a smartphone or tablet nearby.

Each of these rugged Bluetooth speakers is capable of withstanding extreme conditions, including inclement weather and harsh environments.

These are both incredibly loud Bluetooth speakers, making either one ideal for providing ample sound to a large room or an outdoor setting, without the sound getting swallowed up or coming across as small and insignificant.

The audio quality coming out of these wireless speakers could be considered impeccable. Both deliver well-balanced, full-scale, rich, and crisp sound.

Both of these wireless speakers allow you to plug in a 1/4" auxiliary jack. So say for instance, you wanted to play electric guitar or sing along with your favorite songs, these speakers will facilitate such shenanigans.
What Sets Them Apart
The Rockin' Roller 2 has two AC outlets, and although you need to have the speaker plugged into a wall outlet in order to use them, it's still convenient as it serves as as extension, allowing you to connect other AC powered appliances to the speaker.

Its 80-watts of power make for an incredibly robust listening experience. It gets loud and sounds great, even far away or in the open spaces of the great outdoors. But as you'll see, the EcoBoulder trumps the Rockin' Roller in this important category.

The Rockin' Roller 2 delivers an impressive 100 hours of playback on a single charge. Far more than the EcoBoulder can guarantee.

IPX4-rated water resistance with an external weather resistant storage compartment mean that you can rely on this speaker to perform well and hold up even in dusty, dirty, damp, and wet conditions. The EcoBoulder also trumps the Rockin' Roller 2 in this significant category as well.

Two powerful built-in LED lights for convenient and bright lighting in any situation.

Equalizer presets which enable you to customize the sound to fit your tastes and the style of music you are listening to.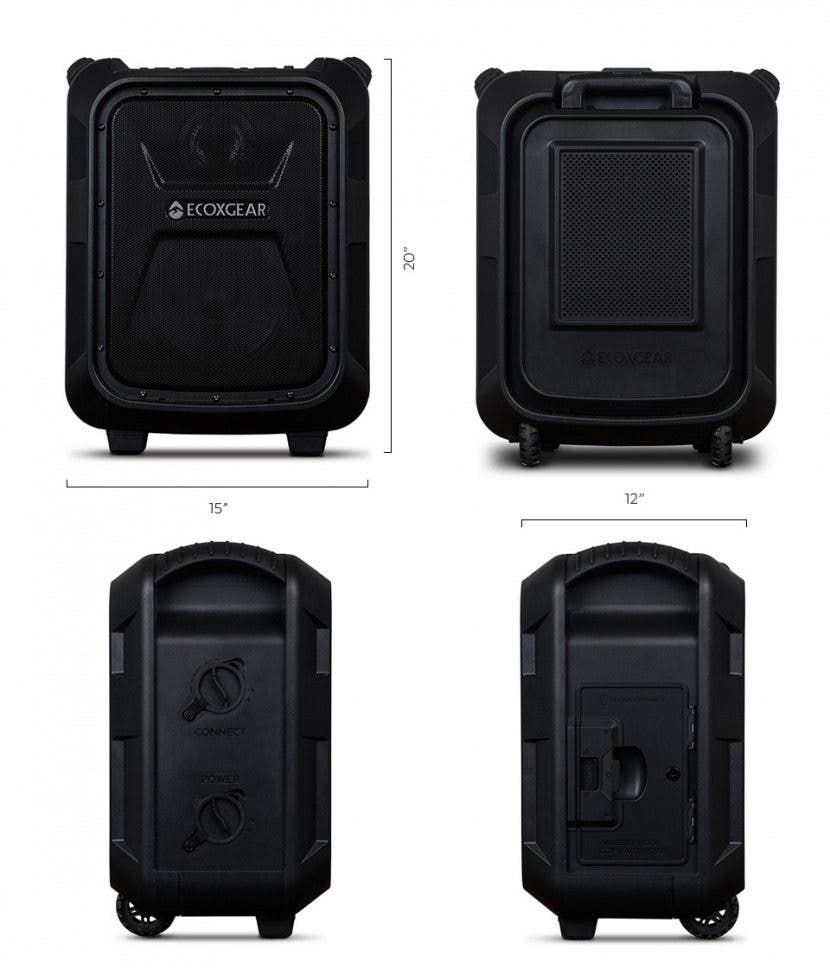 The EcoBoulder includes both AM and FM radio reception.

With 100-watts of power, the EcoBoulder trumps the Rockin' Roller by 20-watts and brings even more thunderous volume to your audio. The EcoBoulder even has an extra sound source, with an eight-inch passive bass radiator for that extra oomph!

The EcoBoulder is IP67-certified, meaning it is fully submersible and even floats. It also has a small external, waterproof storage compartment for sundry items or an iPhone.

The EcoBoulder has a UV-protective housing and a corrosion resistant front grill, making it optimal for outdoor use and beachside fun.

Approximately 10 hours of playback.

With an extended 100-foot Bluetooth range, the EcoBoulder will allow you to have your device with you and stay tethered to the speaker, without feeling like your range of motion is limited.

The EcoBoulder is approximately $50 more expensive at $249.99

Courtesy of EcoXGear's EcoConnect technology, you can connect two EcoBoulders, for decadent, earth-rattling, stereo surround sound.

Alas, this speaker has no bright, LED flaslights, but when you turn on the backlit buttons, their bright blue light is sufficient to find a key and put it in a door lock.
Verdict:
This was a close call! Both the Rockin' Roller 2 and the EcoBoulder are top-notch Bluetooth speakers. They both sound fantastic and are built to last, even in some of the harshest conditions one could consider using them in. I really like the Rockin' Roller 2's LED flashlight, which definitely comes in handy when fumbling around at night or in dark rooms. I also appreciated its lower price point.
With that in mind, I'd have to give the title for best rugged, outdoor Bluetooth speaker to the EcoBoulder. With its extended range and extra volume courtesy of more watts and its passive bass radiator the EcoBoulder is best suited for filling large rooms and outdoor spaces with huge sound. The fact that it's fully waterproof and even floats, makes it with the extra $50 for its extreme reliability and durability and its abilty to survive in just about any conditions.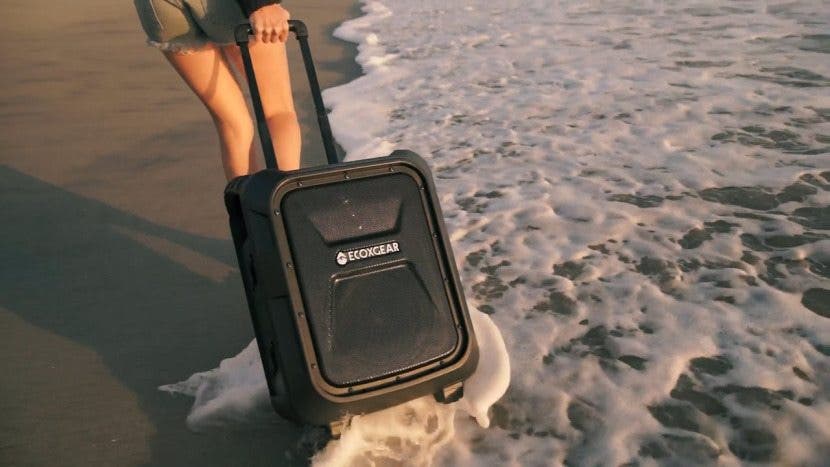 The truth of the matter is that they are both excellent Bluetooth speakers, but if I had to recommend one over the other, and if you were contemplating which of these two similar speakers is the one to invest in, I'd have to give the highest accolades to the EcoXGear EcoBoulder.