By

Leanne Hays
Updated 03/29/2018
Last week, we discussed various suppositions flying around about what news Apple's March 27 Special Event would bring. Now, the wait is finally over, and the world knows what Apple has in mind for the classrooms of the future. The Let's Take a Field Trip presentation covered more ground than expected. Not only did Apple unveil a new 9.7-inch iPad for 2018 with lower educator pricing, but also a cohesive package of classroom-management and curricular apps. The new hardware and applications are designed to launch teachers, students, administrators, and the classroom itself into an integrated, streamlined future where educational and creative opportunities are expanded, organized, and optimized. Let's go over the technology, the apps, and the initiatives unveiled at Lane Tech College Prep High School in Chicago, IL today. From ClassKit, to Schoolwork, to Everyone Can Create, and more. 
Related: Why Apple's Commitment to Education Matters    
Lower-Priced iPad with Apple Pencil Compatibility      
First things first, let's discuss the tech announcements. The biggest device news of the day came with the introduction of a new 9.7-inch iPad. The iPad comes with several improvements over last year's offering, including Apple Pencil compatibility, a ten-hour battery life, and an Apple-designed A10 Fusion chip that allows for 40 percent more CPU, and 50 percent faster graphics. The new iPad also features advanced sensors, a large retina display, and two cameras that, in conjunction with the A10 chip, make Augmented Reality apps and experiences available to users. The iPad starts at $329 for general markets, but will now start at $299 for the classroom market. The Apple Pencil is sold separately, at $99 for the general market and $89 for students and educators.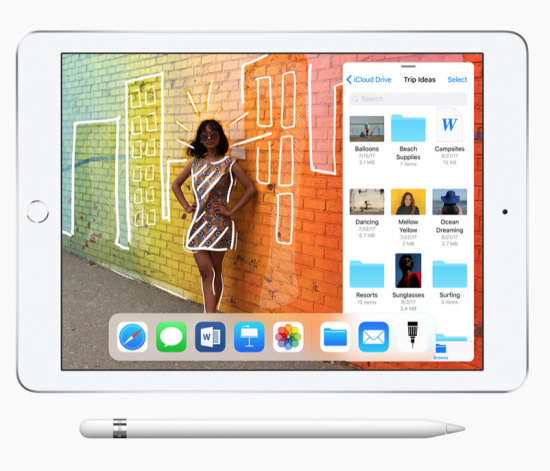 The 2018 iPad, with its greater range of capabilities and a lower price point, is meant to make school administrators consider their classroom tech budgets in a whole new light. Apple is working to catch up and possibly even surpass the current education-market domination of Google's Chromebook. As part of that effort, Apple also unveiled a suite of apps designed to improve and integrate iPad use for academic and administrative tasks, no doubt remembering previous disastrous attempts to make inroads in the classroom market. Apple is offering the whole education package now; not only hardware, but also software. And beyond that, training in how to use both most effectively.
New iPad Apps for Schools, New API for Developers      
Apple launched the Classroom app a few years ago, and it's been adopted as the student-iPad-management system of choice in many classrooms. Classroom allows teachers to remotely control student iPads by launching websites, opening apps, accessing iBooks, and even monitoring or locking student iPads if students go off task and need to be redirected. 
Beyond monitoring and remote control, teachers need help and training use classroom iPads to their fullest potential. To that end, Apple announced an app-based support platform to better organize workflow between school and home. The Schoolwork app helps teachers track assignments and progress for each student. Rather than sending home paper worksheets, permission slips, and notes to parents, teachers can use Schoolwork to send PDFs, links, and notes, as well as assign exercises and homework from apps on student iPads. Schoolwork is also useful for tracking grades, progress, and attendance.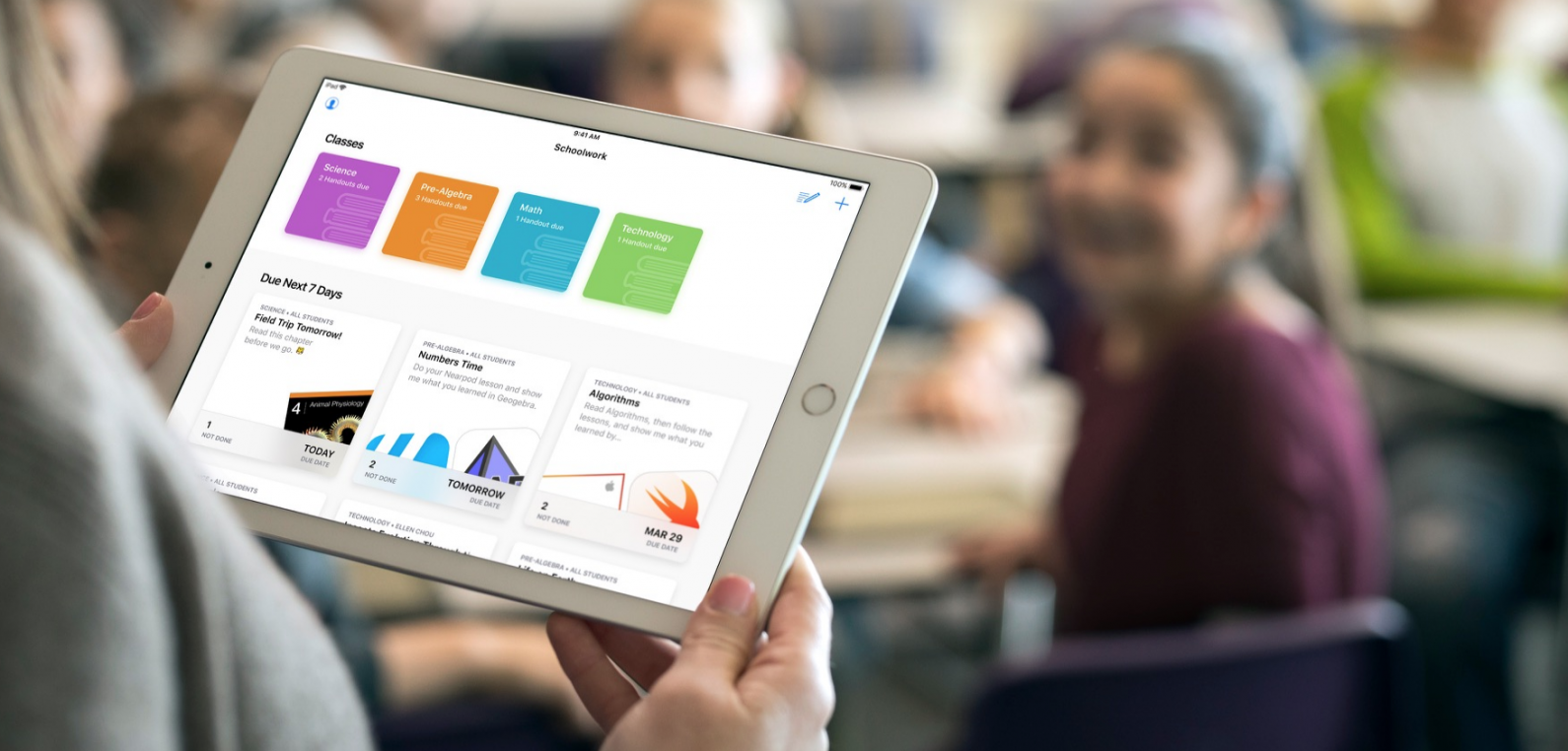 The Schoolwork app still needs content to give educators varied curricular options for their students. To that end, Apple announced ClassKit, a framework to help app developers customize their products for the classroom. ClassKit will roll out with iOS 11.4, and set standards for inclusion in Apple's educational app suite. Developers will need to create apps with the desired content, but that content also needs to be labeled and structured so teachers can easily assign it through the Schoolwork app. In addition, accepted apps have to include a way for teachers to track student progress through the app's activities, so they know which student needs help with particular tasks or concepts.
Everyone Can Create: Apple's Art Education Initiative
With its new, cheaper iPad and with Classroom and ClassKit, Apple is attempting to offer the perfect package for a paperless classroom. Additionally, Apple has launched the Everyone Can Create initiative, building on the momentum of Apple's Everyone Can Code program. Everyone Can Create harnesses the power of Apple's iPad software package to incorporate the arts across the curriculum. Students can use Pages to create and illustrate their own books, GarageBand to compose music, and Keynote to create impressive presentations; the possibilities are endless.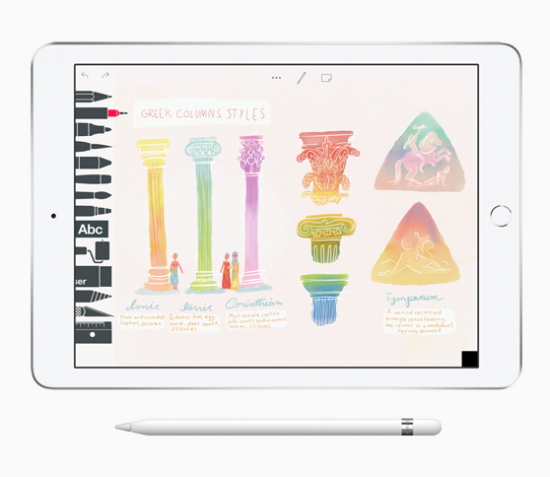 Professional Development: Apple Supports Educators
As the final touch to the Everyone Can Create initiative, Apple is expanding its free Apple Professional Learning program. Within three months, Apple pledges to include Everyone Can Create training at the Teacher Tuesday sessions at Apple Stores everywhere. Online training is available, as well, so teachers can familiarize themselves with the new hardware and software before 2018–19 school year begins.
Phil Schiller, Apple Worldwide Marketing executive, sums up the Let's Take a Field Trip announcement and the Everyone Can Create initiative by explaining, "Creativity sparks a deeper level of engagement in students, and we're excited to help teachers bring out that creativity in the classroom. When you combine the power of iPad, the creativity of Apple Pencil, over a million iPad apps in the App Store, the rich curriculum in Everyone Can Code and Everyone Can Create, and unique Classroom and Schoolwork apps that support students and help schools manage technology in the classroom, we believe we can amplify learning and creativity in a way that only Apple can."