By

Olena Kagui
Tue, 09/12/2023

The titanium iPhone 15 Pro and iPhone 15 Pro Max were announced at Apple's "Wonderlust" event on September 12. With a customizable Action button, seven different focal lengths, and the ability to film 3D Spatial Videos, the iPhone 15 Pro Max may be the most "pro" Pro iPhone ever. Discover all the new features and how they compare to the other iPhone 15 models.
2023 iPhones Release Date for iPhone 15 Pro & iPhone 15 Pro Max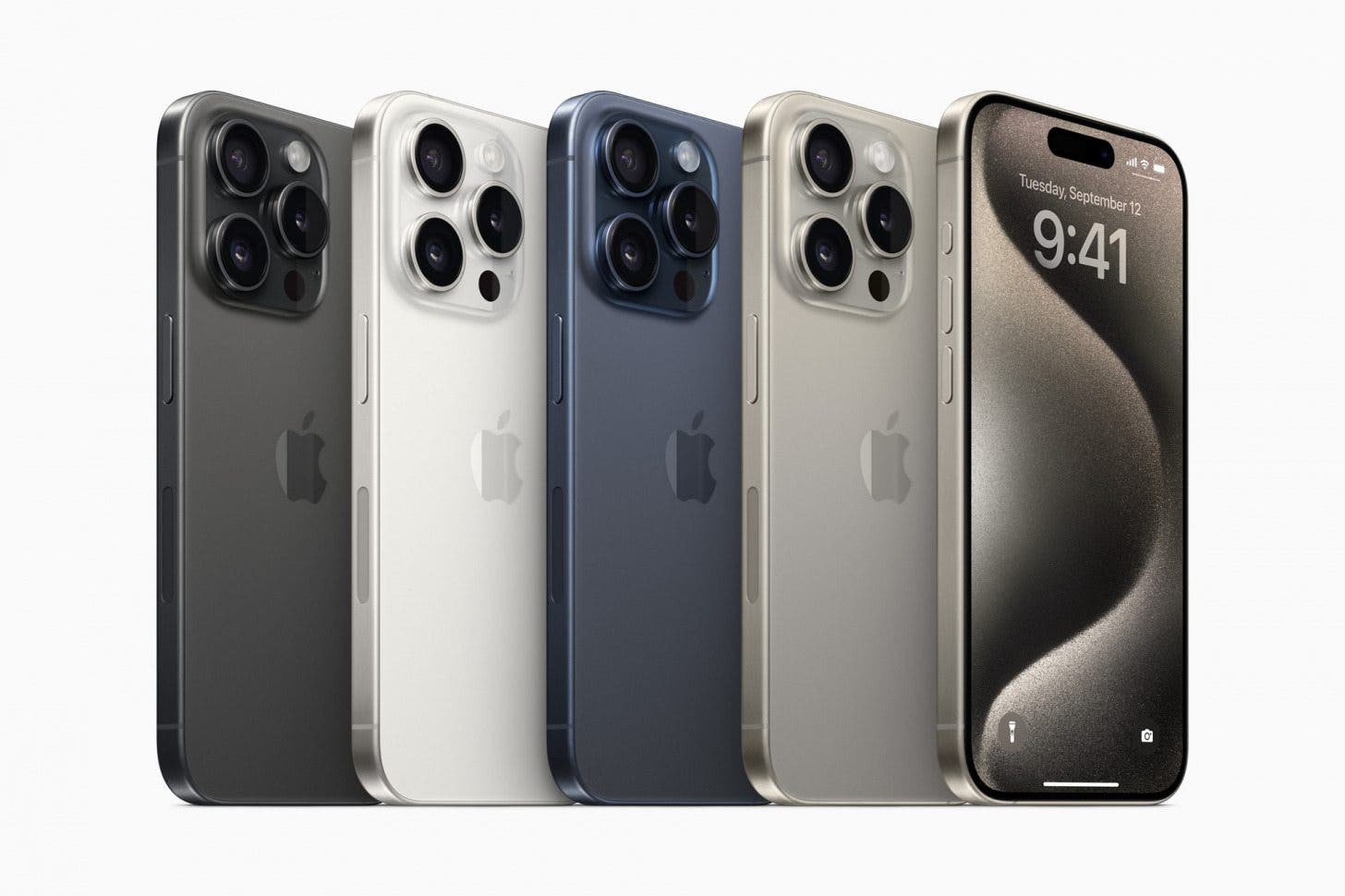 Availability:
Pre-order September 15
Available September 22
iPhone 15 Pro Prices
Despite rumors of a big price bump, the iPhone 15 Pro is priced the same as last year's model. The iPhone 15 Pro Max has a pricier floor, but that's because Apple dropped the 128 GB Pro Max. The 256 GB iPhone 15 Pro Max is priced the same as the 14 Pro Max was last year. Customers in the USA can get almost $650 off when they trade in an iPhone 11 or later model and may get even better trade-in deals through their individual carriers.
iPhone 15 Pro:

Discover your iPhone's hidden features
Get one daily tip each day (with screenshots and clear instructions) so you can master your iPhone in just one minute a day.
$999 or $41.62/month for 128 GB
$1099 or $45.79/month for 256 GB
$1299 or $54.12/month for 512 GB
$1499 or $62.45/month for 1 GB
iPhone 15 Pro Max:
$1199 or $49.95/month for 256 GB
$1399 or $58.29//month for 512 GB
$1599 or $66.62/month for 1 GB
Related: Everything Apple Announced at Its iPhone 15 'Wonderlust' Event
The iPhone 15 Pro & iPhone 15 Pro Max at a Glance
A17 Pro Bionic chip
USB-C port
Titanium enclosure
New customizable Action button
Available in varying shades of titanium finishes: black, white, blue, and natural
48-megapixel main camera with seven focal lengths
5x optical zoom
Spatial Videos (3D videos) for Apple Vision Pro
All-day battery life
Emergency SOS and Roadside Assistance via satellite
Precision Finding for Find My Friends
Compatibility with MagSafe accessories and wireless chargers
Many recycled materials, including 100 percent recycled cobalt and copper foil
Super Retina XDR display
Automatically take portraits without switching to Portrait mode
iPhone 15 Pro Max Camera Features
While the iPhone 15 Pro camera got many exciting updates, the iPhone 15 Pro Max camera blows it out of the water! For the first time in iPhone camera history, users can pick between seven optical-quality focal lengths when taking photos, with a new 5x zoom option of 120 mm.
Not only are there more shooting options, but there are ways to customize your camera settings. Users can now pick between 24 mm, 28 mm, and 35 mm as their default focal length. Of course, the camera was also improved, making it easier to take photos that balance light and vibrant colors. You can also expect better-quality selfies and low-light photos taken using Night mode.
iPhone videographers are also in for a treat. It is now possible to zoom continuously in videos, film at ProRes using 4K60 fps, and store your footage on an external hard drive in real time to keep your phone from running out of storage. Then there's the new option of filming Spatial Video or 3D video that can then be viewed on the Apple Vision Pro, Apple's mixed reality headset that's expected to come out in 2024.  
Biggest Changes: Action Button, Titanium Enclosure & USB-C 
Outside of the exciting camera features, the three biggest upgrades to the iPhone 15 Pro and iPhone 15 Pro Max are the new customizable Action button, the titanium enclosures, and the USB-C port.
Customizable Action Button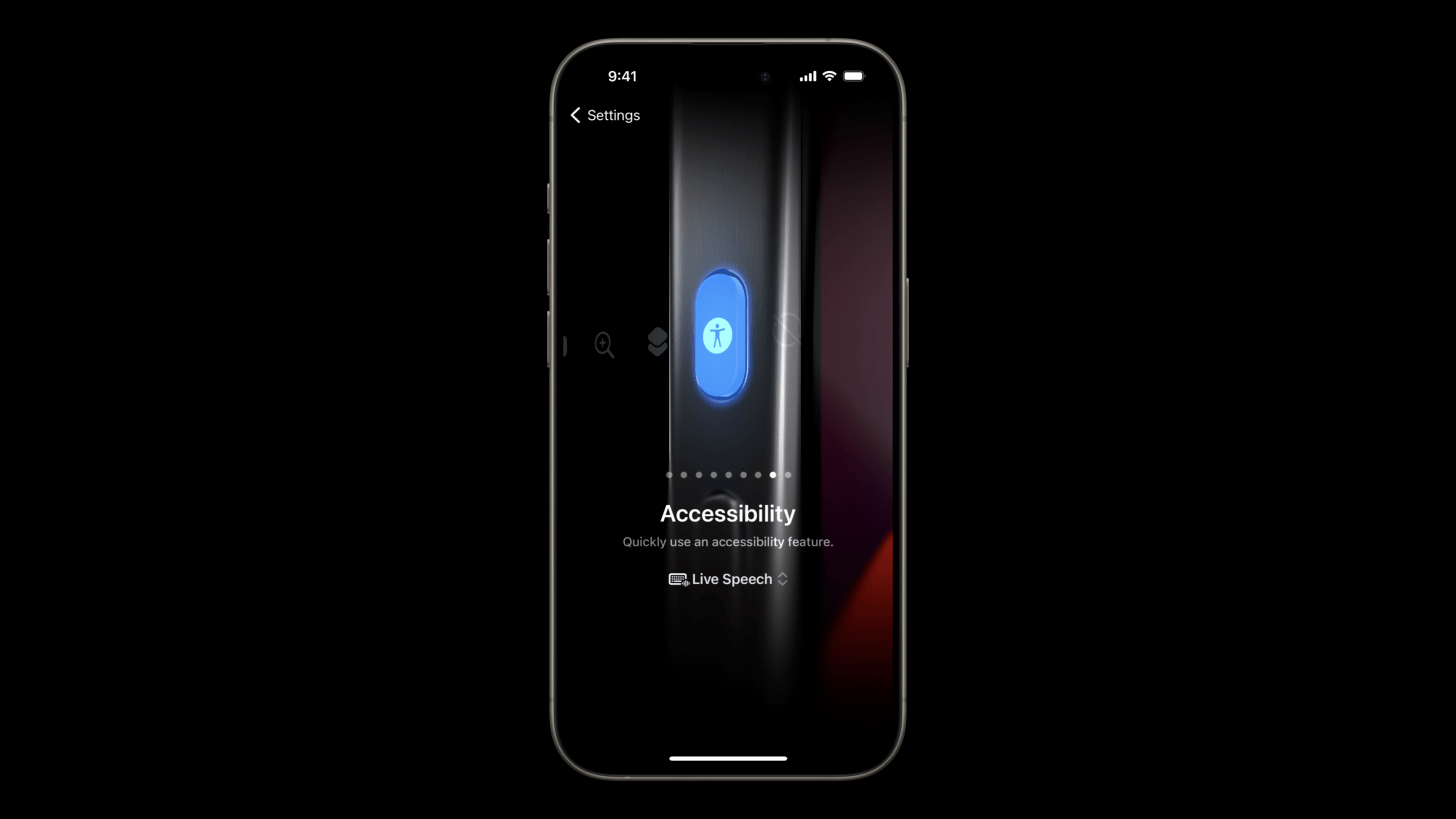 The new Action button replaces the ring/silent switch above the volume buttons. By default, it will still mute or unmute your iPhone, but you can now customize it to do so much more. You can program it to perform a number of actions, depending on what suits your needs best. Personally, I am excited to make it open the Camera app, so that I never miss another exciting moment again! You can also use it to start a voice memo, turn the flashlight on and off, run a shortcut, and more.
Titanium Enclosure
The new titanium enclosures look really good, but there's more to it than aesthetics. Titanium, especially the Grade 5 titanium used to make these new phones, is a super tough material that also happens to be lightweight. In fact, the new iPhone 15 Pro Max only weighs 7.81 ounces (221 grams), while the iPhone 14 Pro Max weighs 8.47 ounces (240 grams). Unfortunately, the titanium enclosure is only available in a few shades, making the color options pale in comparison to the bright and colorful iPhone 15 and iPhone 15 Plus.
USB-C Port
Due to EU regulations, Apple was forced to remove its Lightning ports and adopt a more universal USB-C port. It seems like a small change, but it really isn't. Not only can the same cable that charges an Android, iPad, or Mac charge your iPhone, but you can also use your iPhone to charge your Apple Watch or AirPods. An additional perk is being able to record video directly onto an external drive, which is necessary if you're using ProRes at 4K60.
iPhone 15 Pro & iPhone 15 Pro Max vs. iPhone 15 & iPhone 15 Plus
It can be hard to decide which of the four new iPhones is best for you. Here is a quick way to compare and contrast features to help you decide if these Pro models are right for you, or if you should go for the more affordable iPhone 15 or iPhone 15 Plus: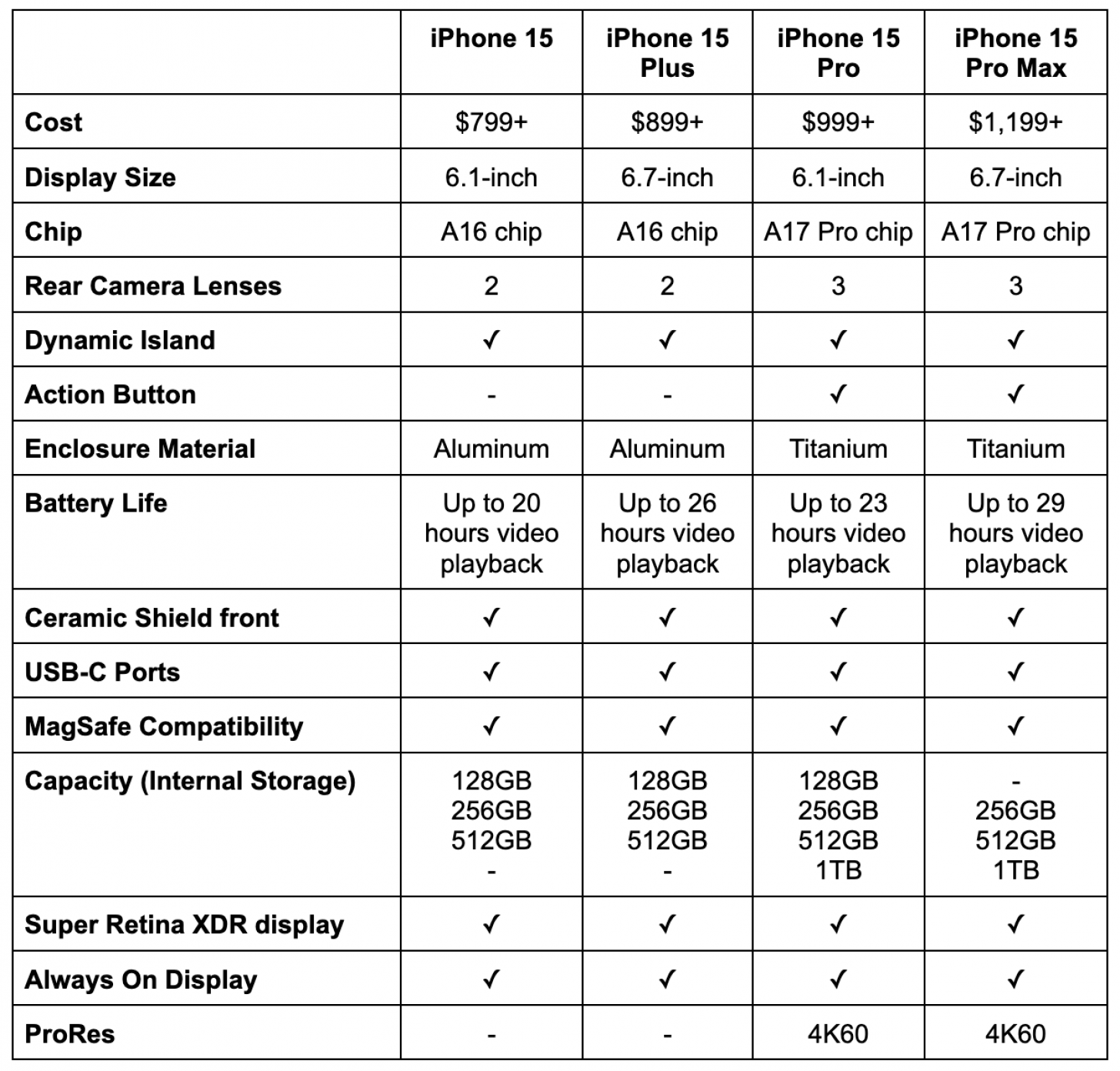 We are really excited to get our hands on the new iPhones. What about you? Keep an eye on our website as we'll be writing articles about how to use all these new features. Better yet, subscribe to our free Tip of the Day newsletter to stay up to date on all things Apple!