By

Elisabeth Garry
Updated 09/13/2023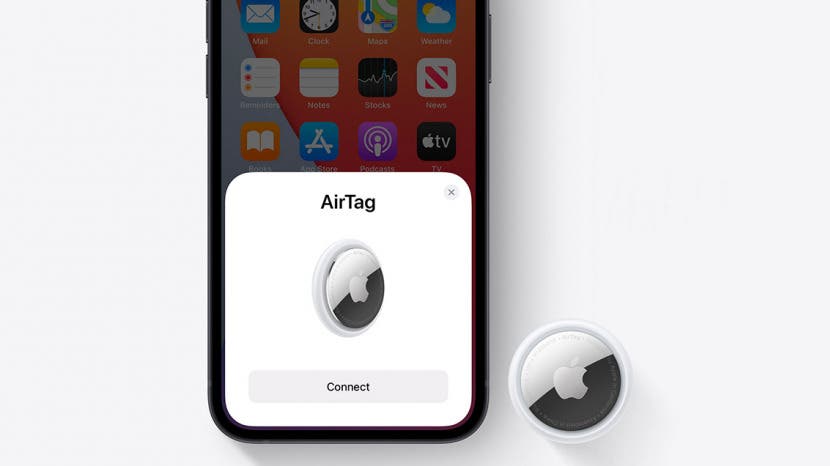 Apple's new AirTags can help you find those items you're always misplacing: keys, purses, umbrellas, wallets, and more. The Apple tracking device uses the Find My network to show you the location of the item it's attached to. But before you can retrieve your lost item, you'll need to learn how to set up and use your AirTag. Here's how:
Jump To:
Set Up Your AirTag in the Find My App
Before you connect your AirTag, a Bluetooth tracking device, to your iPhone, make sure that Find My, Bluetooth, and Location Services are turned on. To follow our continuing coverage of the best ways to use your AirTags, sign up for our free Tip of the Day newsletter.
Hold your unwrapped AirTag near the iPhone you'd like to connect it to.
Tap Connect.


 

Choose an item name from the list and tap Continue, or tap Custom Name.


 
If you chose Custom Name, enter a name for your AirTag and tap Continue.


 

Select an emoji to pair with your AirTag.


 
Tap Continue.


 

Tap Continue again to register your AirTag with your Apple ID.


 
Tap View in Find My app or Done.


Now your AirTag is connected to your iPhone and ready to be attached to an item you don't want to lose. If you experience your AirTags not connecting, read this.

Discover your iPhone's hidden features
Get one daily tip each day (with screenshots and clear instructions) so you can master your iPhone in just one minute a day.
Related: Apple AirTags Finally Announced: How Do They Compare to Other Trackers?
Use the Find My App to Find Your AirTagged Item
First things first: Before you have the chance to lose your keys again, make sure to attach your AirTag to them. That AirTag won't be of any use at all if it's not attached to anything.
Open the Find My app on your iPhone.


 
Tap the Items tab.


 

Find your AirTag in the list and select it.


 
Tap Play Sound. Your AirTag will begin playing a noise that you can follow to find it.


 

If your AirTag is nearby, and you are using any iPhone 11 or iPhone 12 model with Ultra Wideband, you can use Precision Finding to locate it. Tap Find and follow the on-screen instructions to find your AirTag.


 
You may need to move around your location until your iPhone is able to connect with your AirTag.


 

Once your iPhone connects to your AirTag, it will show you arrows directing you to the location of your AirTag.


 
If your AirTag is not nearby, tap Directions.


 

The app will open Apple Maps. Choose a set of directions to your AirTag, and tap Go to follow the directions.


Now you know how to set up and use your AirTag! Next, find out if AirTags are waterproof and what to do if they get wet.