By

Hallei Halter
Sat, 03/16/2019
* This post is part of iPhone Life's Tip of the Day newsletter. Sign Up. *
If you've just moved into a new area or want to get outside of your normal social circles, Bumble can help. Bumble aims to connect people on romantic, professional, or platonic levels by letting users upload photos and bios to announce what they're looking for. With a growing user base and the ability to switch between different sections depending on your goals, Bumble could be the one-stop app for friends, dates, and career contacts.
Related: Digital Dating: Rules, Advice & Tips for Online & App-Based Dating
What It Is
Bumble is well-known for being a matchmaking app where women have to initiate conversation within 24 hours or the match is disconnected. But since 2014, Bumble has grown to over 20 million users and they're not just using the app to find a date. Bumble has three distinct sections: Date for the obvious, Bizz for professional networking, and BFF to forge same-sex platonic friendships. For same-sex matches in all sections, either person can message first. While the app can be used by anyone for any of the provided purposes, there's no option to skip identifying as either male or female, or choosing an identifier that isn't male or female. You can create an account with just your phone number, but can also connect your Facebook, Instagram, and Spotify accounts to Bumble, which could spark conversations with people you have things in common with.
Why We Love It
Bumble combines the top three reasons I try to branch out of my usual routine. I've been wanting to expand my career options; and it wouldn't be a bad idea to meet new people, both on friendly and romantic terms. Having all three options available in one app is great. I can make a distinct profile for each section and I'm impressed with the range of filters I can use between them. Bumble can help me connect with dates who have comparable political views, a professional contact to swap stories with, and a friend who definitely wants to check out a dinosaur exhibit with me.
Dating
Bumble Date has women be the first to message in a match within 24 hours. There are in-app purchases available to extend the match timer (giving the woman more time to send a message), rewinds to look at the profile of someone you disliked again, and other features like viewing who liked you first. The filters are more personal than just age and distance. I can select if I want to filter by zodiac sign, smoking habits, political views, and more. One thing Bumble lacks to include as a filter option for Kids is "Don't want, but open to dating people who have kids," as the current options strictly divide people who are and aren't parents. Date lets you display up to six photos and provides Move Makers, which are premade fill-in-the-blanks to answer in an effort to start a conversation. Show your answer to prompts like "I quote too much from...," "Ideal night out," or the most polarizing question, "Nightclub or Netflix?"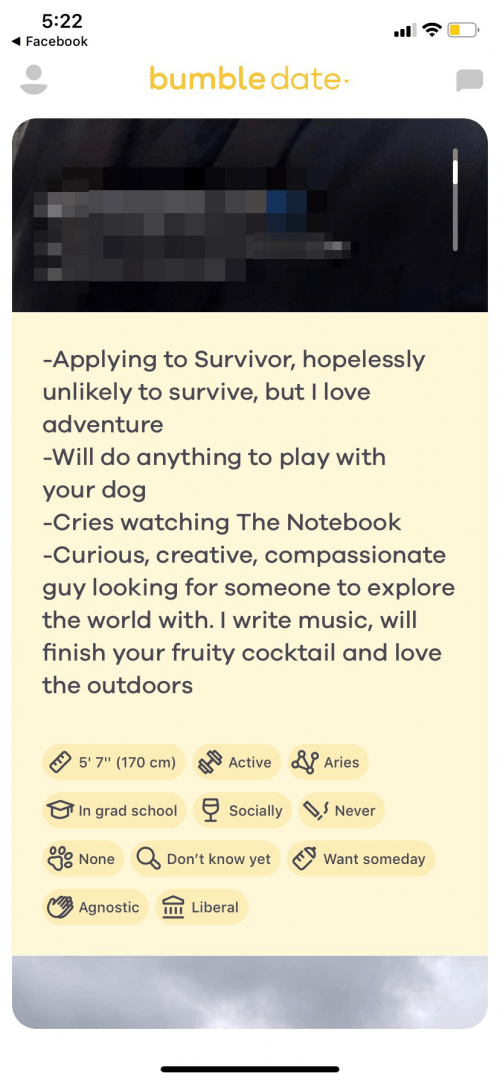 Networking
Bumble Bizz has you fill out a 100-character minimum headline to announce what you're looking for or wanting to provide in a professional capacity. If you're retired, you could offer to mentor someone active or new to the industry. If you've just started a hobby, looking to volunteer, or want to begin freelancing your skills, Bizz can match you with people who can show you what to do with your experience and goals. You can upload a resume and have space to give more information on what you're wanting to accomplish. Bizz isn't intended for recruiting employees, only establishing contacts, so don't expect any job offers via the app. Bizz follows the method of women message first except in a same-sex match.
Friends
Bumble BFF matches same-sex people to establish friendships. In this section, either person in a match can be the first to send a message. To be honest, I'm more picky about my friends than I am with my dates. That's why I try to write a bio of decent length for Bumble BFF that shows my personality (introvert with spurts of group outing attendances) as well as the kind of person I'd like to hang out with (preferably someone who likes movies and interactive museum exhibits). Writing a good bio about myself and what I like to do leads to matches with same-sex potential friends. I also try to take the initiative to be the first one to message. Can't get to know someone you never talk to, right?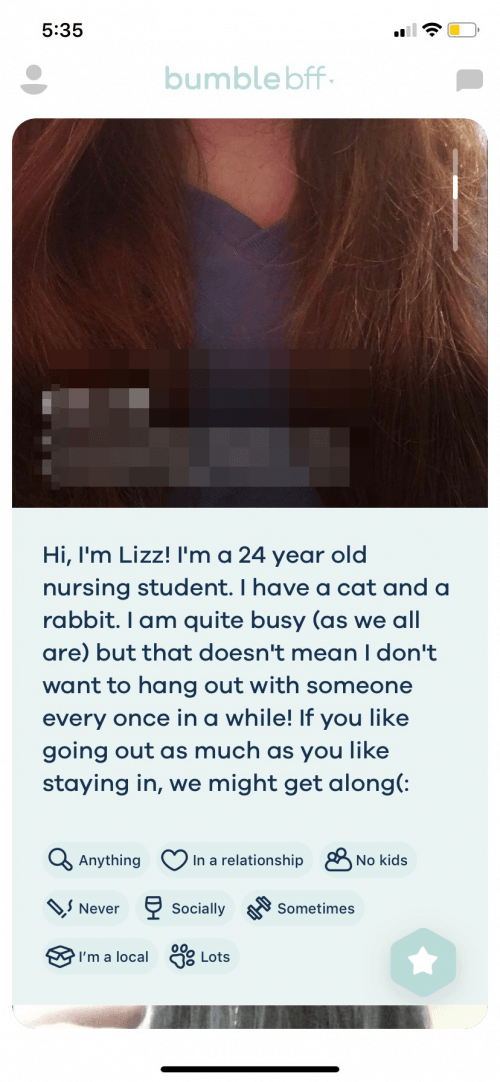 I haven't met anyone I've matched with on the app so far, but it has made me reflect on why I want to meet people and how I choose to represent myself to people I don't know. If you're trying to meet new people, Bumble gives three distinct outlets to reach out and, according to Bumble's terms, let people know who you are.