Learn to quickly translate websites, chat in conversation mode, quickly access your favorite phrases, and use the iOS dictionary.
By

Amy Spitzfaden–Both
Updated 05/03/2021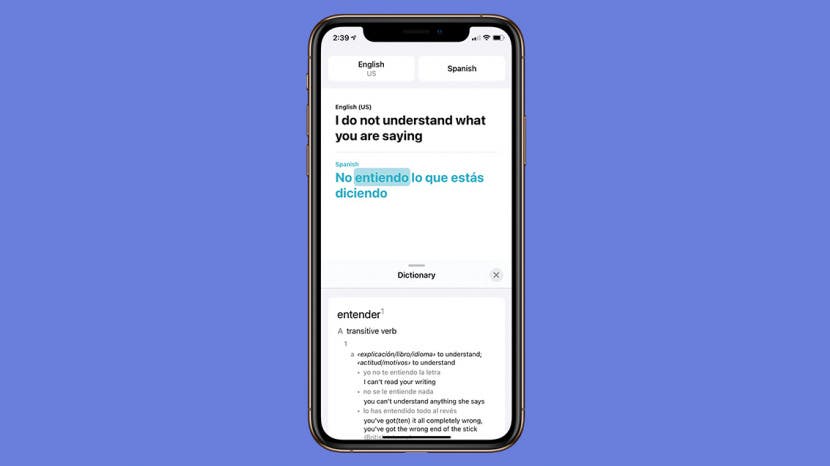 The Apple Translate app is incredibly versatile, allowing users to translate pages in Safari, convert text messages to a different language, translate conversations, and save and access important phrases. The best part? Each of these translation functions can be accessed with just a few quick taps. 
Related: How to Use the Apple Translate App
We'll show you how to do each of these things, and if you're interested in learning more about the translation functions on your iPhone, consider signing up for our free Tip of the Day. If you're new to these features, you can also learn the basics of how to use the Apple Translate app. Let's get started: 
Jump To: 

How to Translate a Page in Safari
The ability to translate entire web pages is now built into Safari. To take advantage of this feature, navigate to a page that doesn't use a language you speak. Follow the steps below to translate the page to your desired language.
Tap the double "A" icon next to your address bar.
Then simply tap Translate to and select your language.
If prompted, tap Enable Translation.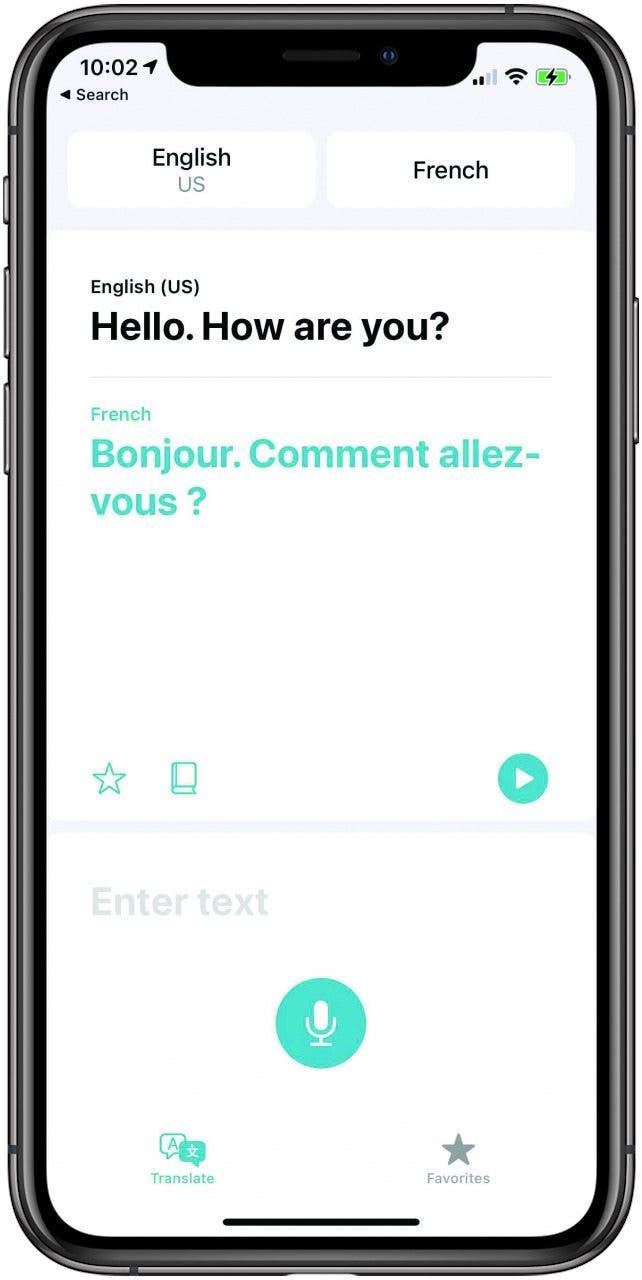 The Translate app's core feature is its ability to translate typed text. With support for twelve language options, the app lets you enter a phrase in one language and then translates it to another, useful to travelers and language students alike. To do this:
Open the Translate app.
Select the language you're translating to and from (if you've set your iPhone's language to English, it will appear as your default).
Enter the phrase.
Tap Go. The translation will appear in blue underneath the entered text.
Tap Play for the spoken translation. You can also tap the microphone button to translate a spoken phrase.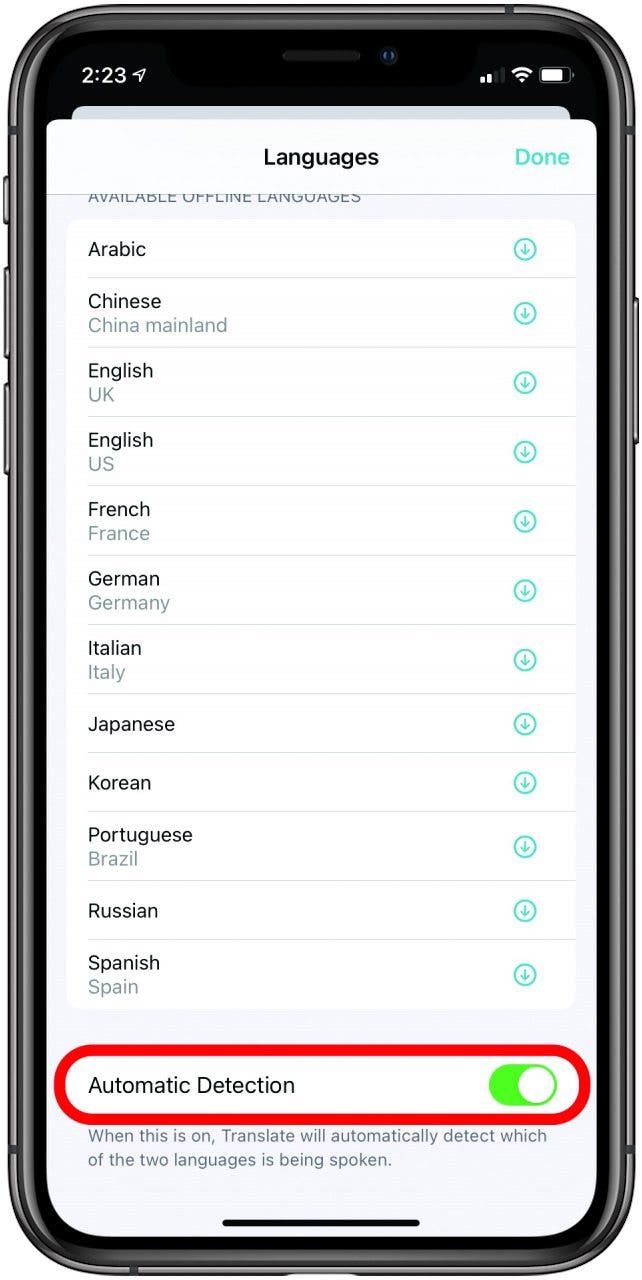 Have a Bilingual Chat in Conversation Mode
For a more organic voice translation option, check out your iPhone's Conversation Mode. To use Conversation Mode:
Select the language of the text that you would like translated.
Scroll down on the languages list and make sure that Automatic Detection is toggled on. Tap Done.
Then select the language you want the text translated to, and tap Done.
To activate Conversation Mode, turn your phone sideways.
Then just tap the microphone as each person talks and your iPhone will translate the conversation.
Quickly Access High Usage Phrases through Favorites
If you're planning a trip and need to remember certain phrases, you're sure to love the Favorites function. When you've translated a word or phrase, tap the star below the translation to save it to your Favorites. To access your Favorites, just tap the star at the bottom of the app to see recent and favorite phrases in both the original language and the translation.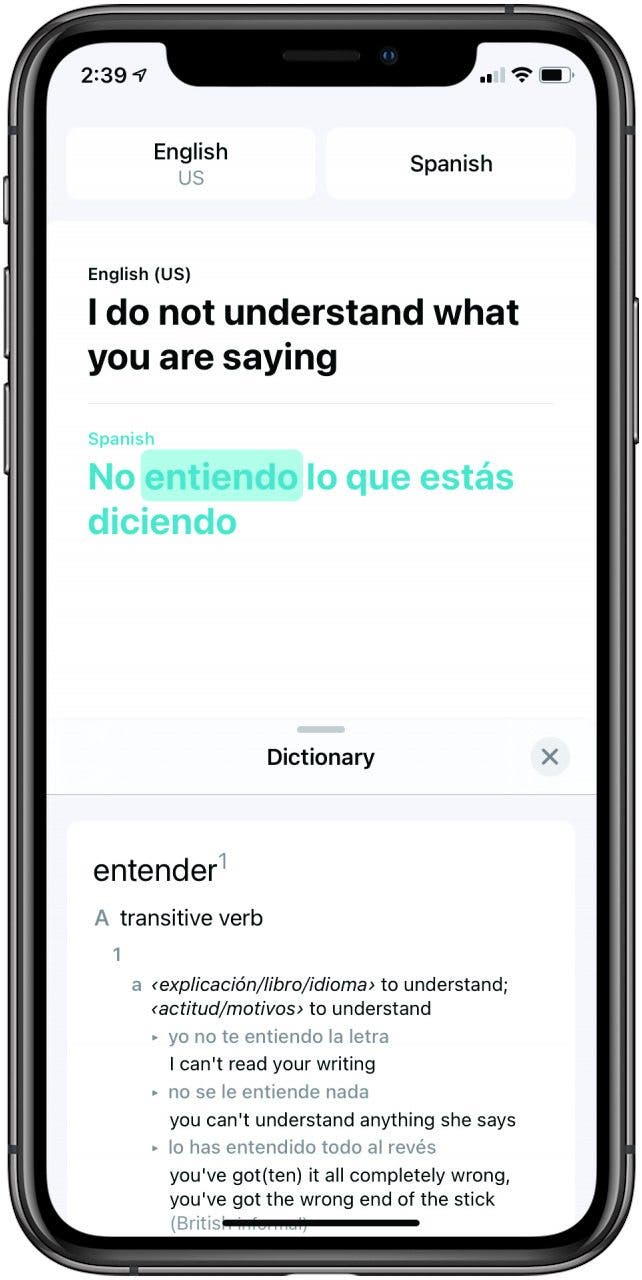 Use the Dictionary to Translate Individual Words
Once you've translated a phrase, you might be curious about what a specific word in that translation means. Fortunately, there is a dictionary function that lets you look up not only the translation of a specific word but different forms and conjugations as well. Just tap the dictionary icon that looks like a book below the translated phrase, then tap the word you want to define. The dictionary entry will appear below, with plenty of detail to keep you informed and engaged. If you want to check a different word, just tap that and the entry will change. Easy!