By

Olena Kagui
Updated 01/10/2023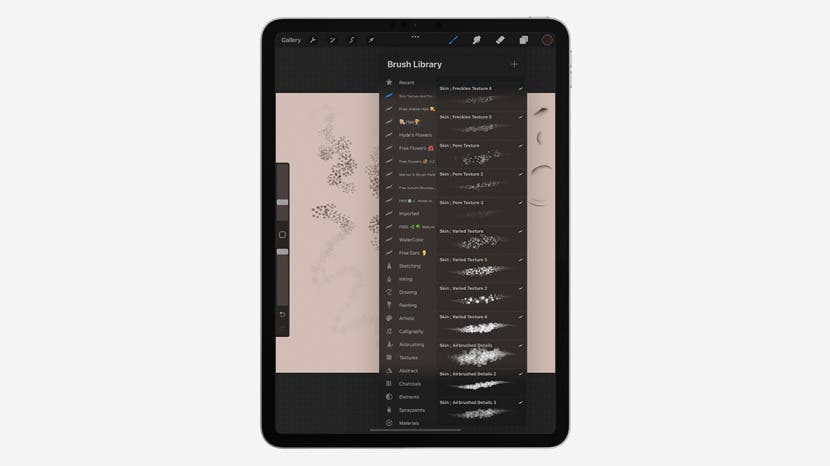 What sets the best Procreate drawings apart from others is the use of brushes! There are many websites where you can download free Procreate brushes that can enhance your art and improve your drawing process. I'm excited to share my favorite Procreate brushes with you, and I'll teach you how to download them too!
Related: The 8 Best 3rd-Party Apps iPad for Apple Pencil
Jump To:
10 Best Free Brushes for Procreate
Where can you find downloadable brushes for Procreate free of charge? Googling "Procreate brushes free" will get you thousands of results with more brush options than you could use in a lifetime! It can be hard to narrow down which ones to download and figure out which websites to start with. I recommend beginning your search on
Brushes for Procreate's website
. Here you will find hundreds of brushes and stamps created for Procreate. In this list, I try to narrow it down to my favorites from a wide variety of popular art styles and purposes.
The Shale brush is one of the best default Procreate brushes, at least according to many iPad artists. You'll love this free Marmo S-Brush for Procreate if you agree. The link above will take you to Pinterest, and you can navigate from there to the website, where you'll be asked to provide your website and preferred price (you can select 0) before you are taken to the download link.

Discover your iPhone's hidden features
Get a daily tip (with screenshots and clear instructions) so you can master your iPhone in just one minute a day.
The popular AquaReal brush set costs $19, and since it includes colors, stamps, and brushes, it may very well be worth the purchase. If you are looking for a free version of AquaReal alternative, Watercolor Brushes for Procreate is a good option. I find these quite hard to work with, so if you are a beginner trying these out, don't be discouraged and try some of the others on this list.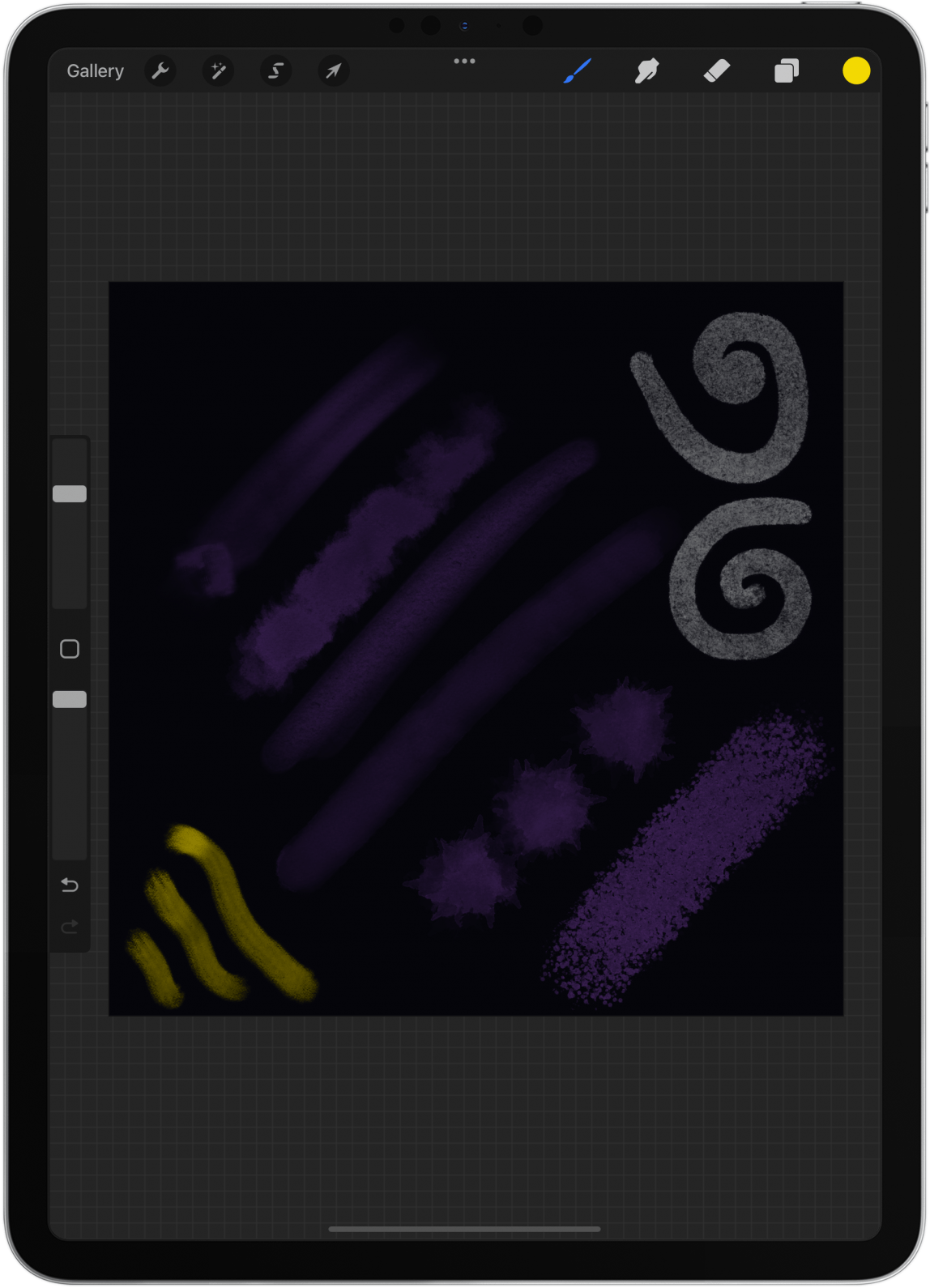 I just can't get enough nature brush sets. I really like this one because it has a good variety of different foliage brushes but also has rocks, bare trees, and even glow worms.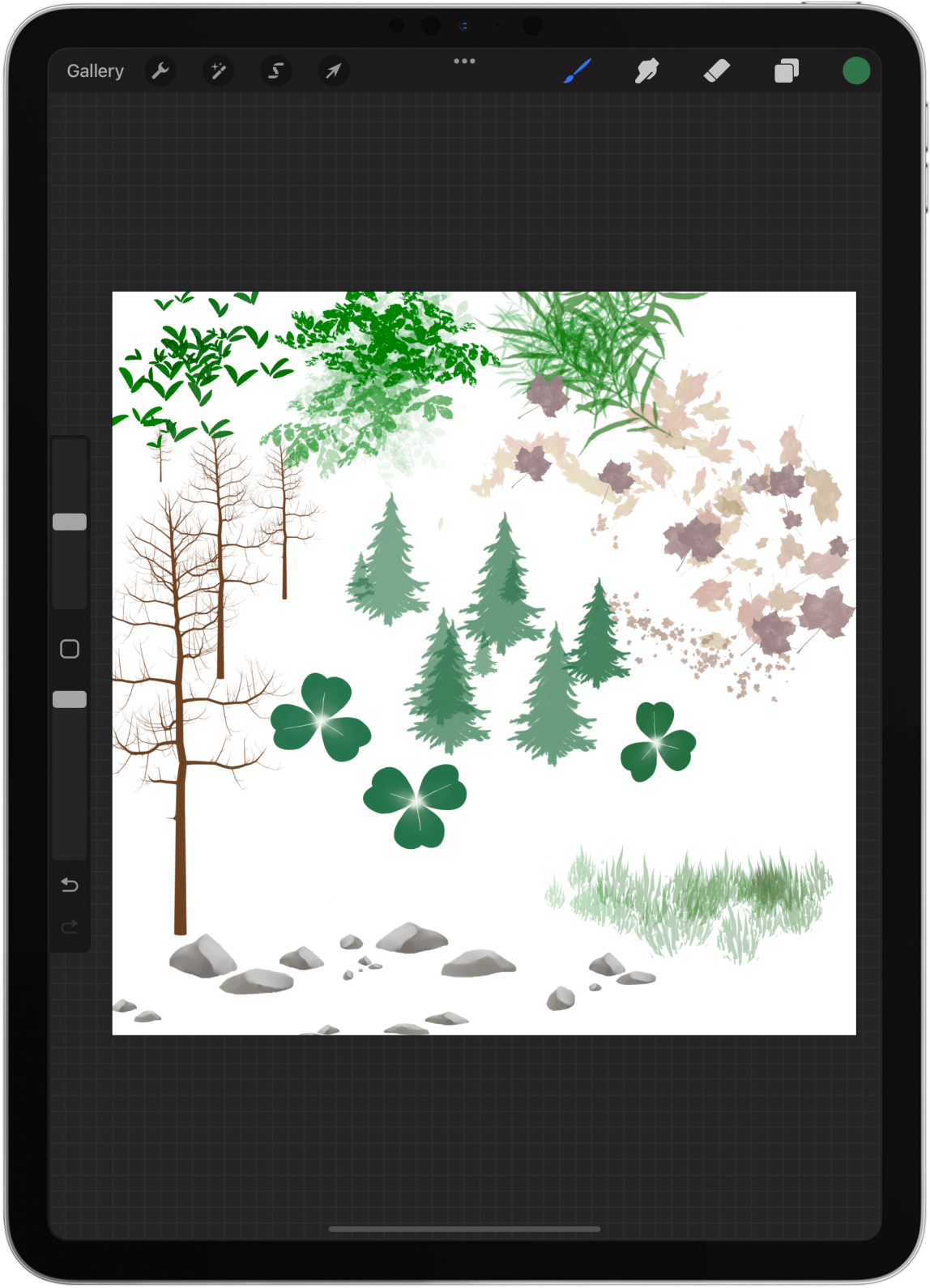 Depending on what nature scene you want to draw, you may find this one limiting, so I also recommend checking out the Winter Nature Brush Set.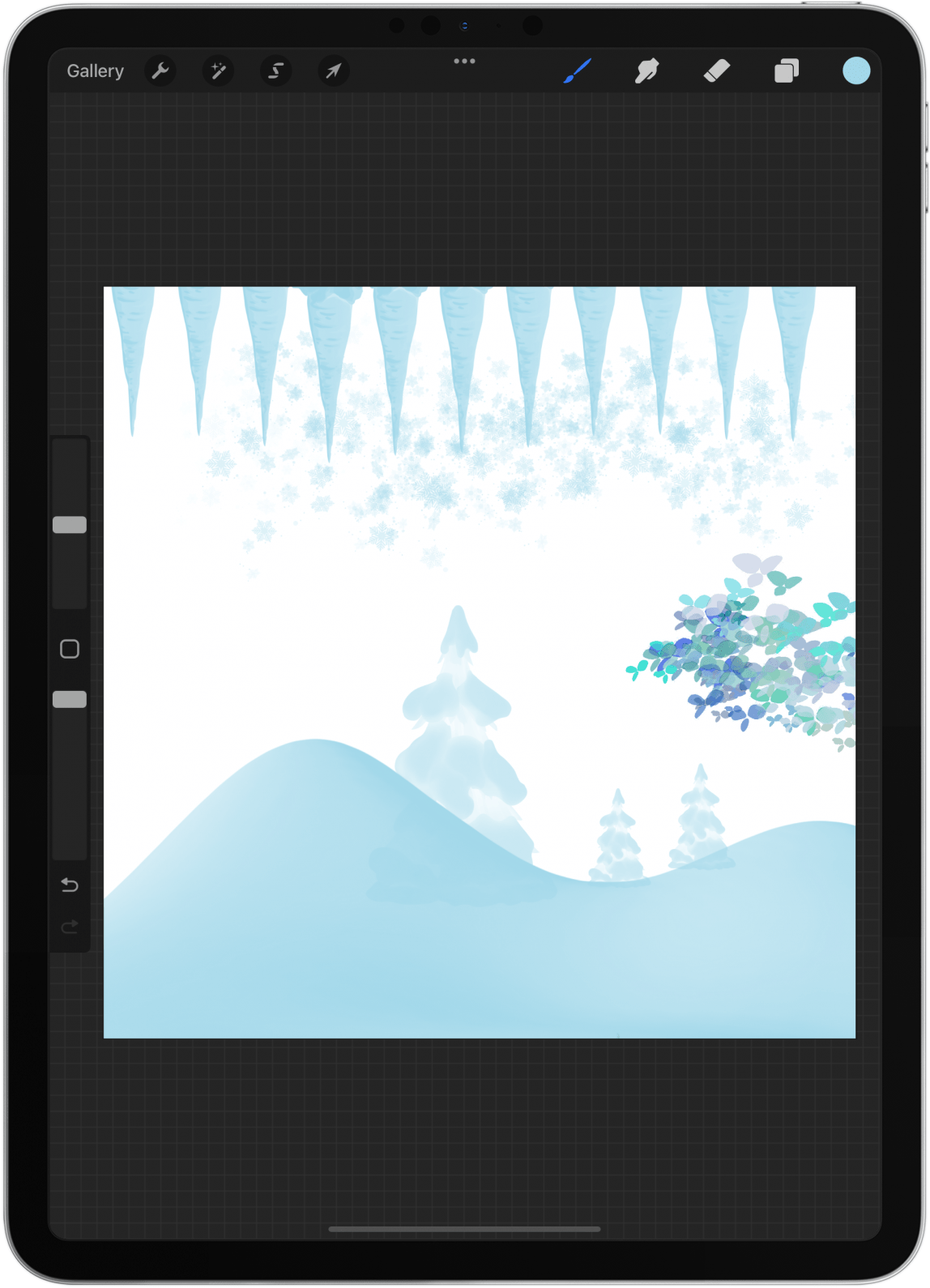 Of course, there is also this Autumn Brushes set (there is a paid version with more options).
To learn more about your iPad and Apple Pencil, sign up for our free Tip of the Day newsletter.
While these aren't the most realistic-looking flowers, I really enjoy this brush set because I tend to draw cartoons on Procreate. It can take some time to get used to using these as they aren't your typical brushes/stamps, but once you get the hang of them, they are so much fun!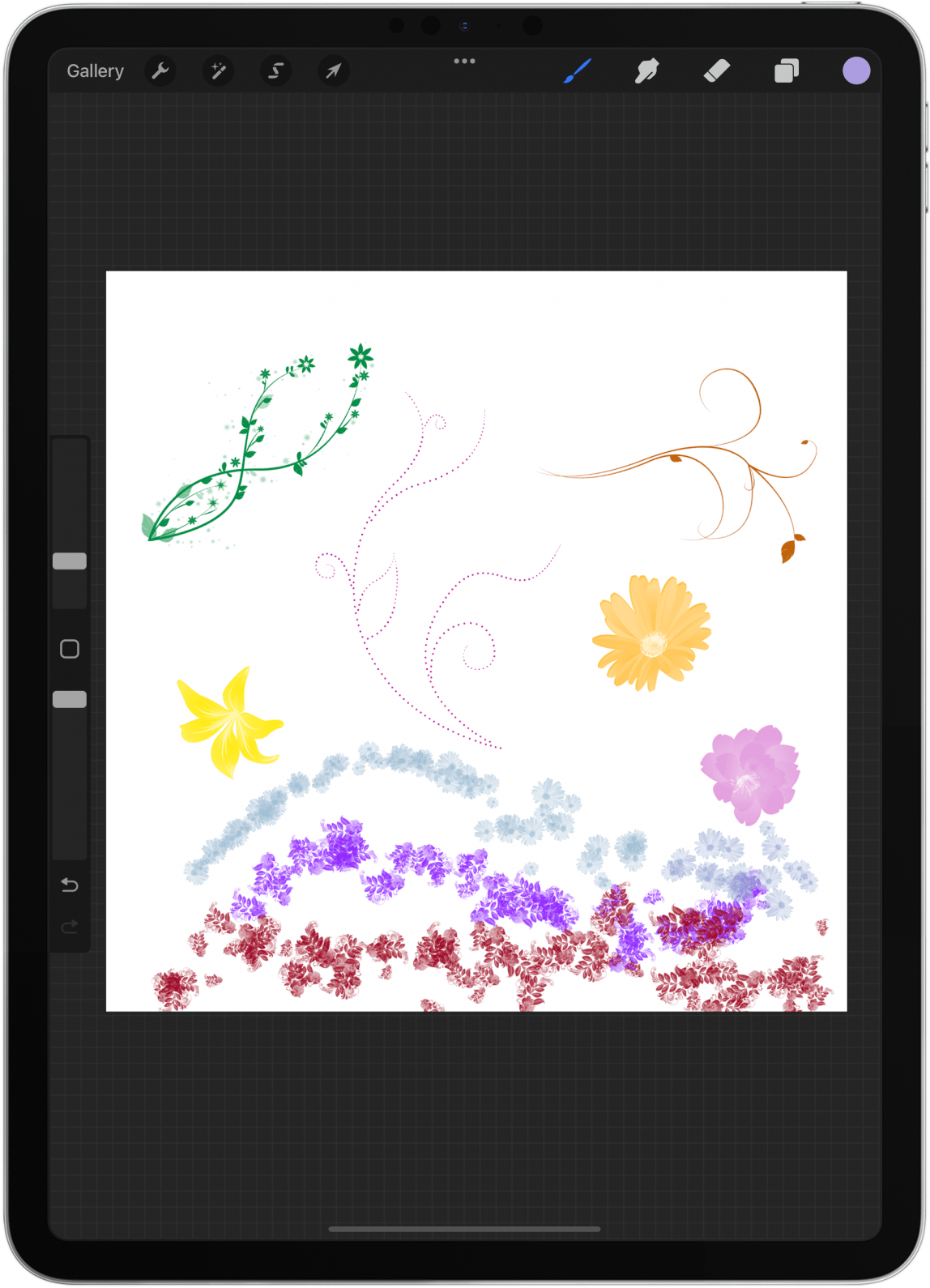 For a different style of flowers, check out this flower stamp set that creates beautiful watercolor-style flowers!
This is one of my favorite brush sets because it offers a lot of useful patterns. I really like the brick and the dog fur brushes, but there are many fun options. Plus, they are invertible! The instructions on how to invert come with the .zip download.
Procreate hair brushes are a lot of fun, and there are many options. The link above will take you to a site with four DropBox links. You can download those to have a multitude of curly-hair options. You can find more by searching "curly hair brush Procreate," but many similar sets cost money, even if they initially claim to be free.
For straight hair, this is an excellent free set.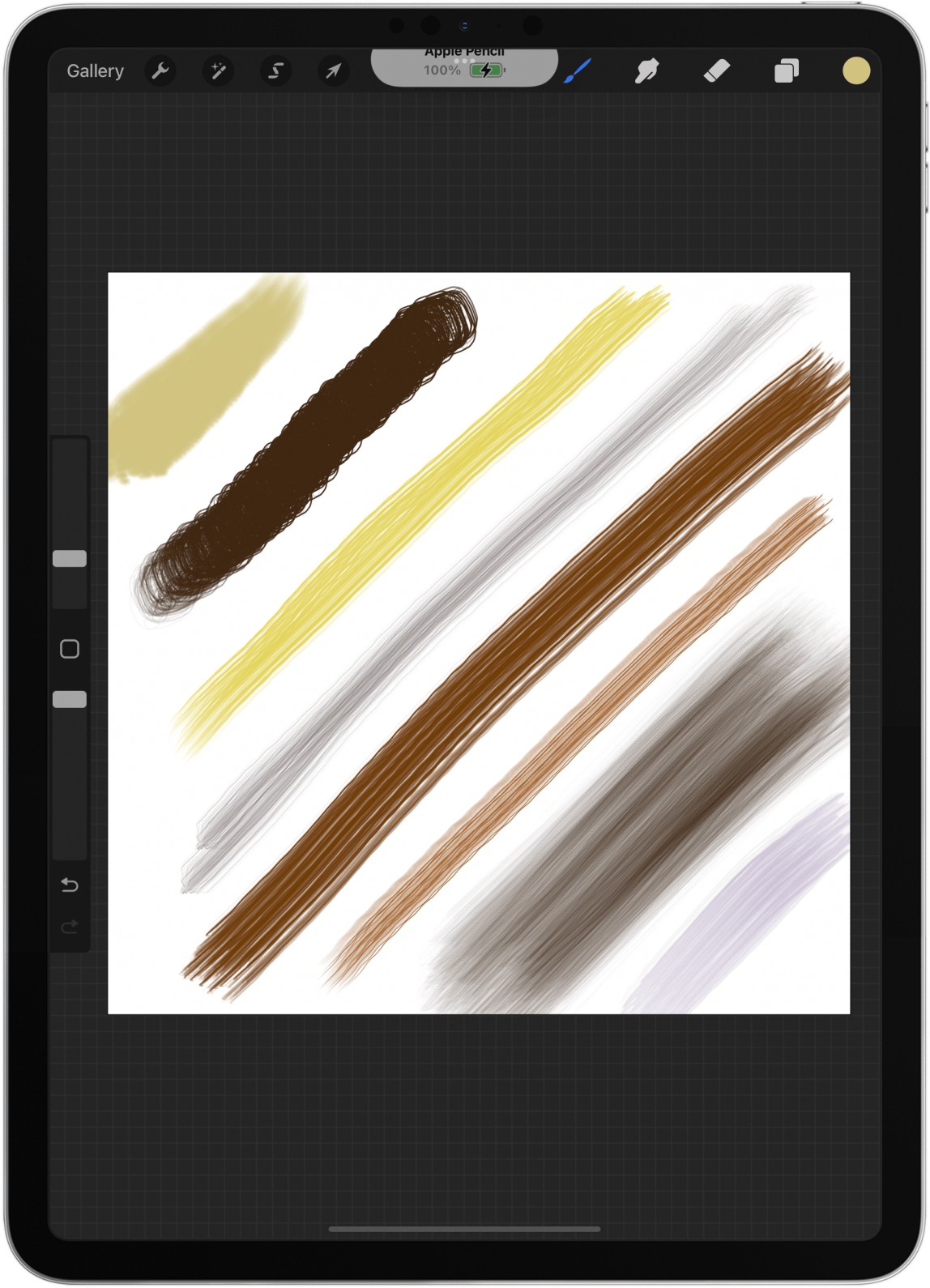 Finally, for anime-style hair, check out this one.
It is tough to find a decent set of free skin brushes for Procreate, but this is definitely one of them. It can be hard to master using it correctly, but it can really help you illustrate people realistically.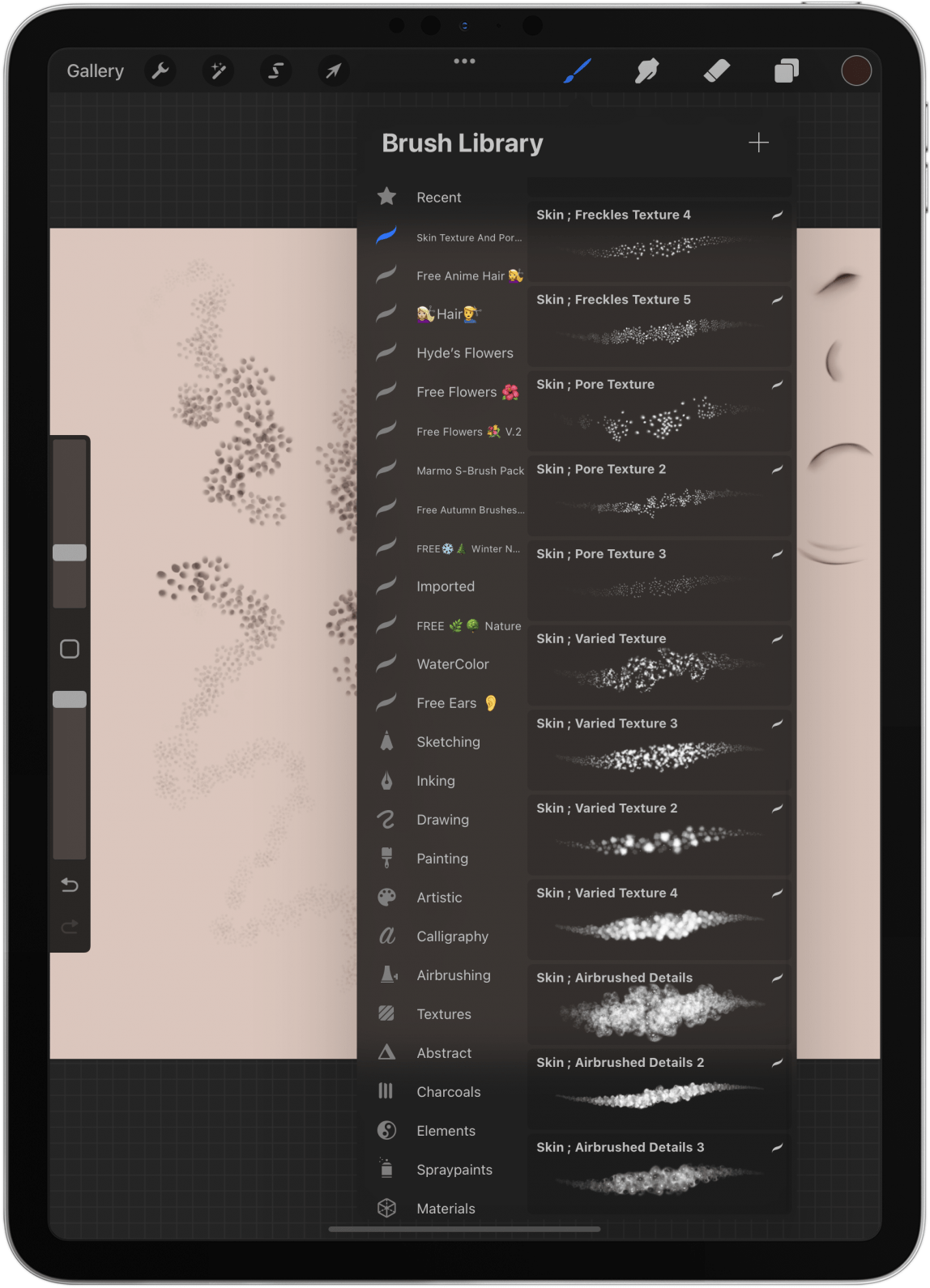 Although this isn't a brush set, I recommend checking out these skin palettes to help you select skin tones more easily when drawing people.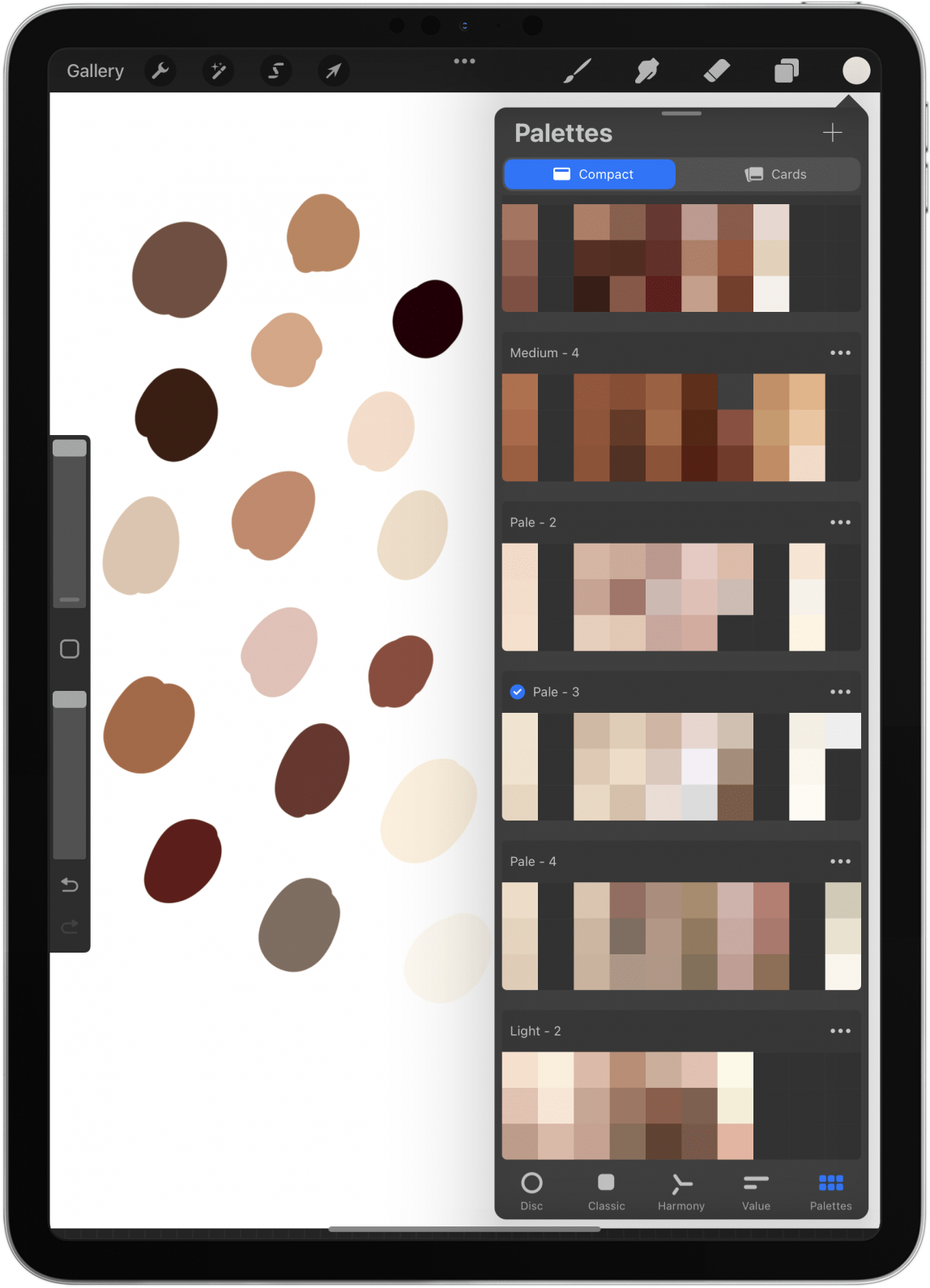 There are so many lettering brushes out there, and this is by far my favorite because of the variety. However, I do find there to be a learning curve when it comes to using the brushes effectively.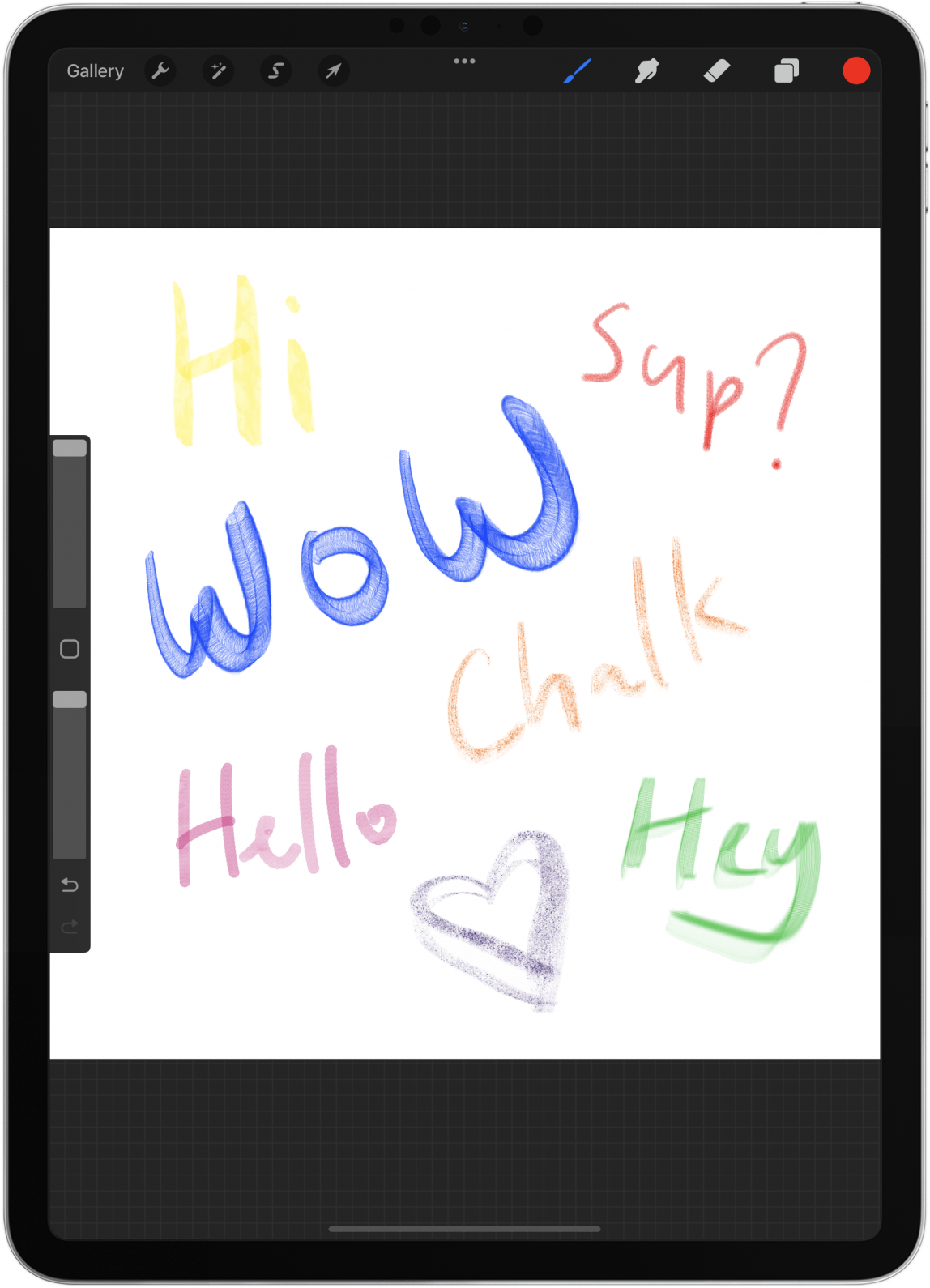 For a simple curling lettering brush that the above pack doesn't have, check out this Curling Ribbon brush.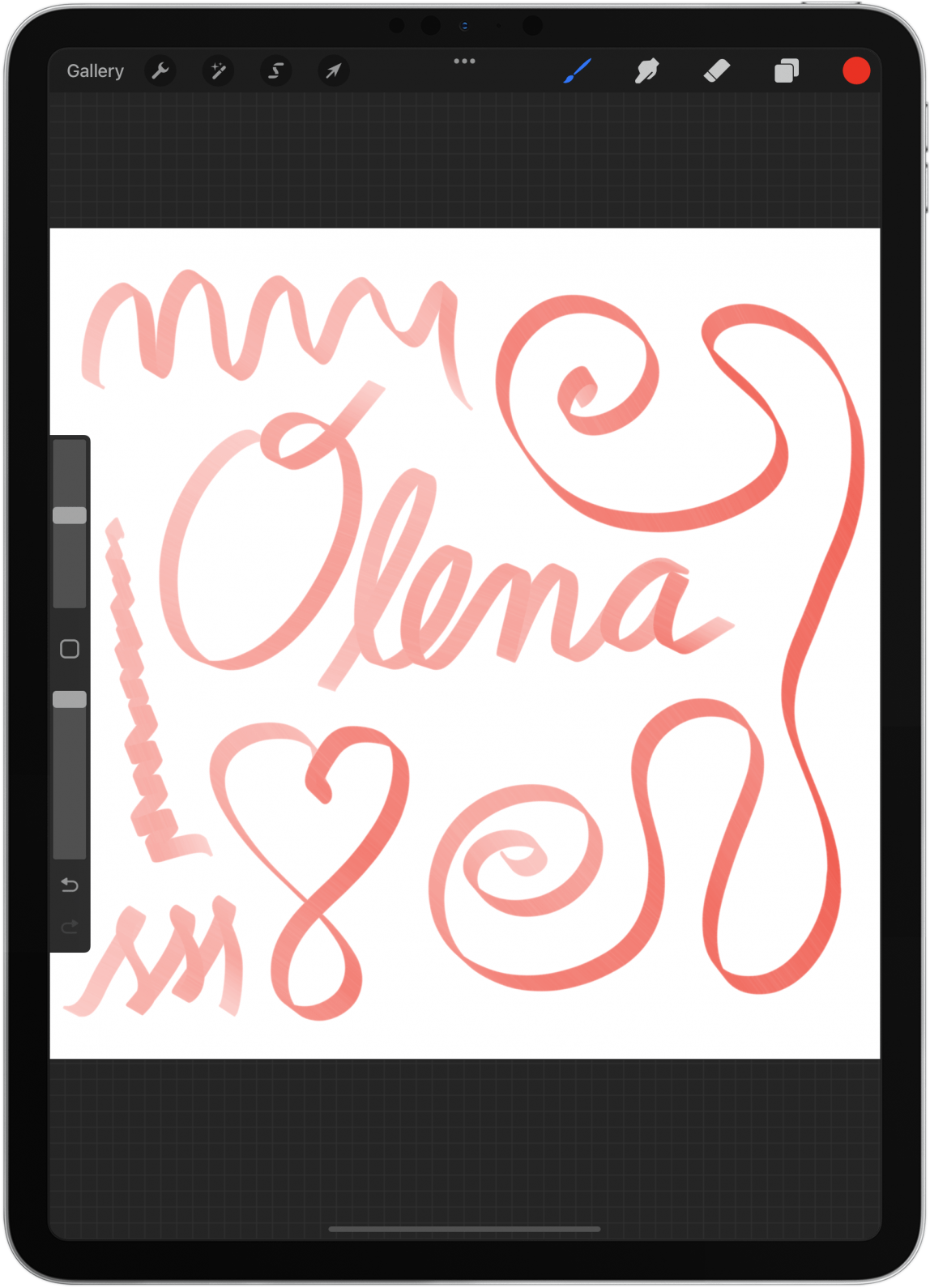 Finally, there's this fun Streaks brush.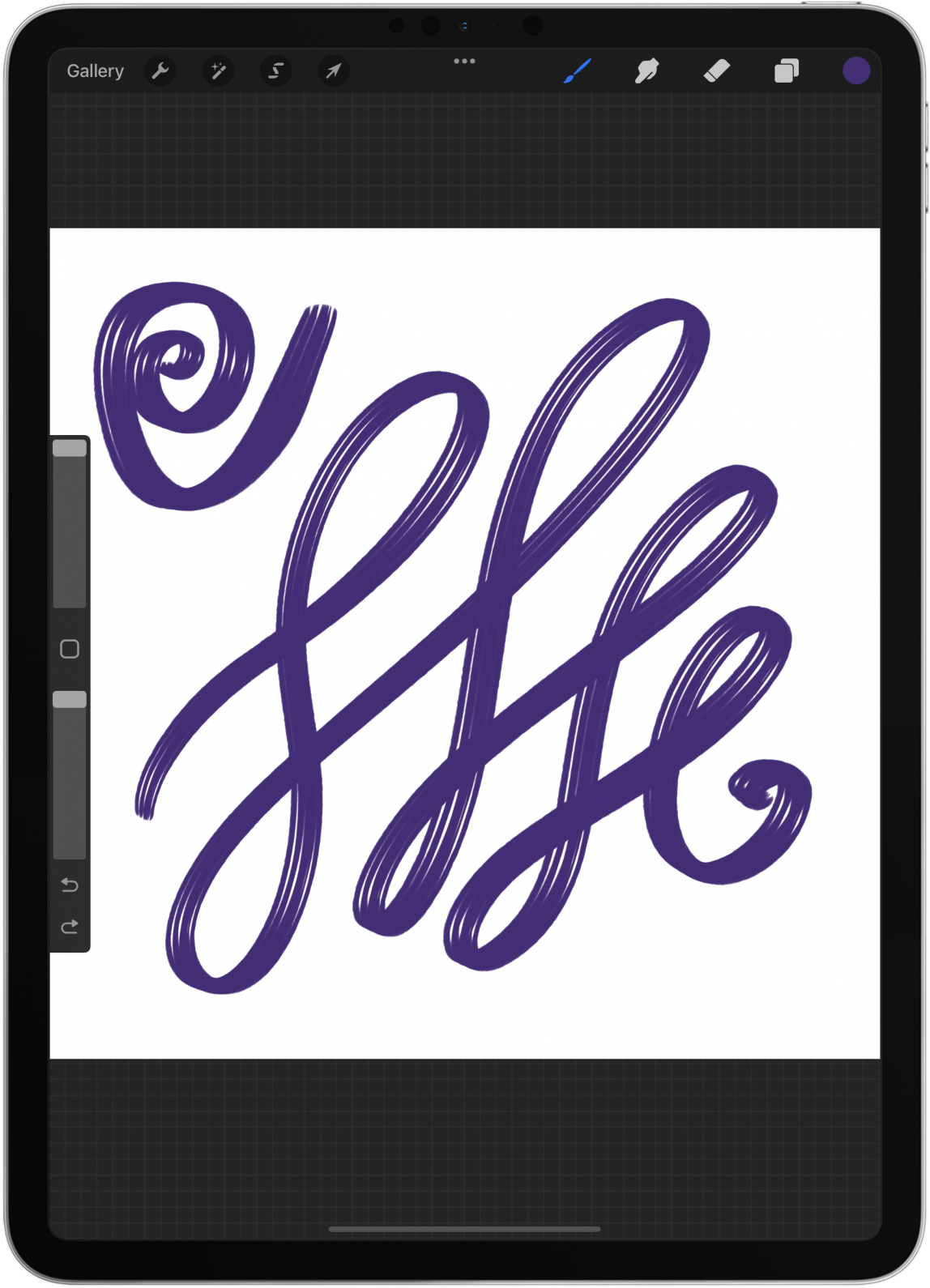 Creating perfect shapes in Procreate isn't easy, which is why this shape brush set is so valuable to digital artists!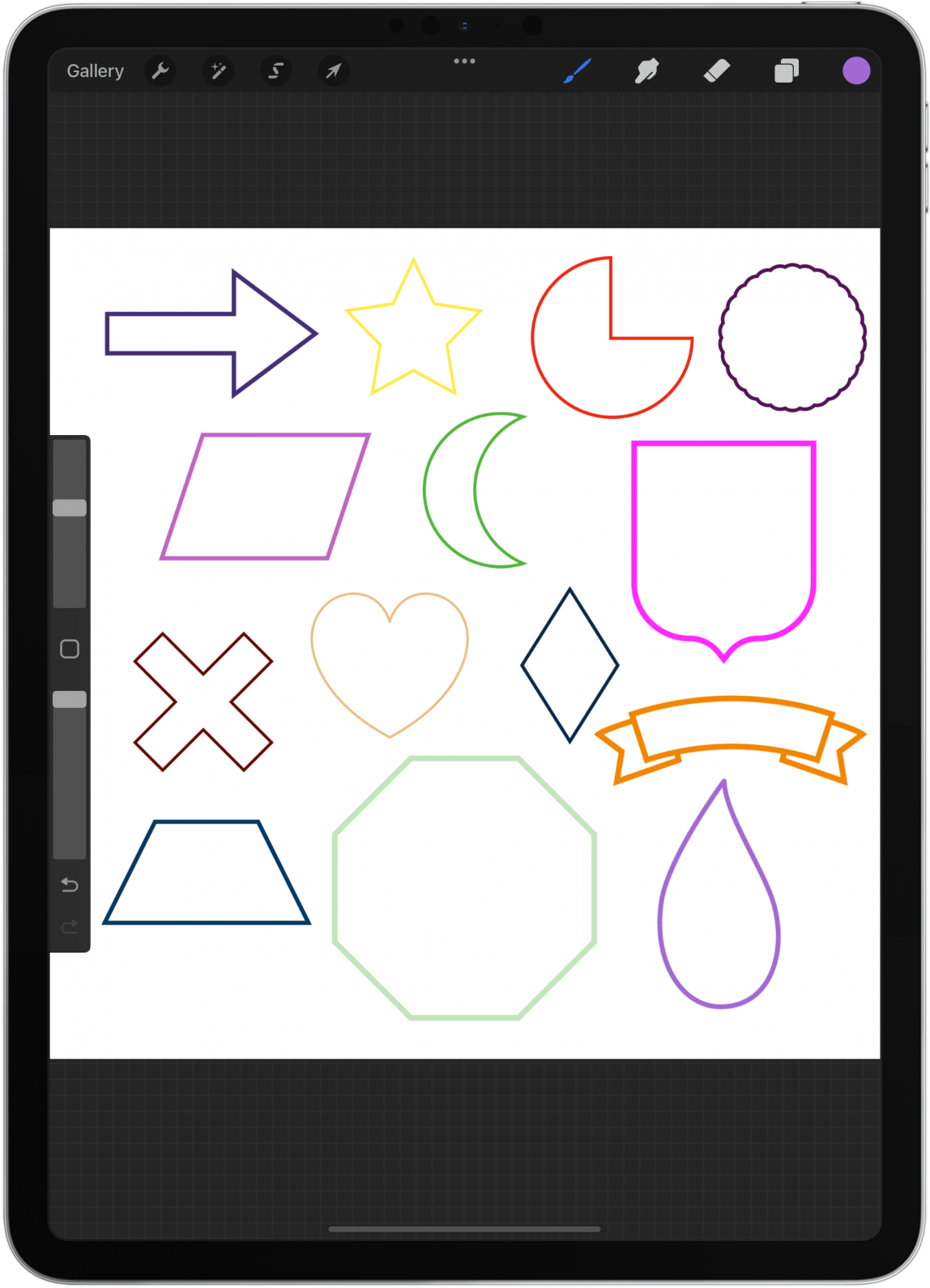 If you like the shapes above, you can browse these other free stamp sets. A fun one from this list is people brushes.
I can't get enough of sparkliness, so I love these bling brushes for Procreate. Keep in mind that these work best on a black background.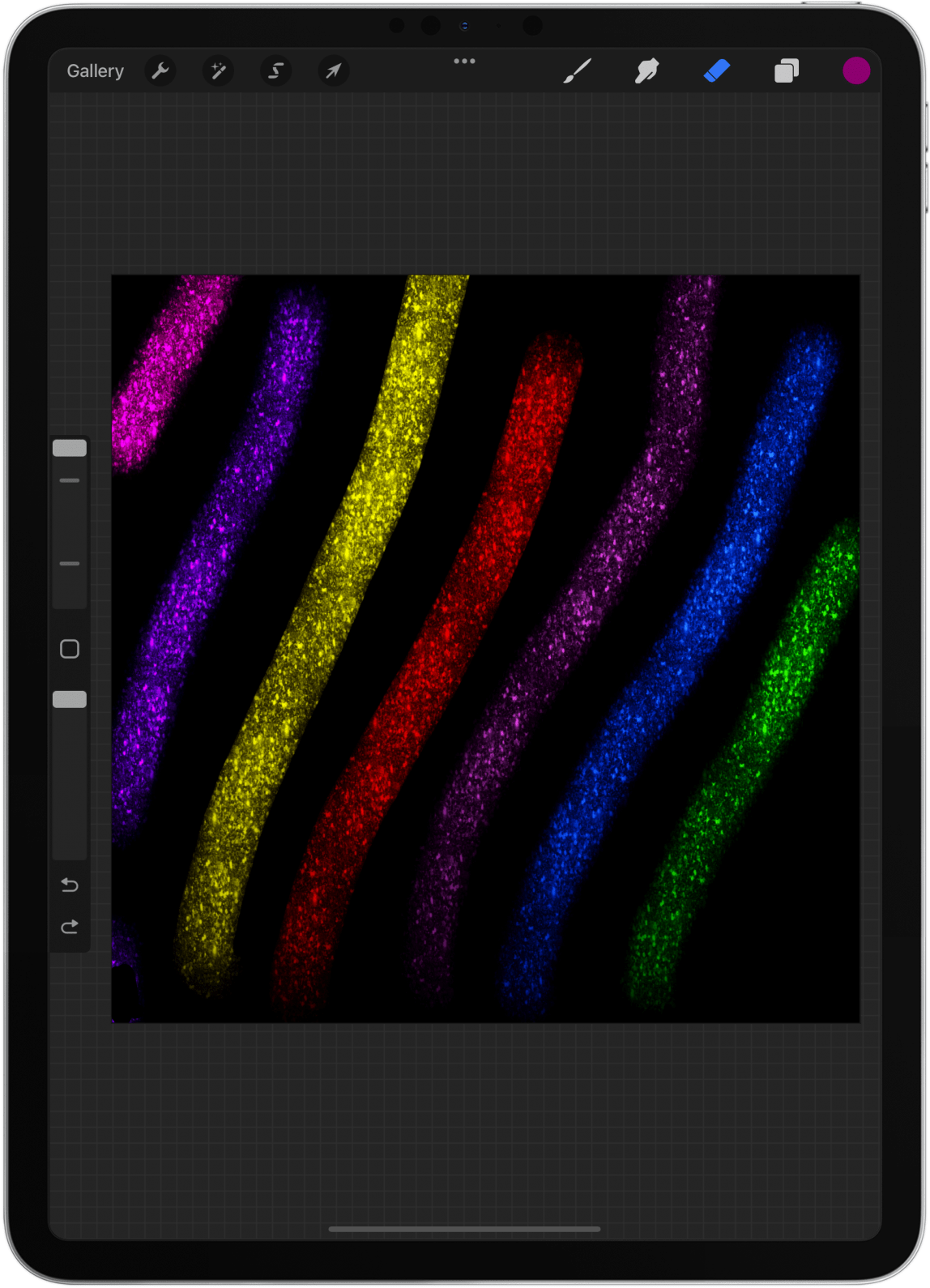 There are other brushes that bring some shine and pizazz to your art. Such as this light pen.
Or these firework stamps!
How to Download Procreate Brushes on iPad  
Excited to try out these cool brushes but don't know where to start? Here's how to download the Ears Brushes from the Procreate Brushes website:
On your iPad, go to procreate.brushes.work in your preferred browser. I'll be using Safari for this example.


You'll see a bunch of options right away, and you can swipe left and right to see more.



If you scroll down, you'll see brush categories such as lettering brushes and Procreate brush packs.


If you're just browsing to see what's available, I suggest scrolling back up and tapping All Free Brushes.



Keep in mind that there will be lots of ads on this site that you'll have to keep closing or scrolling by.


If you like something you see, tap on it.



Tap Download brushshet.


A popup will appear to confirm your download. Tap Download.



If you are using Safari, you'll see the download processing here. Once you no longer see the process bar, tap the downloads button.


You will see your recent downloads. The newest one will be at the top. Tap it.



You will be taken to Procreate and see an Importing message. This may be super fast or take longer, depending on the size of the brush file.


To test the brush, tap the + icon to start a new canvas. You may need to tap the x first if you don't see the + option.



Select your Canvas size.


Tap Brushes twice to open your Brush Library.



Your downloaded set should be at the top right under recent. Tap it.


There may be some instructions on how to use them or for information about the artist. Tap it to be able to read it.



Click Done.


Try using your new brushes or stamps! Select one by tapping it.



Make sure the color of your brush isn't the same as your background.


Tap the canvas with your finger or Apple Pencil.



Draw on the canvas using the brush. If you downloaded stamps, tap instead.

There are many different websites that let you download free brushes, and the steps should be similar to the ones above. Some websites may require memberships or make you watch ads before you can download them. My go-to is Brushes for Procreate because they make downloading brushes easy and the selection is amazing.
Pro Tip: Many brush sets download as zipped files. You can learn how to unzip files by reading this article; the steps are the same for iPhone and iPad. Once you have the file unzipped, double-tap the .brushes file to import it into the Imported folder at the bottom of your Brush Library list in Procreate.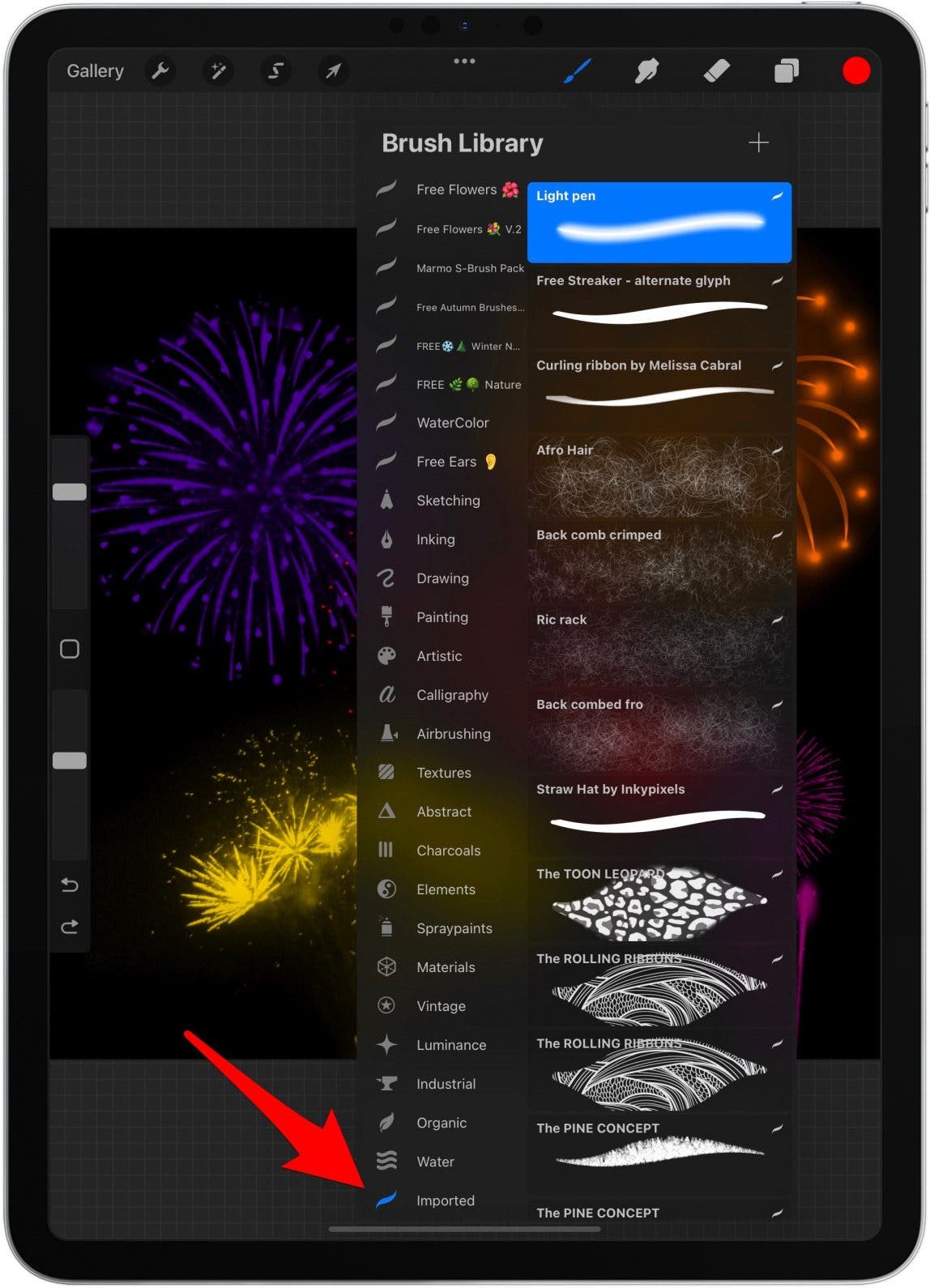 I hope you enjoy my best Procreate brushes list, but keep in mind that there are thousands, if not millions, of options out there! Feel free to share your favorite brushes for Procreate in the comment section below. Next, read about the NFT crypto art marketplace, a popular place for talented Procreate artists to sell their work.