By

Jim Karpen
Updated 01/17/2023
What to Know
With tons of free features, the Golf Pad app is the best overall option for finding nearby ranges, keeping score, and tracking improvement.
For a digital aid to improve your swing, we recommend the OnForm Video Analysis app.
To check the latest rules and regulations, download the Golf Handicap Tracker & Scores app.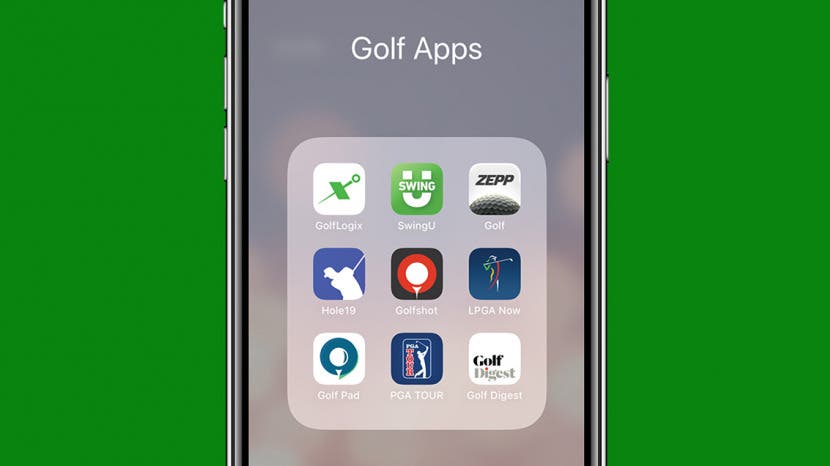 If you're an avid golfer, having the best iPhone, iPad, and Apple Watch golf apps can improve your game experience and performance. Our favorite golf apps help you find nearby ranges, track your score, and offer everything from golf tips to full-on golf lessons (say hello to that perfect putt!). Here's our roundup of the best golf apps.
Jump To:
Best Golf Scorecard & Golf Rangefinder Apps
Take the stress out of scorekeeping and finding nearby golf courses with the golf apps listed below.  With the release of the Apple Watch 8, many golfers are looking for apps that work with an Apple Watch. Because of this, we've been sure to include a variety of Apple Watch golf apps below. 
1. Golf GPS SwingU (Free with In-App Purchases)

For iPhone, iPad, and Apple Watch
This swing-by-swing golf app works on every course in the world. With the Golf GPS SwingU golf rangefinder app for Apple Watch and other devices, you can find the distance to the center of the green and to any obstacles. Satellite photos are available, which you can use to calculate distances from you to that point. A digital golf scorecard is also available that automatically advances from hole to hole. You can store your rounds for free online, use graphs and stats to track improvement in your game, and play handicap-adjusted games and matches. In-app purchases for this golf course app give you access to real-time wind speed, elevation, and "plays like" distance, as well as the ability to track the clubs you use. The Apple Watch golf GPS app functionality includes distances, score keeping, and tracking shots.

Discover your iPhone's hidden features
Get one daily tip each day (with screenshots and clear instructions) so you can master your iPhone in just one minute a day.
For iPhone and Apple Watch
The beauty of the Hole19 app is that it gives you distances on over 43,000 courses. As a golf rangefinder app for Apple Watch and iPhone, this is one of the best golf GPS apps. You can track your score and your partners' scores, plus you can view graphs of your performance in driving, greens, short game, putting, and overall scoring. Shot tracking lets you also see how far you hit your last shot.
For iPhone, iPad, Apple Watch, and iMessage
This golf GPS app includes distances to the center of the green and a golf scorecard, along with an amazing augmented-reality feature that helps you plan your best shots. The Golfshot app augmented-reality functionality makes this one of our favorites and possibly the best golf app for Apple Watch, and the fact that it works on your iPad and iPhone as well means you can enjoy flexibility in the device you choose to bring to the green.
You can zoom in on the satellite images to get a detailed view of each course. The golf GPS app offers the latest golf news and statistics such as fairways hit, greens in regulation, and putts per hole, and includes interactive, real-time distances to all targets and hazards, as well as GPS distances, scoring, tracking on your Apple Watch, and augmented reality with Golfscape. Other features include 3D flyover previews of each hole and personalized club recommendations based on your statistics.
For iPhone and Apple Watch
If you use your Apple Watch for golf, you'll enjoy this one. While the free version of this app is ad-supported, it comes with tons of features including GPS distances on over 35,000 courses worldwide, a yardage book with color 3D images of the course, and a scorecard for up to four players, as well as stat tracking and handicap support. Your stats sync to the GolfLogix website so that you can track your progress.
The many other features include an extensive archive of Golf Digest lessons and videos. The Champion upgrade gives you the distances to the front, back, and center of the green, as well as distances to hazards and layups. Plus, it offers video flyovers of every hole and club tracking that shows the location and distance of every club you hit. The Club Distance Grid shows where each of your clubs should land from where you're standing. New features include an Official Tournament Mode that offers 3D fairway maps, green map books, and a Putt Line feature that helps players aim precisely. The Apple Watch golf app shows GPS distances, 3D course maps in color, four-player scoring, handicap tracking, and even discounted tee times.
For iPhone, iPad, and Apple Watch
This golf shot tracker and GPS app offers a lot of basic features for free, including scorecards for four players, GPS rangefinder, club recommendations, shot tracker, aerial course maps, and more. This works best as a free golf app for the iPhone. The Apple Watch golf app support used to be paid only, but now includes free scoring for four players, aerial maps with flyovers, instant distances, shot tracking, and more.
Related: How to Add a Workout You Forgot to Track to the Apple Watch
Best Golf Swing Analysis Apps
The iPhone and iPad are well suited to recording and analyzing your swing, especially if you have a device that's capable of recording at a high enough frame rate for slow motion. Form is everything, and the apps listed below help you learn how to hit a driver, improve your golf swing, get better at chipping, and perfect your putt. 
For iPhone Only
If you're looking for iPhone golf apps to boost your game, this golf swing analyzer app is a solid place to start. With a systematic program for improving your game, Golf Coach offers a set of 38 HD coaching videos and a swing analysis suite from Dr. Noel Rousseau, a PGA professional who's an expert in effectively teaching complex movements. The lessons provide all the major swing and short game principles. In addition, the app lets you compare your swing with that of a model. You can use the overlay tools and variable-speed playback feature to analyze your swing.
For iPhone and iPad
This app focuses on evaluating and improving your swing by allowing you to record it in HD slow motion and then analyze the footage frame by frame. The app lets you see side-by-side comparisons of videos of your swing and annotate and record voiceovers to go with them. You can share videos with others as well as import video from the Photos app.
For iPhone and iPad
This popular swing analyzer app is a highly-ranked platform for reviewing athlete technique. You can record your swing with your iPhone or iPad and view an instant replay of your own golf swing after the shot. This is currently the only app to automatically capture and play back your shot completely hands-free. The Swing Profile Gold Analyzer app features include slow motion, importing video, comparing videos side-by-side, drawing swing planes on videos, adding audio commentary, and sharing videos. 
9. Zepp Golf (Free with In-App Purchases)

For iPhone, iPad, and Apple Watch
This app by Zepp works great on its own, and includes a scorecard, interactive leaderboard, the training system, a swing library, and video swing capture that helps users capture and edit their shots with graphics and voiceovers. Free Apple Watch features include a swing tracker and real-time metrics.
Zepp also offers certain accessories you can attach to your golf glove to measure important aspects of your game such as club speed, club plane, tempo, and backswing. The Golf Sensor also unlocks a personalized Smart Coach training system with training plans from LPGA Pro Michelle Wie. 
Best Golf Handicap Apps
Below, we've listed our top apps to help you learn the rules of golf and properly calculate your handicap.
For iPhone and iPad
This rulebook comes directly from the United States Golf Association. It states the official rules updated for the year ahead, and includes a search function so you can find every rule, definition, and decision.
For iPhone and iPad
You can use this app to find out your handicap (though it doesn't provide an official USGA or R&A handicap index for tournaments.) You can calculate your handicap based on U.S., Canadian, and Australian rules. 
Best Golf News Apps
For iPhone and iPad
The official app of the PGA Tour for the iPhone includes real-time leaderboards, player profiles and video, live player scorecards with shot trails and live stats, and access to live video for every PGA Tour event. The app also includes videos of tournament highlights in the United States, Canada, and Latin America. There are round recaps, player features, the latest PGA news and push notifications.
For the iPad, users will see shot trails and plots for all players, real-time stats, shot plots, and an 18-hole view that shows where leaders and favorite players are on the course. Users can listen to live PGA Tour audio while navigating the app, and watch live coverage, too! 
For iPhone and iPad
Redesigned and improved this year, the official LPGA app gives you live scores and tournament results, news, photos, videos, and player rankings and statistics, as well as tournament information and course conditions. Information for specific tournaments includes TV times, weather, and course map. You can select your favorite players to follow, including bio and stats.
For iPhone and iPad
A monthly or yearly digital subscription gives you access to original video essays, columns, commentary, photos, player interviews, reviews of equipment and products, and you can even purchase back issues. 
We hope this list helps you to find the best golf apps for your iPhone, iPad, and Apple Watch to help you work on your form, more easily track scores, and check game rules.