Here's how to organize photos and videos by making albums on your iPhone or iPad.
By

Rheanne Taylor
Updated 10/26/2022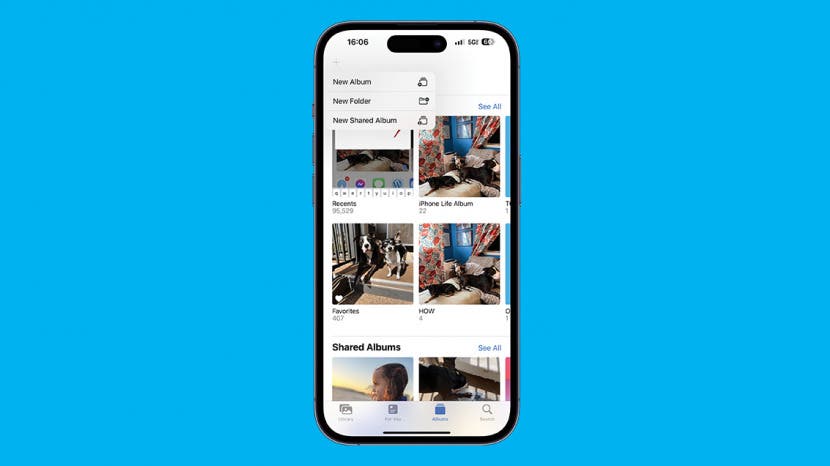 Apple's iOS Photos app has a few default photo albums that automatically organize the photos on your iPhone. But what if you'd like to create a new photo album? The Photos app allows users to organize pictures into albums they create. Here's how to make an album from photos and videos on an iPhone.
Jump To:
How to Make Photo Albums on an iPhone & iPad
If you want to organize photos on your iPhone or iPad, it's time to create photo albums! Here's how to make photo albums in the Photos app. For more great photo organization tutorials, check out our free Tip of the Day. 
Open the Photos app.


Tap the Albums tab.


Tap the plus symbol.


Tap either New Album or New Shared Album.


Give your new album a title and tap Save.


Tap photos to add to the new album, the selected photos will have circles with blue check marks in the bottom right corners.


If you want to double check what you've selected, tap Show Selected (number of selected photos). This is useful if you've scrolled a lot or gone through several albums to select a variety of photos.


Here you can swipe to see them all in full size.


Tap the blue check mark if you wish to deselect the photo you are currently looking at.


Or tap Deselect All to restart the selection process.


Tap Done to stop viewing your selected photos.


Tap Add when you're finished. Or Cancel to return to your Photos app, if you do this, your progress will be lost.


Your new album will now appear in the Albums tab in the Photos app! If you want to learn how to delete a photo album, read this.
Related: How to Create a Group Photo Album on iPhone
How to Add Photos to Albums on an iPhone & iPad
Now that you've made an album, you may be wondering how to organize iPhone photos and videos by moving them into individual albums. There are several ways to do this: from your general photo library, by looking up photos using the search field, and directly from the album using the plus icon.
How to Move Photos to Albums on an iPhone from the Photos App Library
You can add videos and pictures to albums you've already created by following these steps:
Open the Photos app, then tap the Library tab, then Select. 


Tap the video or photo thumbnails you want to add; you'll see the circles with blue checkmarks in the bottom right corner of the selected images. Next, tap the Share icon. 


Tap Add to Album or Add to Shared Album. You may need to scroll down to see these options.


Tap the album you want to add your photos and videos to.


If you want to create a new album for these photos, tap New Album, name it, then tap Save.


How to Look Up Photos Using the Search Field to Add Photos to an Album on iPhone & iPad
An even faster way to find and add content to an album is to use the Search field. To do this: 
Tap the Search tab and enter your specifications. This can be a subject, location, date, caption, or all of the above. 


Tap See All.


Tap Select. 


Tap to select photos, then tap and hold one of the selected photos until a menu pops up. Tap Add to Album.


Tap the album you want the photos in, or create a new album.


Add Photos Using the Plus Icon Directly from Your Apple Album Photo
You can also use this method: 
Tap the album you'd like to add photos to, then tap the Plus icon.


Tap the photos and videos you'd like to include, then tap Add. 


Now you know how to organize photos in the Photos app on your iPhone and iPad!