By

Rheanne Taylor
Updated 09/18/2019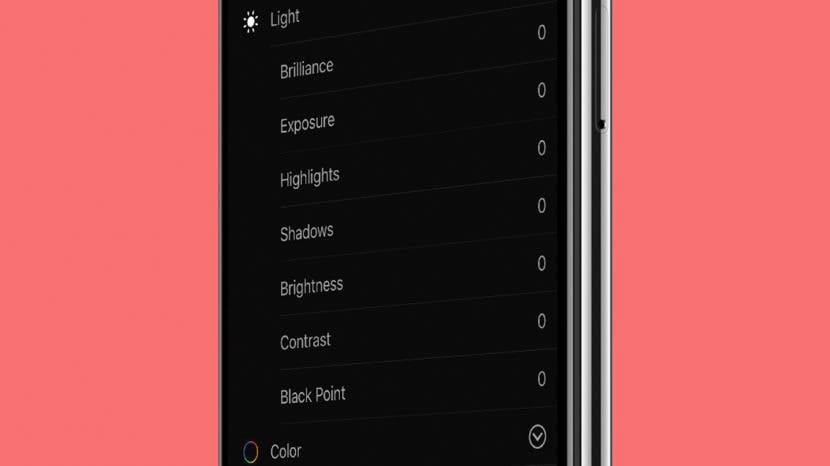 Did you know that in the Photos app you can apply a filter, tweak an effect like contrast, or even remove those changes to reset the picture? You're not stuck with the settings you pick when you take a picture—you can change them simply by opening the Photos app, selecting a photo to edit, tapping the Edit option at the top right of the screen, and then swiping left or right through the exposure options below the picture to apply effects. The Photos app puts the power right in your hands, with no need for third-party photo editing apps! Here's how to apply filters and tweak contrast in the Photos app on your iPhone.
Related: How to Transfer & Download Photos from iPhone to Computer (Mac, PC, and iCloud)
How to Apply Filters & Tweak Contrast in Your Photos App
Open up your Photos app and tap the photo you'd like to modify.

Tap Edit in the top right corner of the screen.



To apply a filter to your photo, tap the filters icon at the bottom center of the screen, which looks like three overlapping circles. Here you'll be able to scroll through a collection of filters.



When you select an option, a dial will appear at the bottom that allows you to adjust the effect by scrolling either left or right—left for less effect, and right to intensify it.



If you want a little more control over your edits, select the manual adjustment icon (illustrated by a scroll bar).

In the menu above, you'll be given a ton of options—Auto, Exposure, Brilliance, Highlights, Shadows, Contrast, Brightness, Black Point, Saturation, Vibrance, Warmth, Tint, Sharpness, Definition, Noise Reduction, and Vignette. These effects are also adjusted with the same scroll bar as the filters.

When you're finished, tap Done to accept your changes or Cancel to discard them.
And that's it! Now you know how to add filters and make adjustments to your images in the Photos app. You can go back and make changes later to the same image, and if you decide, at any point, that you want to return to the original image, simply go to edit the photo again and tap Revert. Happy shooting!
Top image credit: perrunjela / Shutterstock.com