By

Leanne Hays
Updated 03/29/2023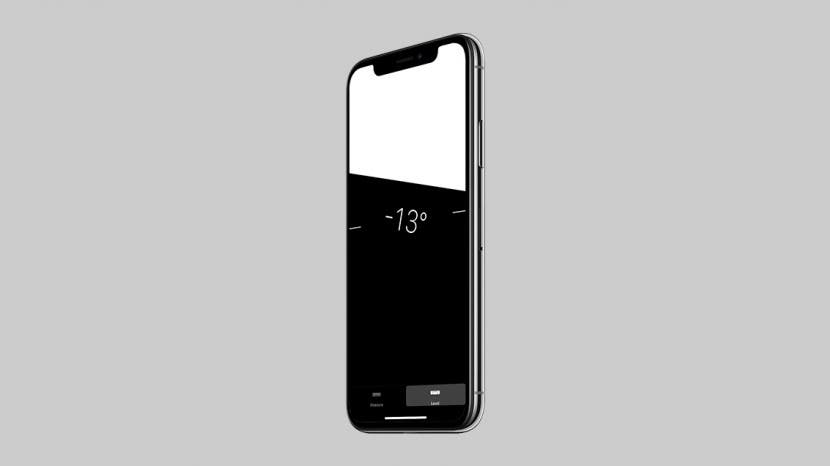 * This post is part of iPhone Life's Tip of the Day newsletter. Sign Up. *
The iPhone has a bunch of great native apps that can really help you get your work done. But one of the best, little-known apps that come on your iPhone is the Measure app and its hidden spirit level. The level on your iPhone, while sometimes imperfect, does a pretty decent job of gauging how straight your paintings are hanging. There are a few keys to getting it to work right, but this has helped me out in so many circumstances where I did not have access to a spirit level.
Why You'll Love This Tip
Ensure your paintings, photos, shelves, etc., are hanging straight.
When hanging multiple decorations, make sure they're all lined up properly.
How to Use Level on iPhone & iPad
The Level feature in the Measure app relies on the iPhone's internal accelerometer to determine how straight something is or is not. For more iPhone and iPad hidden tips and tricks, be sure to sign up for our free Tip of the Day newsletter. Now, here's how to use the level app on iPhone:

Discover your iPhone's hidden features
Get a daily tip (with screenshots and clear instructions) so you can master your iPhone in just one minute a day.
Open the Measure app on your iPhone.


Tap on Level at the bottom of your screen.



Hold your device on the surface you'd like to check for level. This could be on the top edge of a painting you're hanging or on a shelf you're installing. You may need an extra pair of hands if you don't want to drop your precious art (or your precious phone), so make sure to get a helper! You will be immediately able to see the degree of angle.


When your device (and therefore the surface you're testing) is level, you'll see a green screen and 0º.



If the surface you're checking isn't level, the screen will be black, and you'll see how many degrees plus or minus it's off from level.


This comes in useful when trying to hang a painting or a photo and you want to make sure it's level. However, if you're doing a construction project and need to be extremely precise, I'd still recommend using a traditional level. But for things that aren't as serious, this is such an amazing and convenient tool that I find myself using all the time, especially when redecorating. Next, find out how to use your iPhone's scientific calculator.