By

Elisabeth Garry
Updated 08/04/2022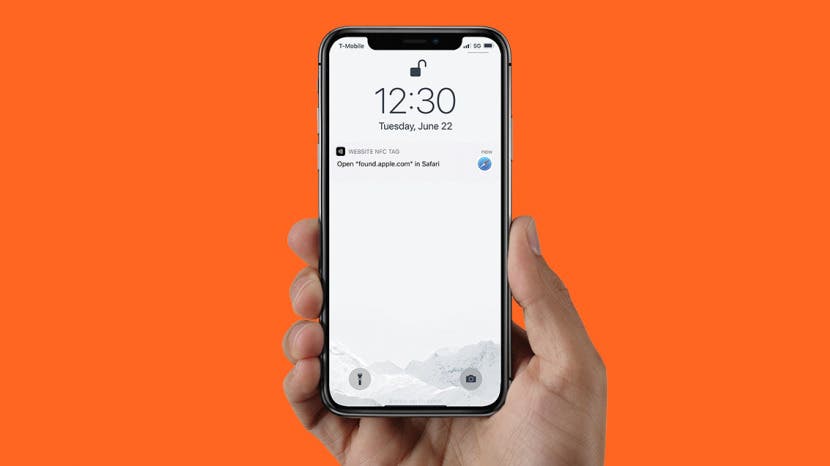 What happens when that chirping sound you heard on the lawn wasn't a baby bird in need of rescue after all? What if it's someone's orphaned AirTag? You can still do your good deed for the day by using your iPhone to help get the AirTag back to its owner.
Jump To:
Related: AirTags & Privacy: What You Need to Know
How to Reunite a Lost AirTag with Its Owner
If you find an AirTag making noise, it's probably because it's been separated from its registered owner, so there is probably someone out there looking for it (especially if it is still attached to an item like keys or a wallet). Luckily, you can help reunite AirTag and owner by following the steps below. Need some help deciding what to put your Airtag on? Check out this article all about the best items to use an Airtag with! To learn more about using AirTags, sign up for our free Tip of the Day newsletter.

Discover your iPhone's hidden features
Get one daily tip each day (with screenshots and clear instructions) so you can master your iPhone in just one minute a day.
Hold your iPhone up to the white side of the AirTag and keep it there.
A notification will appear on your screen. Tap it.


 

You'll be taken to a website that includes information about the AirTag.
If the owner has marked the AirTag as lost, you should be shown a message from the owner and contact information.


 

Use this information to contact the AirTag's owner and coordinate returning the AirTag.
How to Disable a Mysterious AirTag
If you have reason to suspect that the AirTag you found has not simply been lost by an absentminded owner but has been possibly placed in your possession by someone wishing to track you, you can disable it. Here's how:
You should get a notification on your iPhone that an unknown AirTag is traveling with you.
Tap AirTag Found Moving With You.

Tap Continue.
Tap Instructions to Disable AirTag.

Follow the instructions given to disable the AirTag. This will prevent the AirTag from trasmitting information about its current location to its owner.
There you have it! Now you know what to do if you find an AirTag making a sound, whether you're helping someone find their lost AirTag or disabling a maliciously planted AirTag. If you find an AirTag out in the dirt, you may also be interested in learning how to clean an AirTag. If you want to make sure you're not the one losing your AirTag, check out how to get, turn off, and customize Left Behind alerts for your AirTag.