By

Leanne Hays
Tue, 02/25/2020
If you love hiking in the mountains, camping and fishing at a favorite lake, or just going for a walk in the woods, you likely already know that time in nature does a world of good for both physical and mental health. Researchers at the University of East Anglia performed a meta-analysis of more than 140 studies completed in 20 countries that objectively confirms these subjective impressions. Exposure to wild spaces reduces the production of stress hormones, lowers pulse rate and blood pressure, decreases sleep disturbances, and increases happiness, well-being, and even creativity. For many people, spending time in the great outdoors, whether for an afternoon or weeks at a time, means a break from technology. But there are so many practical benefits of having your phone with you! So before you escape to the woods to eat roots and berries and forget human speech, think about adding some of this essential camping gear and equipment to your packing list. While you're at it, check out our collection of travel, hiking, plant identification, and bird apps.
Related: Must-Have Tech Gear for Your Camping Adventures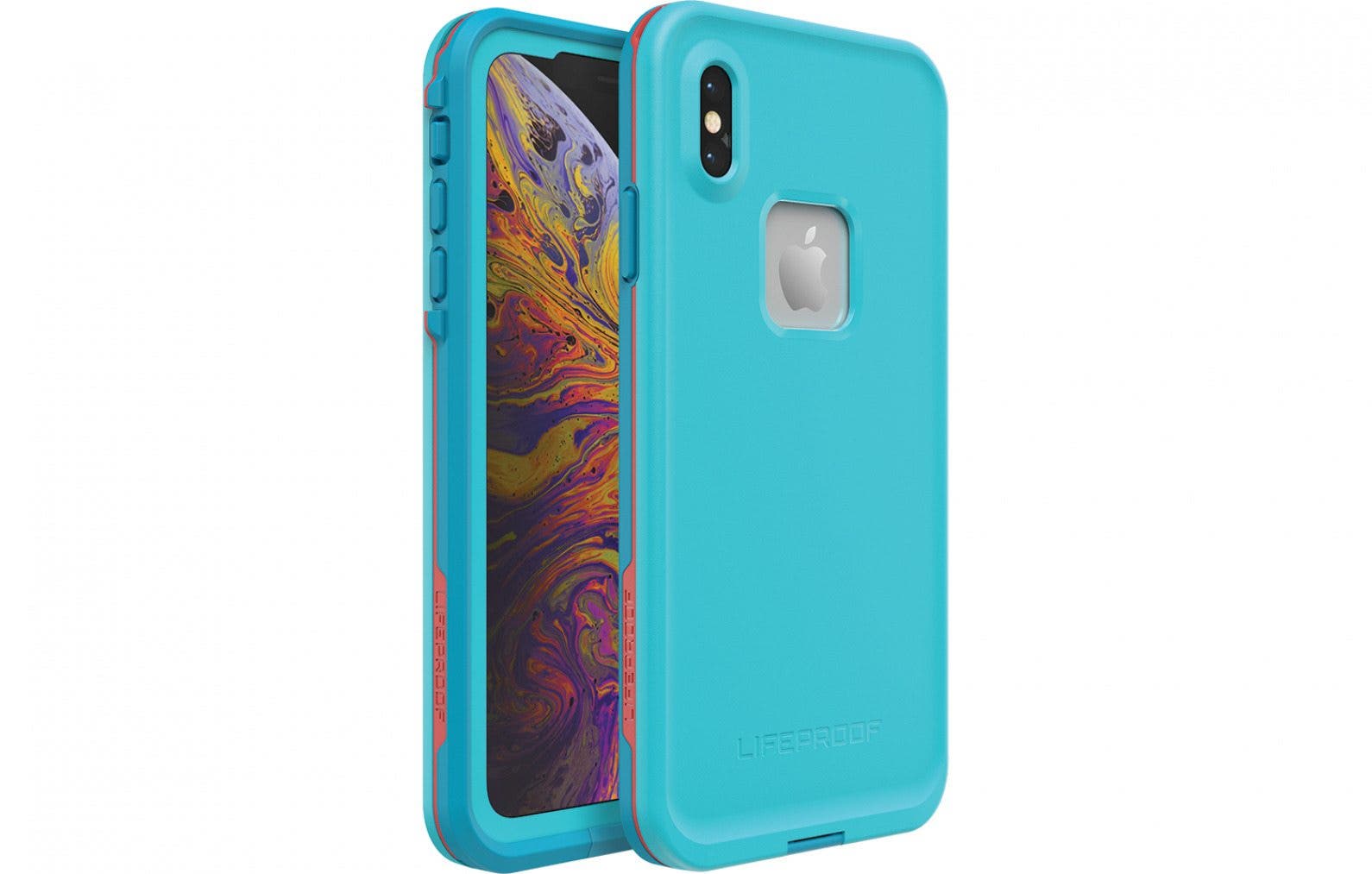 Let's start with the basics; you're going to need more than the usual protection for your iPhone. You're probably familiar with the anxiety that comes with taking your device to the beach or on a camping trip. Sure, many recent iPhone models are water resistant, but few people want to test that feature and risk damaging their expensive device. This case by LifeProof is a great way to keep your phone shielded from the elements, so you can fearlessly capture all the vacation photos and videos you want.
The FRE is a completely waterproof phone case (submersible for 6.6 feet for up to an hour), can survive drops up to 6.6 feet, and seals your iPhone (including the screen) from the elements. This means you can use your phone in dust, dirt, or snow; you can even submerge your phone to capture pictures of fish and other wildlife! Just make sure you attach the included lanyard, as well; otherwise, you may lose your iPhone in the river the way our video producer Rheanne did!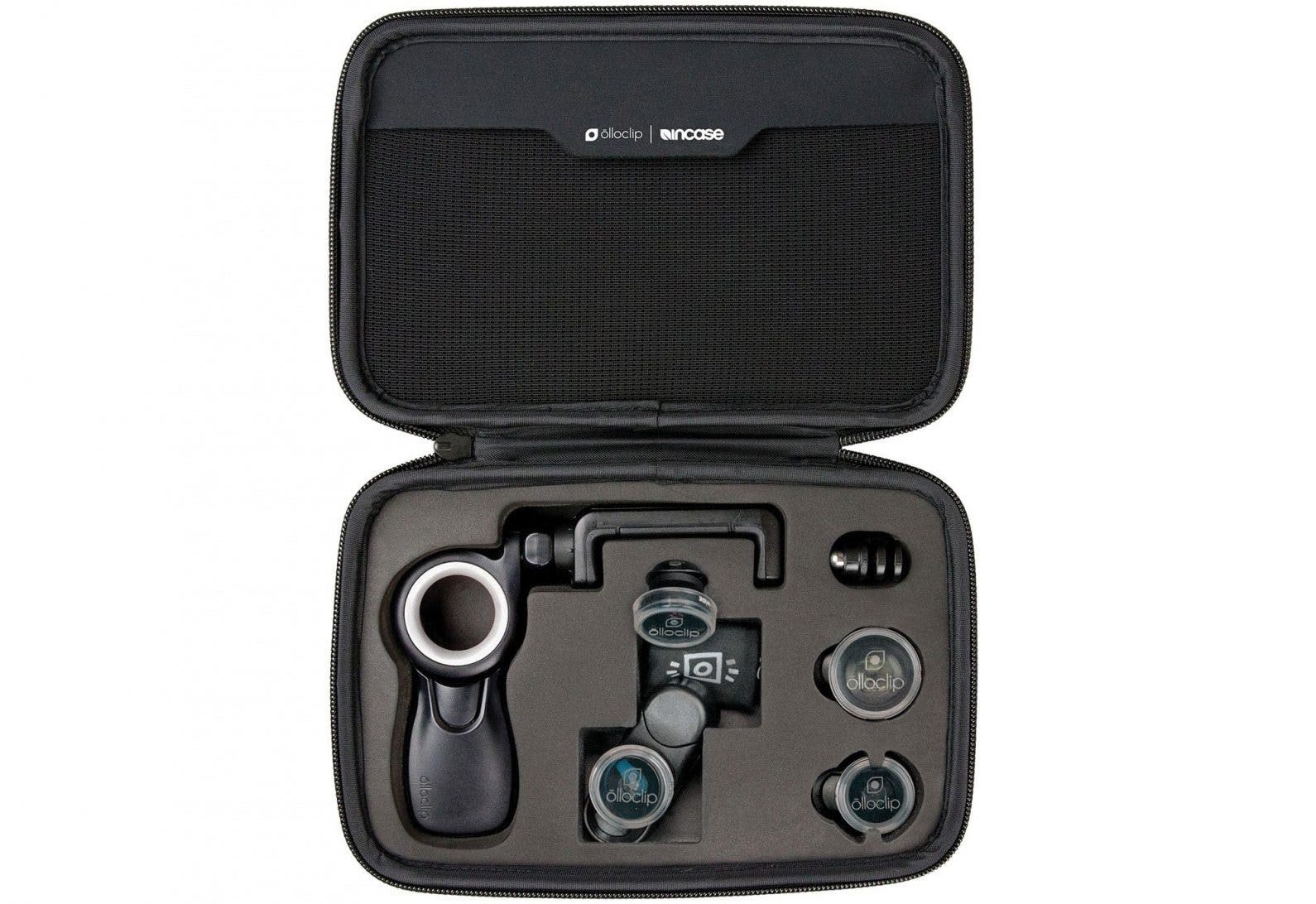 If you've fully explored your iPhone's camera features and are ready to take your outdoor photography to the next level, give this Filmer's Kit from Olloclip a try. The set includes a phone clip, a GoPro mount, a mobile video grip, and five lenses that will help you capture an array of creative, unique shots. The fisheye lens, my favorite, allows users to take round photos with a distorted perspective that makes the center of the image pop while the surrounding area appears to flex toward it.
Other lens options include the Super-Wide, which doubles your field of view and is ideal for landscape shots where you want to capture as much of the natural beauty surrounding you as possible. If that's not wide enough, try the Ultra-Wide lens for an even more expansive picture. The macro lens works like magic for close-up shots of insects, rocks, plants, or any other small object you'd like to see in maximum detail surrounded by a gorgeous bokeh effect. The telephoto lens is great for zooming in on subjects that you might not want to approach, like wildlife.
The Filmer's Kit is available for all recent iPhones, including the new iPhone 11 series. The set comes in a molded, zippered case that safely compresses all components to keep them from rattling around and breaking during your expedition.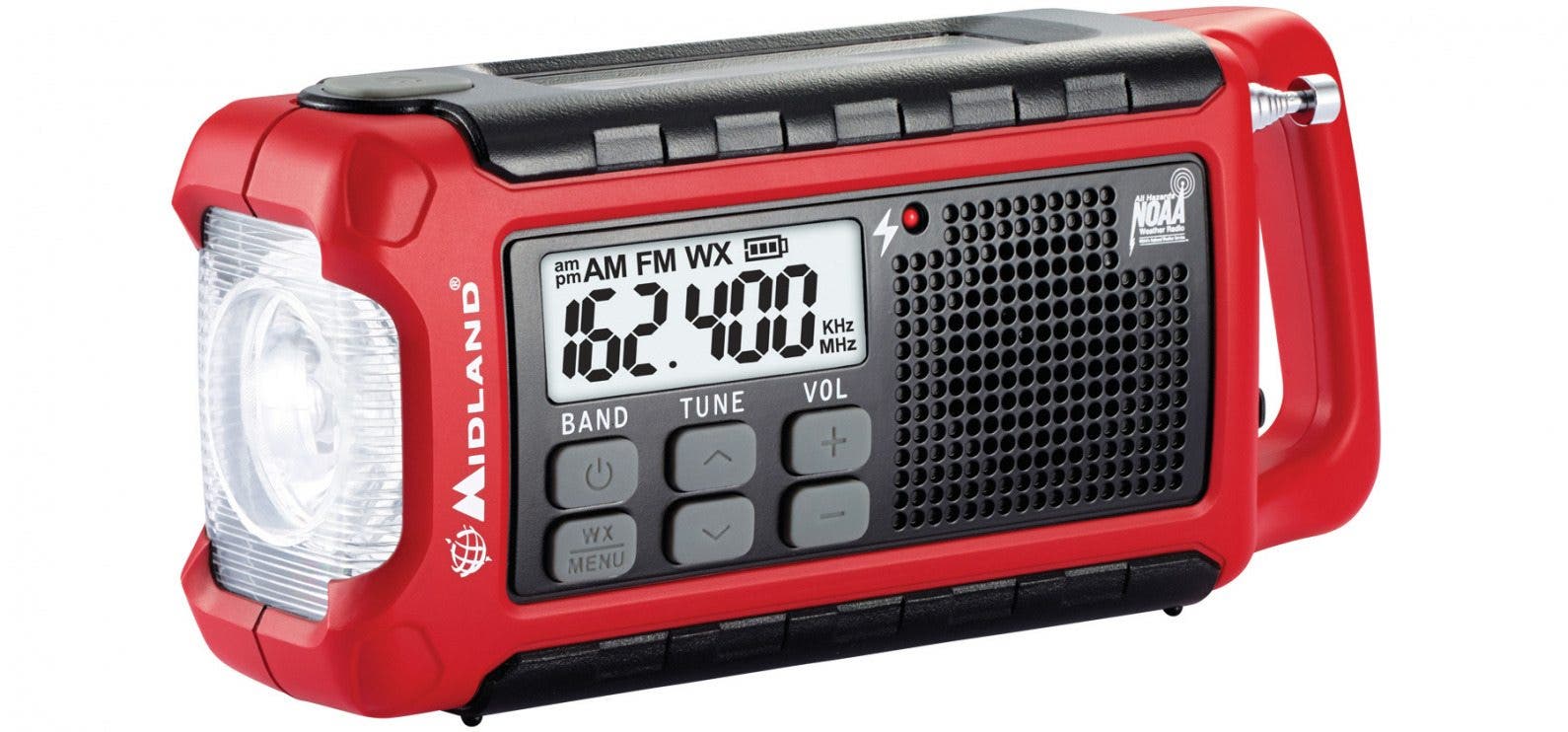 You're keeping your iPhone safe, now let's make sure that you're taken care of on your adventures too. In wilderness areas with little cell service, it's crucial to have access to the National Oceanic and Atmospheric Administration (NOAA) weather radio for information about incoming temperature changes, storms, and severe weather. If you'd like to listen to a little music around the campfire, this radio also picks up the full range of AM and FM stations.
The Midland Emergency Radio is compact and lightweight enough for even backpackers to make room for, and charges via a hand crank or solar panel, so you'll never run out of juice. This device doubles as a flashlight with an SOS beacon option, and a phone charger complete with a USB port. The peace of mind you'll feel knowing you've covered all your bases makes this an essential purchase, even if you choose to leave your phone at home.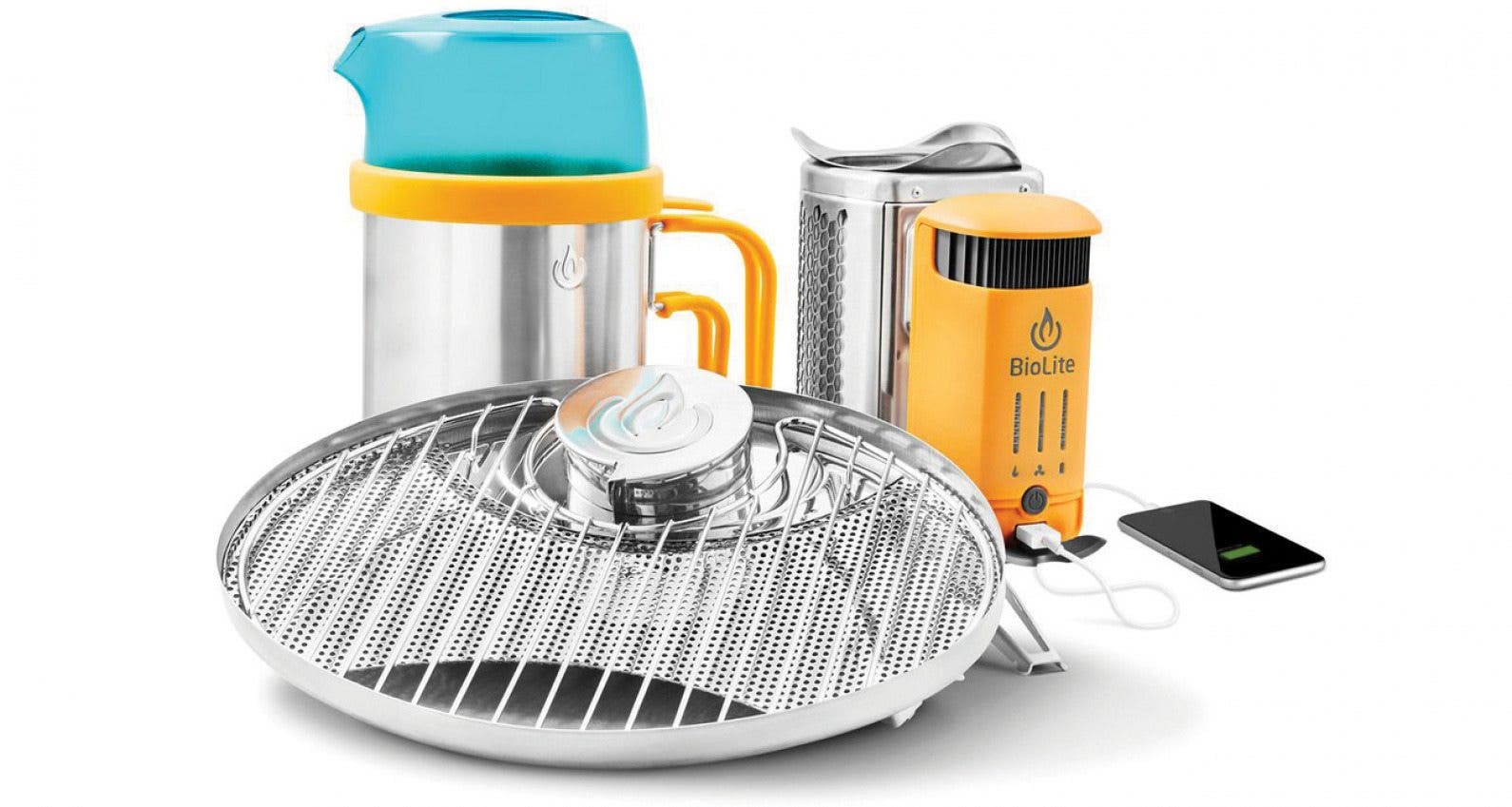 If you're the type of camper who likes to bring along a camp stove rather than cooking over an open fire, you need to check out the BioLite CampStove. This unique device burns twigs, small sticks, or pellets, so you'll never need to buy or schlep white gas canisters again. I remember a two-week backpacking trip where a fuel canister leaked into our food supply, and we had the choice between eating the contaminated items or going very, very hungry. White gas burps are no fun, and this stove will prevent a repeat of that unfortunate situation.
The BioLite Bundle includes everything you need to make a meal outdoors, including a kettle for boiling water or cooking soups and hot cereals, a grill top, and even a flex light so you can keep cooking after the sun goes down. There's so much more to this than meal prep, though. An internal fan forces air back through the stove's burn chamber for maximum efficiency. The heat created by the stove is converted to electricity (that's what powers the fan), and any excess power is stored in a 2,600 mAh battery that you can use to charge your iPhone via a USB port. So, essentially, this stove will feed the human and electronic members of your group all at once. Yowza.
For the cherry on top, a portion of BioLite sales goes toward product development to bring stoves to households without electricity in India and Africa. Their mission brings light and the ability to charge phones and other electronic devices to areas where these necessities were previously inaccessible. The BioLite stove literally saves lives by keeping indoor air 90 percent cleaner than an open fire, preserving lung health for people that previously had to breathe in smoke every time they cooked.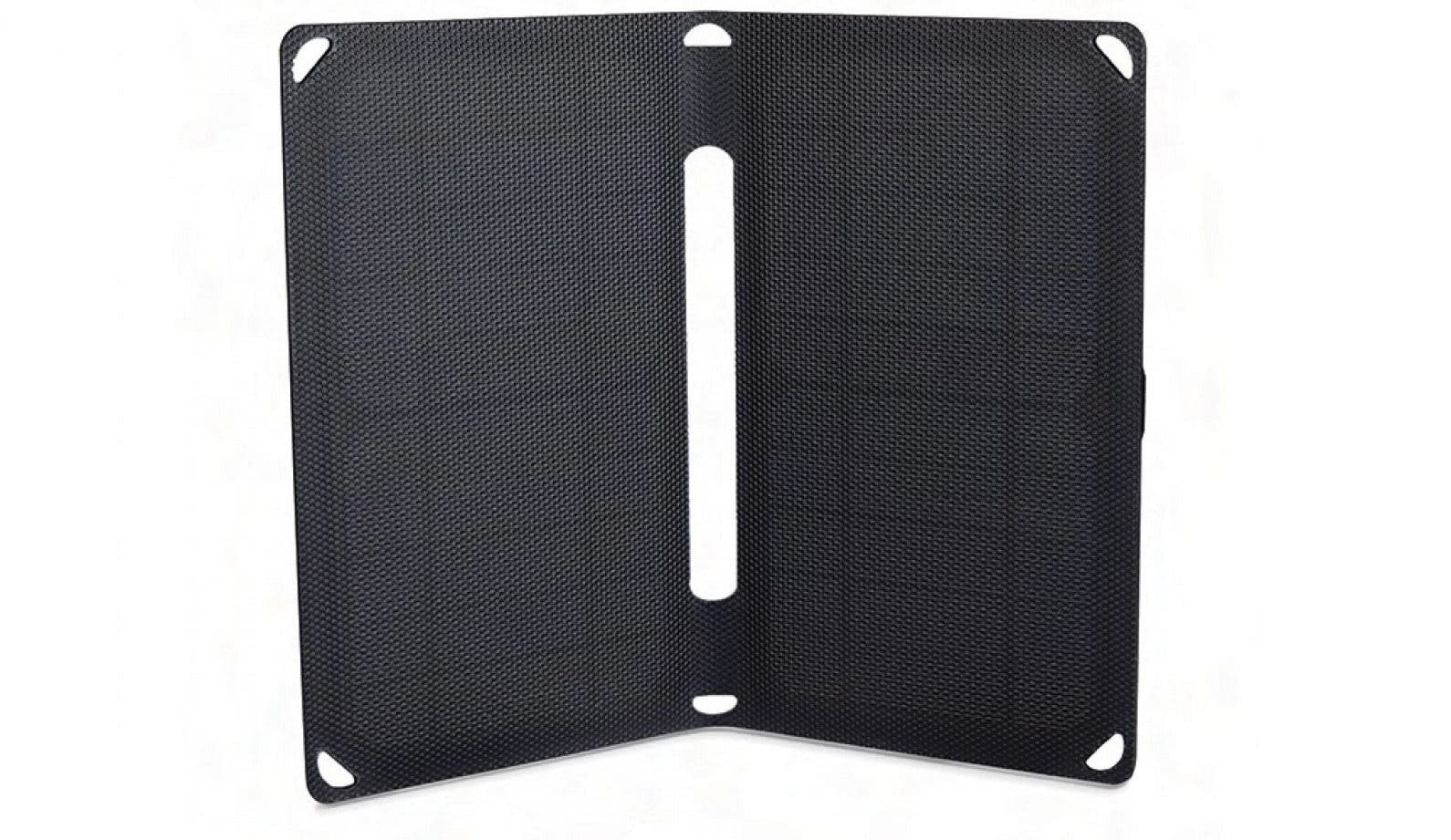 If you'd rather not bring a camp stove along on your trip but still want an off-grid charger for your iPhone, check out this affordable, portable solar panel. You can attach the 10- by 13-inch accessory to your day pack as you're hiking, or place it in a sunny, safe spot at your campsite and connect your device via the USB port to fast charge directly from the panel. When you're finished charging, the Arc folds in half to easily slide into your bag, and at only 0.68 pounds, you'll hardly know it's there.
As for durability, I only tested this item on mild days, but many reviewers report that it's survived outdoor conditions from Mount Rainier to the Sahel desert. Outdoor enthusiasts have charged their devices in the rain, extreme heat, and even snow with no glitches or issues. I can't wait to use this panel on future trips!
Nature Apps You'll Love
If you're into hiking, camping, birding, plant identification, or travel and outdoor photography, check out this app collection! 
ViewRanger (Free, in-app purchases begin at $5.99)
Discover more than 150 thousand trails, download maps for offline use, track hike progress, and use the AR option to identify geographic features and stay on course.
Download this field guide before you hit the trail, and you'll have access to photos, bird sounds, and range maps for more than 800 species of North American birds!
offline access to information and photos for over 950 edible and medicinal wild plants, as well as information about toxic species you should avoid.
Social networking for outdoor enthusiasts! Research and plan trips, upload photos and videos, and follow members from around the world to see the content they've shared.