By

Donna Schill
Updated 01/12/2022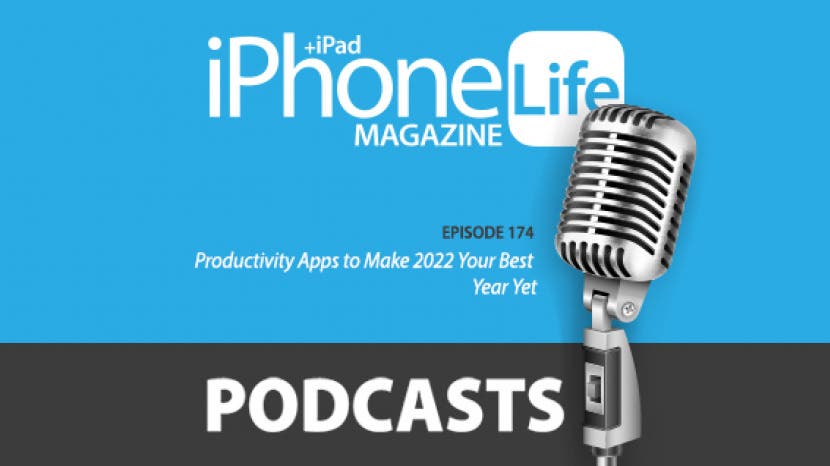 In episode 174, David and Donna share top productivity apps to tackle all your 2022 goals.
Click here to listen and subscribe. If you like what you hear, be sure to leave a review. And remember to tune in every other week to hear our editors share with you the latest Apple news, best apps, iPhone tricks, and coolest accessories.
Claim 10% off your subscription to iPhone Life Insider when you visit iPhoneLife.com/PodcastDiscount.
This episode was brought to you by:
Matias Wired Aluminum Keyboard (Starting at $59)
When Apple discontinued its wired keyboard, Matias stepped in to provide one of equal value and arguably better quality. The built-in hub with multiple USB ports is great for connecting your wired mouse and other devices, and the full numeric keypad is a lifesaver for those who regularly crunch numbers. This keyboard is designed with compatibility in mind! It works with legacy software on older systems, but it also comes with a free USB-C adapter for newer Macs. Check out this and other great options from Matias!
Gobudi CASEBUDi Crossbody Lanyard ($25)
We've all experienced that gut-wrenching moment of panic when you can't find your phone. And we all know that feeling doesn't subside until you've fumbled through your purse or pockets to retrieve it. With the CASEBUDi Crossbody Phone Lanyard, you can rest assured knowing exactly where your phone is, plus you can access it at a moment's notice. The adjustable lanyard comes with the CASEBUDi Disc that you can stick to any phone or phone case, letting you remove and reattach it in seconds using the easy slide-in and turn-lock mechanism. However, the lanyard is designed so that you can comfortably make calls, text, and take photos, all while your phone is still attached. The Crossbody Lanyard comes in black and camel, but you could always get both to match every outfit. This hands-free solution to adventuring with your iPhone can change the way you take on the world or give you peace of mind as you go about your day. Try it today!
Questions of the week:
What apps are you using to help you accomplish work and personal goals in 2022? Let us know at podcast@iphonelife.com.
Articles mentioned in this episode:
Apps mentioned in this episode:
Productivity Apps
Learning Apps
Investing / Finance Apps
Habit Building Apps
Travel Apps
Meditation Apps
Fitness & Health Apps
Useful links: