By

Susan Misuraca
Wed, 08/18/2021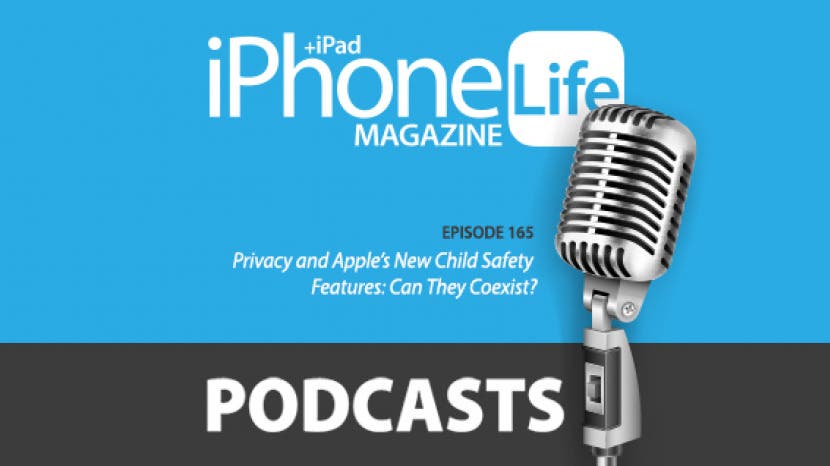 In the 165th episode, David and Donna take a look at Apple's plan to prevent child sexual abuse and discuss how the new features alter the company's stance on privacy. They also share their best tips and tricks for making online payments using Apple Pay, the Wallet app, and Safari AutoFill.
Click here to listen and subscribe. If you like what you hear, be sure to leave a review. And remember to tune in every other week to hear our editors share with you the latest Apple news, best apps, iPhone tricks, and coolest accessories.
Limited time offer! Claim 10% off your subscription to iPhone Life Insider when you visit iPhoneLife.com/PodcastDiscount.
This episode was brought to you by:
JAMF Now: Your company's devices are invaluable. But you're probably spending too much time or money configuring and maintaining those devices. Trade in the hassle and get Jamf Now. Jamf Now is a cloud-based mobile device management system that allows you to configure settings, add email accounts, download apps, and set up security measures for all of the devices in the company. There's no better way to set up, manage, and protect Apple devices at work. 
Informant 5 Calendar App: You need an app that can do it all—a one-stop place for reviewing everything on your to-do list and in your schedule, easily. Informant 5 is that app. Whether you're managing a work project with many parts or planning a dinner date, Informant 5 is the app that keeps it all organized. Whether on Mac or iOS, Informant 5 is the best calendar app on the market. With a 30-day view that far surpasses Apple's stock Calendar and the ability to see your events and 'reminders' (a.k.a. tasks) all in one place, Informant 5 lets you easily create and execute projects with its fantastic task management system.
Questions of the week:
What do you think of Apple's new child safety features?
What apps do you use in the Messages app drawer?
Email podcast@iphonelife.com and let us know. 
Apps mentioned in this episode:
Articles mentioned in this episode: 
Useful links: