Learn the correct way to unpair your Apple Watch to preserve your personal information for a new device.
By

Conner Carey
Updated 09/06/2021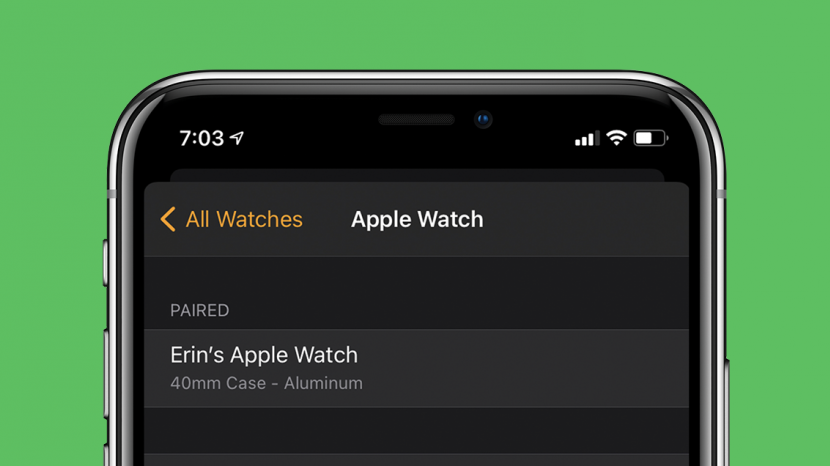 When you get a new iPhone or Apple Watch, you'll need to update your paired devices to include the new devices without leaving personal data on the old iPhone or watch. Here's how to unpair a watch from an iPhone safely and easily.
Related: How to Troubleshoot Apple Watch Exercise Minutes
Why You'll Love This Tip
Prepare for a new Apple Watch or iPhone by unpairing from the old device.
Preserve your personal data to ensure it transfers to your new Apple Watch or iPhone.
How to Unpair an Apple Watch from iPhone
Follow the steps below to learn how how to disconnect Apple Watch from iPhone to prepare for a new device. For more Apple Watch and iPhone tips, sign up for our free Tip of the Day newsletter.
Open the Watch app on your iPhone.


 
From the My Watch tab, tap on All Watches in the upper-left corner.


 
Tap on the orange info icon next to your Apple Watch.


 
Select Unpair Apple Watch.


 
Tap Unpair [Name] Apple Watch.


 
Enter your Apple ID Password, then confirm by tapping Unpair in the upper-right corner.


A screen will appear letting you know that your iPhone is unpairing from your Apple Watch. While it does this, it'll ensure that your data is synced as well.
Now you know how to unpair an Apple Watch from your iPhone! If you are thinking of selling your Apple Watch, you will also need to perform a factory reset.