Follow these 4 steps to factory reset an iPad and protect your private data.
By

Emma Chase
Updated 12/07/2022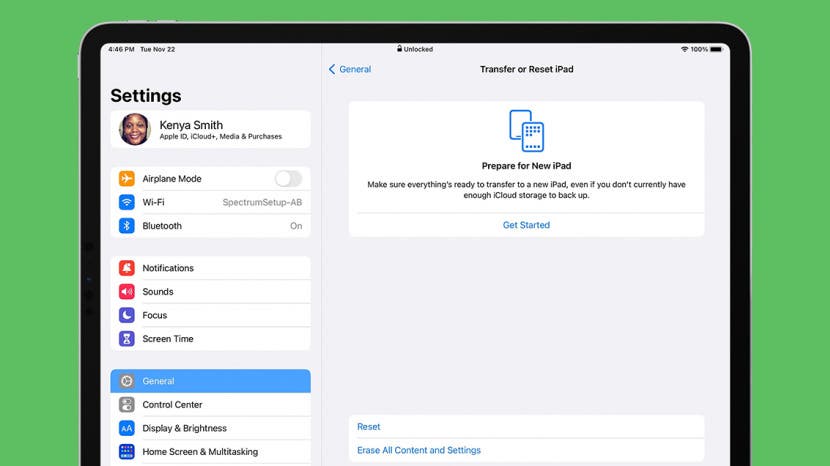 If you're considering an iPad upgrade and want to sell or give away your current device, you will need to know how to factory reset an iPad to prevent the new owner from having access to your personal information. We'll show you how to prepare an iPad for sale.
Jump To:
1. Back Up Data before You Reset iPad
Before you sell the iPad, be sure to back it up. Backing up your iPad is more than just a great way to ensure you don't lose data;  it also allows for the fastest possible setup of a new iPad if you do purchase one to replace your old one. You can choose to back up an iPad to a computer, but an iCloud backup will typically be the simpler option.
Follow these steps to back up an iPad to iCloud:
Open Settings.


Tap on your Apple ID profile at the top of the sidebar.


Tap iCloud.


Tap iCloud Backup.


Check the date and time of the last successful backup.


If the last backup was more than a couple of hours ago or you've made significant changes to your iPad since the last backup, tap Back Up Now.


It will likely take a little while to back up, depending on how much data is being synced with iCloud. Once the iPad backup is complete, you can verify its success by following these steps and checking that the last successful backup date is accurate.
2. How to Reset iPad Settings: Sign Out of iCloud & Disable Find My on iPad
Signing out of iCloud automatically signs you out of the App Store, iMessage, FaceTime, and Find My.  Find My is an incredibly helpful tool, especially if you have multiple Apple devices and often lose them. However, it's a feature that has to be disabled prior to selling or trading in an Apple device. Luckily, you'll be automatically signed out of Find My when you sign out of iCloud. Since you already completed a backup, you'll still have all of your preferences and personal configurations saved for when you're ready to set up your new iPad.
To sign out of iCloud on iPad:
Open Settings.


Tap on your Apple ID profile at the top of the sidebar.


Scroll all the way to the bottom.


Tap Sign Out.


Enter your Apple ID password when prompted.


Tap Turn Off.


Do not opt to keep any data on your device.


Tap Sign Out.


Tap Sign Out again to confirm.


Now that you've signed out of everything and disabled Find My iPad, we'll show you how to wipe an iPad's data to reset it for the new owner.
3. How to Factory Reset iPad
Erasing your personal information is a crucial step to take before you give away or sell an iPad. When you factory reset an iPad, it erases all saved information (which is why performing a backup is so important), which gives the new owner a fresh start and protects your personal information.
Here's how erase data from an iPad before selling it by performing a factory reset:
Open Settings.


Select General.


Choose Transfer or Reset iPad.


Tap Erase All Content and Settings.


You will be shown a list of items that will be safely removed from the iPad. Press Continue.

 
Enter your passcode.

 
If prompted to back up your iPad, select Skip Backup (don't worry, you performed the requested iPad backup in the first step).


Enter your password.


Tap Turn Off.


4. Remove SIM Card from iPad
If you have an iPad with a cellular network, make sure that you have removed your SIM card before selling the iPad to a new owner. You don't want to lose your voice and data services which the SIM card provides. The SIM card slot is usually located on the right side of the iPad, and you can use a SIM card removal tool or a straightened paper clip to open it. Check out our article to learn how to remove a SIM card.
There you have it! In just a few easy steps, you can give away, trade in, or sell an iPad with confidence and know that your personal information is secure and ready to transfer to your new device.