How do you change a photo to JPEG on an iPhone? Here are two ways to convert a PNG to a JPEG image on your phone.
By

Leanne Hays
Tue, 05/31/2022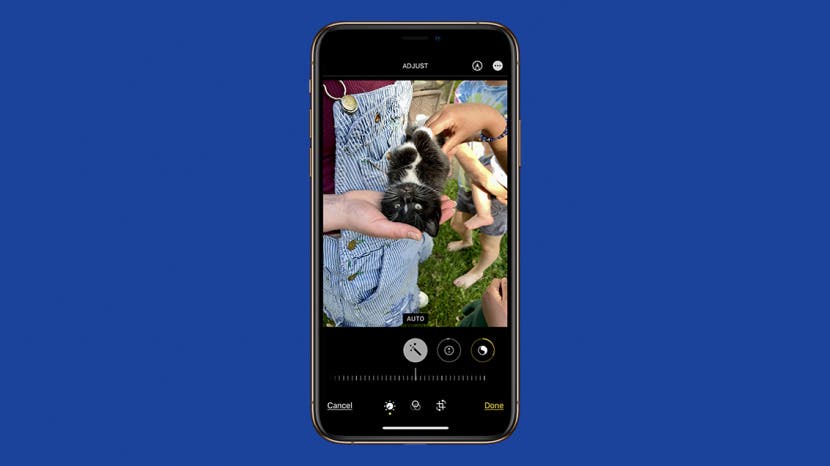 How do you convert a PNG image to JPEG on my iPhone? You need a PNG converter, or you can use a free, easy trick right in Apple's Photos app!
Related: How to Save a File as PDF on iPhone & iPad
Want to know how to change a PNG to JPEG file on your iPhone? And, to back up a little, what is a PNG file, and what is a JPEG file? We'll answer all your questions here! For more great Photos app tutorials, check out our free Tip of the Day. 
What Is a PNG File & What Is a JPEG File?
A PNG (Portable Network Graphic) file uses the .png extension and can handle 16 million colors, transparent or semi-transparent backgrounds, and uses lossless compression, so it retains all original data when compressed. A JPEG (Joint Photographic Experts Group) uses one of the following extensions: .jpg, .jpeg, .jpe, .jif, .jfif, or .jfi. JPEG files are compatible with most apps, software, and browsers, take up less room on your hard drive than a PNG file, and transfer and load more quickly. On the downside, JPEGs can lose detail and look less sharp in comparison to their PNG counterparts. 
How to Convert PNG to JPEG in the Photos App
The absolute easiest PNG converter to use is Apple's Photos app. All you have to do is make an edit to a photo, and it will be saved as a JPEG file. To convert a PNG to a JPEG file:
Open the Photos app.


Tap the photo you want to convert to JPEG format and tap Edit.


Now, make any edits you want to the photo. The easiest way is to click the Auto Enhance icon, which looks like a magic wand. 


Tap Done to save your edits, and when you share the photo, it will be sent in JPEG format.



How to Convert PNG to JPEG with the Convertio App
If you don't want to edit your PNG in the Photos app, you can still convert the file to a JPEG file on your iPhone, but you'll need to use a third-party app, website, or extension to do so. Feature Writer Olena Kagui uses Convertio. She says, "The Convertio website is my best friend, but you can only do ten files per day for free and have to upload and download them individually." This takes more steps than the Photos app method but is very easy once you get used to it. To use Convertio:
Navigate to Convertio.co, tap Choose Files, and select PNG to JPEG below.


Tap Photo Library.


Tap the photo in your Photos app Library you want to convert.
Tap Convert.


Tap Download when conversion is complete.


The JPEG will download to your iPhone's Files app, so open the Files app, tap the Browse tab at the bottom of the screen, and tap Downloads to find your JPEG.