Learning how to change your AirDrop name is easy and super useful if you own many Apple devices. You can also change AirDrop names for personalization!
By

Olena Kagui
Thu, 12/16/2021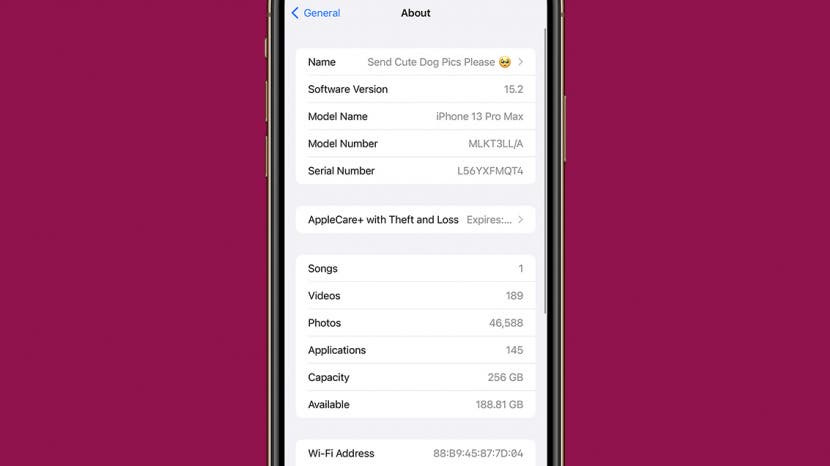 Learn how to change the name of your iPhone, iPad, or Mac the quickest way. I will teach you how to change your AirDrop name to help distinguish between devices easily, personalize your device, or even make fun requests from strangers in public areas such as "Please Send Dog Pics." Let's get started!
What's in This Article?
How to Change Your Name on AirDrop on Your iPhone
Are you wondering how do you change your AirDrop name on iPhones and iPads quickly? You do not need to touch your AirDrop settings. Just follow these steps:
Open Settings and tap General.


 
Select About.


 
Tap Name.


 
Type the new AirDrop name.


 
Tap Done to change it.


You will now see the new name of your iPhone! Now you know how to change the name of your iPhone. Keep in mind that this also changes your iPhone name, so you'll see this name on Wi-Fi networks, in Find My, and when you connect your phone to your computer.
How Do I Change My AirDrop Name on Mac
As someone who owns several MacBooks, it can be confusing to figure out which MacBook Air I am AirDropping files to. Luckily, it is easy to change Matchbook names for AirDrop purposes:
Click on the Apple icon in the top left of your screen.


 
Select System Preferences.


 
Open Sharing.


 
Next to Computer Name, you can add a new AirDrop name for your Mac.


 
Your changes will save automatically. You can exit System Preferences by clicking the red x.


Now you know how to change iPhone names, iPad names, and MacBook names for AirDrop purposes. Just a reminder that this also changes how your device shows up in other places, so if you use my silly "Send Me Dog Pics" example, this will be the name of your device on Find My and everywhere else as well. If you enjoyed learning how to rename iPhones, iPads, and Macs, consider signing up for our free 
Tip of the Day newsletter.