Need to know how to get rid of AppleCare? We'll show you.
By

Brian Peters
Updated 09/27/2022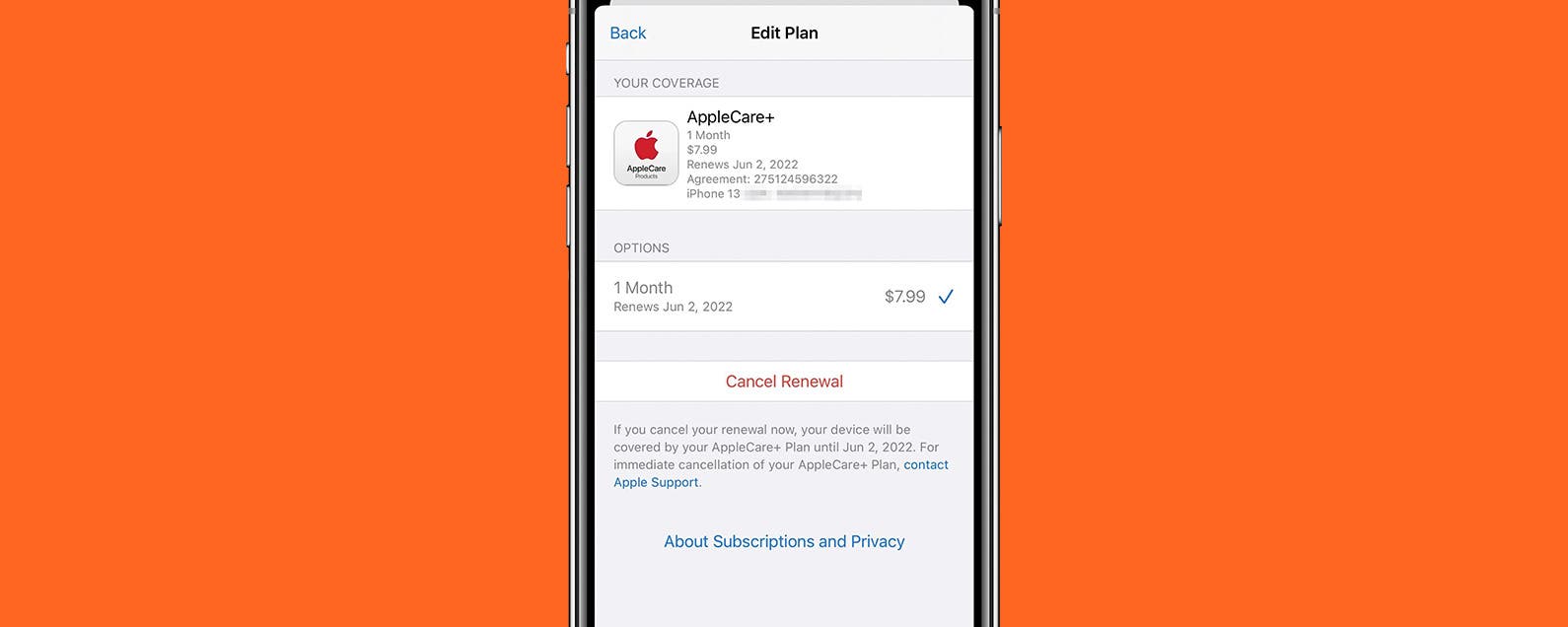 The AppleCare+ service can provide additional coverage for your device in case you're worried about breakage, loss, or theft. If you need to cut back on your expenses or have decided you're not concerned about these issues, you might want to stop AppleCare Plus coverage. We'll walk you through the cancelation process.
How to Remove AppleCare Plus on iPhone
The first thing to know is that if you paid for your AppleCare+ plan upfront and in full, you'll need to contact Apple Support directly to cancel the protection plan rather than doing in through your iPhone's Settings app as shown below. If you made a full purchase like this recently (less than 30 days ago), you'll be able to get a full AppleCare refund for the cost of the plan, minus the cost of any services that have already been provided under it, that is. Even if it's been more than 30 days, you can still get a partial AppleCare+ refund.
Check this page on the Apple site for both links to contact Apple support, and the information you'll need to provide them when you do so.
Canceling your monthly AppleCare Plus subscription is pretty simple to do on your iPhone, but it may not be obvious where to find the menus to do so. There are two ways to access these options, and we'll walk you through one of them. For more information on Apple protection plans, check out our in-depth breakdown article, and for more helpful tips on managing your Apple subscriptions and devices, be sure to sign up for our free Tip of the Day newsletter.
If you need to cancel an AppleCare plan that you paid for upfront and in full for a refund, see the notes above on how to contact Apple Support directly. To cancel your monthly or annual AppleCare+ subscription, follow the steps below, starting by opening the Settings app, selecting General, then finally tapping About at the top of the screen.


Here you'll find an option labeled AppleCare+. Tap it.


Next select Manage Plan.


This is one way to find the AppleCare+ subscription management screen. Another way is to go through the Apple ID menu in Settings, then select Subscriptions. Regardless of how you get here, to end your subscription tap Cancel Renewal.


Tap Confirm.


After this, you will no longer be charged for AppleCare+ and your coverage will end after the date shown in the confirmation message. Be sure to be more cautious with your iPhone as theft and loss will no longer be covered.