By

Cullen Thomas
Updated 06/21/2023
What to Know
To block an unknown number, tap the Information icon next to the number, then tap Block this Caller.
Silence calls from unknown callers: go to Settings, tap Phone, tap Silence Unknown Callers, then toggle Silence Unknown Callers on.
Use a third-party app to help you weed out spam calls.
Receiving repeated calls from unknown callers is just plain irritating. Fortunately, you can easily block a number on your iPhone, block unknown callers, block no caller ID calls, and even stop calls from hidden numbers. Let's get started learning how to block nuisance calls on the iPhone.
Jump To:
How to Block Unknown Numbers Automatically on Your iPhone
Here's how to block unknown callers on your iPhone, automatically and for free! We'll also go over how to block a number you know, and how to use call-blocking apps to stop nuisance and spam calls for good. For more great tutorials on how to block spam emails and spam calls, check out our free Tip of the Day 
How to Block a Number on Your iPhone
To begin our journey of stopping nuisance calls, learn how to block a number. You can also add your own phone number to the National Do Not Call registry. Once your number has been listed for 31 days, you can report spam calls to the FTC, and the offending company will receive a penalty. Not every nuisance caller is a telemarketer, though. Sometimes you get spam calls over and over again from the same telephone number, so you might need to block a phone number just to keep yourself sane.

Discover your iPhone's hidden features
Get a daily tip (with screenshots and clear instructions) so you can master your iPhone in just one minute a day.
How to Block Unknown Callers & Those with No Caller ID on Your iPhone
Apple has a feature that can block all unknown callers. This feature acts as a call filter and will block unknown calls by sending all calls from unknown numbers straight to voicemail. With this feature, you could miss important calls from numbers that you haven't listed in your Contacts, like your doctor or pharmacy. However, it's very useful for weeding out robocalls, scammers, spoofers, and telemarketers. This method also silences phone calls made using this common trick to hide your Caller ID, even those made by people in your Contacts list. Here's how to enable Silence Unknown Callers to block unknown calls on your iPhone:
Open the Settings app.


Tap Phone.



Tap Silence Unknown Callers.


Toggle Silence Unknown Callers on. It will be green and to the right when enabled.


You've done it! Enjoy the sweet, sweet silence. But remember that when your bank or doctor offers to call you back, you'll have to ask them what number they'll be calling from and make sure to add it to your contacts, or you'll miss the call. There is a caveat to this approach: it doesn't silence calls from numbers that Siri identifies as suggested contacts. If a number repeatedly calls you, for example, a political operative trying to talk up their candidate, then Siri may identify them as a possible friend, and then their calls will start getting through again. 
Use a Blocking App to Stop Nuisance & Anonymous Calls 
If Apple's Silence Unknown Callers isn't strong enough to block calls from unknown numbers and potential spam, there are several third-party apps that can help. Here are two of my top picks.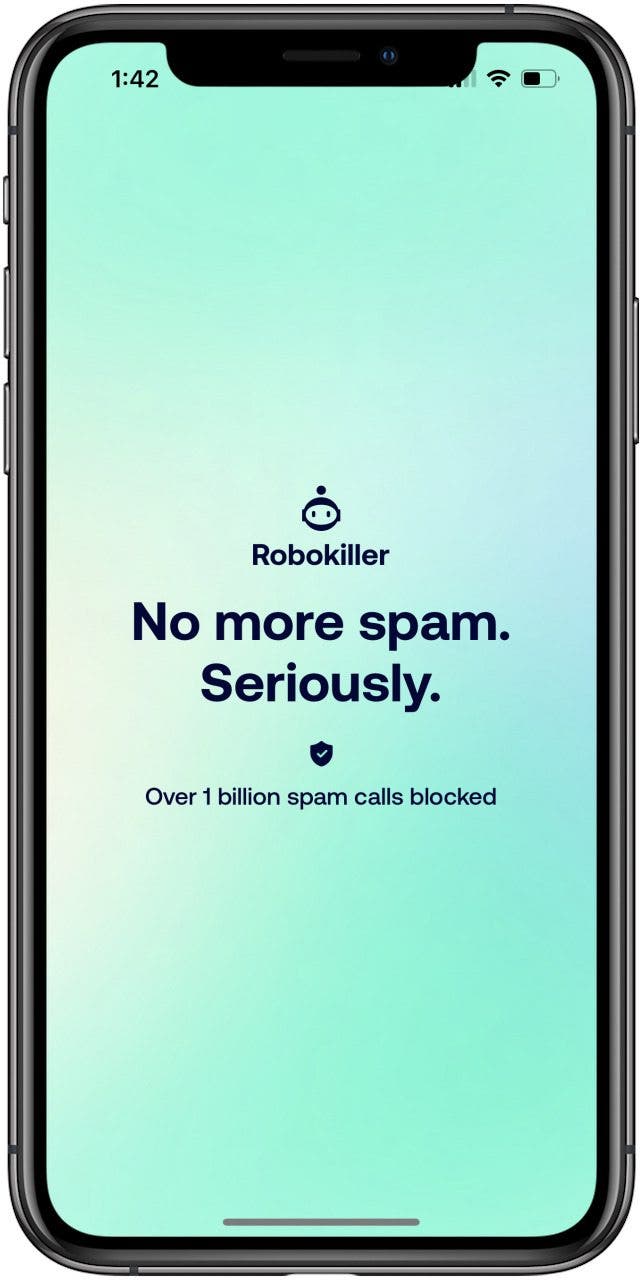 RoboKiller is an app designed to identify spam and robocalls, claiming to block 99% of spam calls and texts. A real bonus to this call screening app is how many funny ways to answer spam calls it offers, including celebrity voices like Kermit the Frog, Morgan Freeman, and more. Winning the FTC's anti-robocall competition gives RoboKiller a lot of credibility as one of the best nuisance blockers for anonymous calls out there. RoboKiller's developers offer a one-week free trial, followed by a monthly charge. If you're enthusiastic about RoboKiller and find it's the robo-call solution you've been looking for, you can purchase a one-year membership for $39.99.
Hiya is a call-blocking, spam-filtering app that reveals the phone numbers of blocked callers, uses a call protection database to safeguard customers, and allows you to customize your own block list. Named a Time Magazine Top Ten App, Hiya has a free version with limited features and a premium option, and can even be shared by up to six people on a Family Sharing plan.
How to Enable a Call Detector App on Your iPhone 
If you want to set up an app on your iPhone to filter and detect spam calls, you'll need to download the spam call blocker first, then go in and change a few settings to get started.
Open the Settings app.


Scroll down to Phone and tap on it.


Tap Call Blocking & Identification. Note that this option will only appear once a call-blocking app is downloaded and installed from the App Store.



Under Call Identification Apps, turn your call-blocking on.




I hope this article has helped to solve your problem with nuisance calls to your iPhone. While these methods won't block Emergency Alerts on the iPhone, taking these steps will definitely reduce the daily interruptions. Please let me know what worked best for you, and if you have any favorite spam-blocking apps in the comments.