Everything you need to know about adding widgets in iPadOS 16.
By

Olena Kagui
Updated 08/11/2022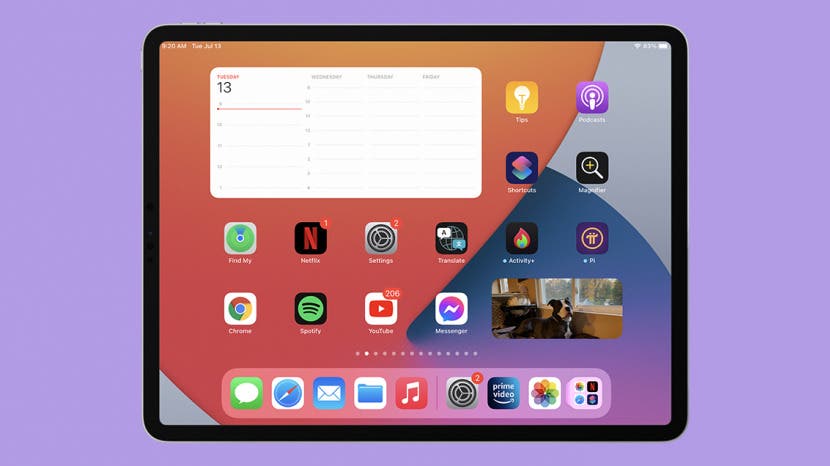 Widgets have helped people customize their iPads for years! Thanks to iPadOS 15 and the iPadOS 16 (available since July as a public beta software and for the general public starting fall 2022), widgets can now be added to the iPad Home Screen and not just stored in the Today View. In the steps below, I'll walk you through what a widget is, and how to add widgets to your iPad Home Screen.
Related: What iPad Do I Have? How to Identify Apple's Different iPad Models & Generations
What Do Widgets Do?
Why use widgets on iPad? Widgets help you get information from your apps at a glance. For example, a Weather app widget will show you the weather right on the Home Screen so you don't even need to open the app. The News app widget can show you top headlines right on your iPad's Home Screen, and you can tap them to navigate directly to articles you're interested in.
How to Add a Widget on iPad Home Screen
If you have iPadOS 14 or earlier, you cannot add widgets to your Home Screen, but you can still add widgets to your Today View. With iPadOS 15 or iPadOS 16, you can add widgets to your iPad's Home Screen just like on your iPhone! To use the steps below, you'll need to update to iPadOS 15 or iPadOS 16. Want to learn more about new iPhone and iPad features and how to use them? Sign up for our free Tip of the Day newsletter.
Here's how to use widgets on the iPad Home Screen in iPadOS 15 and iPadOS 16.
Long press a blank spot on the iPad Home Screen page you want to add a widget to until the app icons start to jiggle.


Tap the + icon in the upper-left corner.


Select the app for which you want to add a widget, such as the Calendar app or the Weather app.


Swipe left and right between the different sizes and types of widgets until you find the style you'd like to use.


Once you see the one you want, tap Add Widget.


The iPad widget will appear on your Home Screen! Now you can rearrange widgets and move them between the screens.
To move a widget, long press an empty spot on your iPad Home Screen until the app icons start to jiggle.
Tap and drag the widget to your desired spot, then release it to save its location.


Tap Done in the upper-right corner when you've organized your iPad Home Screen to your liking.


Now you know how to put widgets on an iPad Home Screen! These days, more and more apps are adding widgets that you can use on both your iPhone and your iPad.