By

iPhone Life Team
Wed, 05/23/2018
How much data does Spotify use is an important question to answer if you have limited data on your iPhone or iPad. If you often enjoy streaming music on the go with the Spotify app on your iPhone, it makes sense to ask yourself, does Spotify use data, and also, does Spotify Premium use data. We'll answer the question how much data does streaming music use and how to find out the details of your Spotify data usage. Remember, if you're streaming music on Wi-Fi or listening to music you've downloaded over Wi-Fi (only available for Spotify Premium), there's no reason to be concerned about Spotify data usage, unless you have very limited bandwidth with your internet provider at home. Let's jump in: Here's how to find out the answer to the question how much data does Spotify use and what you can do to control how much data Spotify uses on your iPhone.
Related: How Much Data Does YouTube Use on iPhone & iPad?
We all love being able to access all our favorite music on our phones. But when it comes to data usage, making sure streaming music on Spotify isn't burning through your data plan is important. If you're listening to Spotify using your monthly data plan through your cellular carrier, you'll want to be aware of just how much Spotify data usage you're racking up. You might also want to set limitations on how much data Spotify uses, which we'll show you how to implement below.
Table of Contents:
If you have a monthly limit on your cellular data plan, it's important to know how much data Spotify uses. It is estimated that streaming music from Spotify over a cellular connection of at least 3G will use 3–5 MB per song with the Normal Music Quality setting. Listening with the Extreme Music Quality setting will use a lot more. 
Spotify Premium subscribers can also download music for offline listening. As long as the songs are downloaded over Wi-Fi, subscribers can listen without using any data. 
You might be using way less or way more data listening to Spotify than you realize. Luckily, you can check how much data the Spotify app is using and turn it off completely if you want to. On your iPhone or iPad:
Open the Settings app.
Tap Cellular.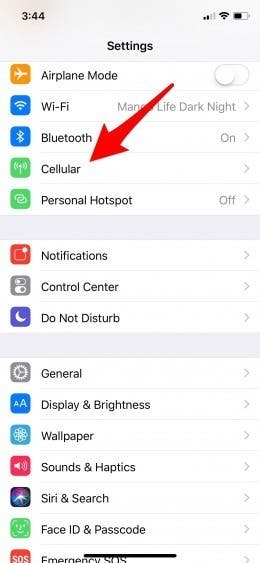 Scroll down and locate Spotify.
Just below the word Spotify, you'll see a number. The screenshot example below shows I've used 675 MB of data streaming music from Spotify on my iPhone.
If you want to make sure Spotify never uses cellular data, toggle it off.
Spotify has settings that you can enable to limit the amount of data it uses when you're not using Wi-Fi. You can do this within the Spotify app on your iPhone or iPad. To limit Spotify data usage: 
Open the Spotify app.
Go to Your Library.
Tap the gear icon in the upper right corner.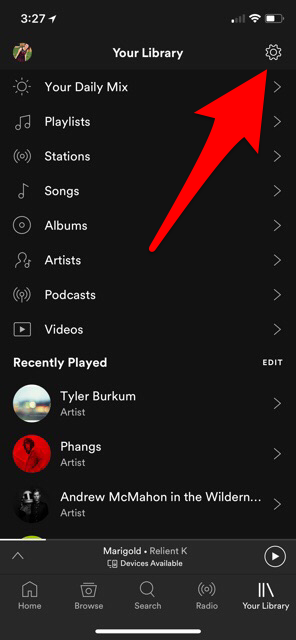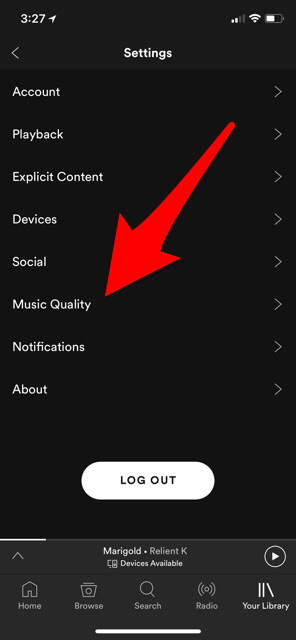 Here you can choose choose a lower music quality to save on data.
And if you're a Spotify Premium subscriber, you can also turn off Download using cellular to avoid accidentally downloading music when you're not using Wi-Fi.