By

Sarah Kingsbury
Wed, 06/14/2017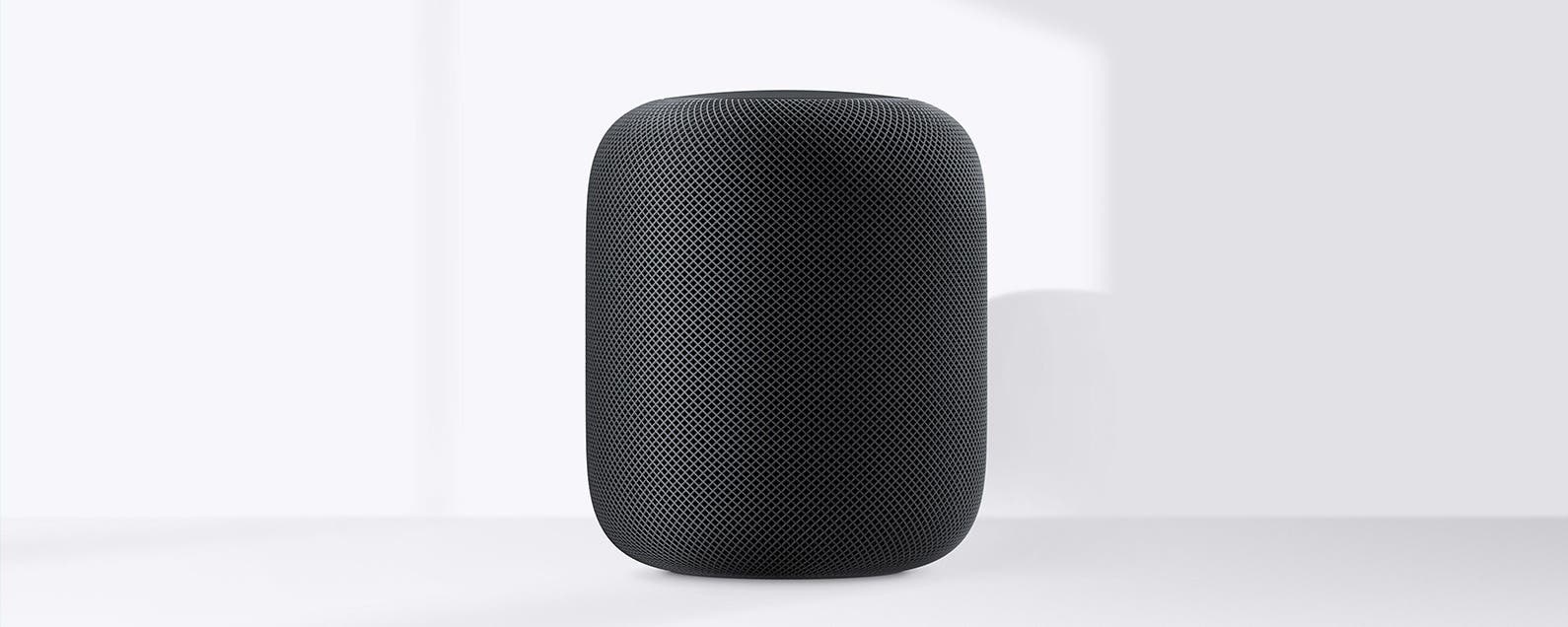 At the recent WWDC 17 keynote, the HomePod smart speaker was one of the biggest announcements of the day. The seven-inch HomePod will come in Silver and Space Gray and will be available in the U.S., U.K., and Australia in December 2017. The Siri smart speaker has better audio quality than Amazon Echo and Google Home and is smarter than the Sonos smart speakers. It's also significantly more expensive than the Echo and Home speakers and there is reason to doubt it will be as smart as the Amazon and Google smart assistants. However, unlike the Echo and Home, the HomePod promises a great deal more privacy to its users. Wondering whether you want to invest in Apple's latest gadget? Here's what you need to know before you make a decision.
Related: Everything Apple Announced at WWDC 17: HomePod, iOS 11, 10.5-inch iPad Pro & More!

HomePod Basics
Price: $349 (no word on price outside U.S.)
Release date: December 2017 in U.S., U.K., and Australia; 2018 for additional countries.
Features: HomeKit hub, high-end speaker and microphone, Apple Music integration, touch control in addition to Siri integration, available in White and Space gray.
HomePod Is a Speaker First
We can only guess at this point how well the HomePod will perform as an AI device when compared to Amazon Echo or Google Home. So it's interesting that while the smart speaker will allow its user to control their smart home, set alarms and timers, check the weather and sports, and send messages., Phil Schiller barely mentioned those details during his WWDC HomePod presentation. Instead, Apple's senior vice president of worldwide marketing emphasized the HomePod's high-end speaker capabilities, an area where the Echo and Home are notoriously weak. The phrase, "rock the house" may have been repeated so frequently during the HomePod presentation that the words lost all meaning. Siri was also repeatedly referred to as a "musicologist" who could help its users discover great music and supply interesting information about the songs currently playing.
Indeed, Apple's new smart speaker is impressive. The HomePod is a spatially aware speaker that Apple promises will sound good in any location in any size of room thanks to its A8 chip (the same chip that powers the iPhone 6 and 6 Plus) and the seven-tweeter beam-forming array and four-inch forward-facing subwoofer. At seven inches tall and six inches wide, the HomePod will fit unobtrusively in almost any location. Until you turn the music up that is. Apple says the the HomePod can handle high volume levels with zero distortion. And early reports appear to confirm that it lives up to its billing as a high-end speaker. Users will also be able to daisy chain the HomePod with third-party AirPlay 2-compatible speakers. However, since AirPlay was never widely adopted as a technology, most people only have Bluetooth speakers.
As a smart speaker, the HomePod should have no problem competing with Sonos, the other major player in the smart speaker market.
HomePod vs. Amazon Echo and Google Home
Clearly, Apple has the speaker part of the the smart speaker down. But does the well does the smart part work? Reporters were not able to test the Siri functionality at WWDC, but Siri has historically lagged behind Amazon and especially behind Google as an AI. When testing and comparing the smartness of different personal assistants, the Stone Temple Consulting Corporation found that Siri consistently came in last behind Cortana, Google, and Amazon when it came to the percentage of questions answered and the percentage of answers that were correct. 
Another area where the HomePod falls short, at least for now, is the lack of any third-party app integration. Apple did not specifically say there isn't outside app integration, but didn't say there was either. It's safe to assume third-party apps will be available on the HomePod eventually, but not right away. But Amazon Echo already has 10,000-plus apps, called "skills" that allow users to do anything from ordering a pizza to tracking a workout. Apple needs to open the HomePod up to app developers sooner rather than later if the company wants to effectively compete in the smart speaker market.
In addition, at $349 the HomePod is significantly more expensive than Echo and Home. The Echo is currently on sale for $139.99 down from $179.99 and the Echo Dot is currently on sale for $39.99 down from $49.99, while Home is currently on sale for $109 down from $129. It would be hard to blame anyone who looked at the price differences and concluded that Apple's emphasis on the HomePod speaker quality during WWDC was at least partly to justify the much higher price, which, to be fair, is more in line with other high-end Bluetooth wireless speakers than it is with smart home assistants. The Sonos Play:3 retails for $299. So does the Libratone Zipp and the UE Megaboom. And high-quality speaker prices go up from there.
The one area in which the HomePod does stand out as a smart assistant is that, unlike Echo and Home, it is not always on and listening. Users will need to use the touch controls or the Hey Siri command to activate the microphones. Some will find this annoying, others will appreciate the privacy. 
Questions Remain
There's a lot we still don't know about the HomePod. How soon can we expect third-party app compatibility? Will Apple finally put in the effort necessary to make Siri good enough to truly compete with Google and Amazon? The HomePod can be linked with other AirPlay 2 speakers, but what about Bluetooth speakers? Will HomePod owners have to rely on third-party manufacturers to make and sell AirPlay 2 adapters if those users want to keep the expensive Bluetooth speakers they already own? The answers to these questions may determine if and how quickly the HomePod will catch on.
Who Should Buy the HomePod?
There's always a risk when buying a first-generation device that the next iteration will be significantly better. But if you like to be an early adopter, if the price is not an obstacle, if you are committed to the apple ecosystem, and if the sound quality and privacy offered by the HomePod are important to you, then go ahead and order the HomePod when it becomes available. 
If you prefer to be able to access the thousands of skills offered by Echo and to pay the much lower prices of Echo and Home, it might be wise to purchase a smart speaker from Amazon or Goole instead of buying the HomePod and connect it to a good quality Bluetooth speaker if audio quality is important to you.