By

Brian Peters
Wed, 09/07/2022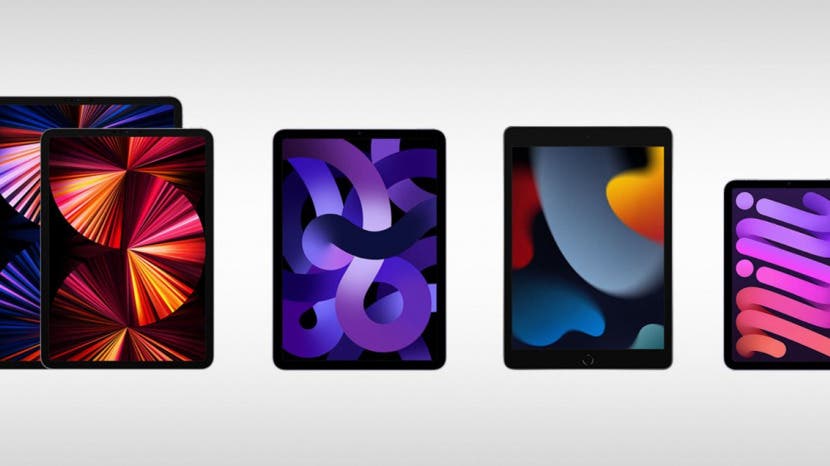 Apple had its "Far Out" event on September 7 and announced many new devices. Soon new models of iPhone, Apple Watch, and AirPods Pro will hit stores. We didn't hear anything about Macs, MacBooks, iPads, or AR/VR headsets, however, and we expect another event in October for these.
Related: Everything Announced at Apple's September 7 "Far Out" Event
Apple announced the iPhone 14, iPhone 14 Plus, iPhone 14 Pro, and iPhone 14 Pro Max today. We also heard about the long-awaited AirPods Pro 2, in addition to the Apple Watch Series 8, Apple Watch SE, and Apple Watch Ultra.  The announcements had a lot of exciting releases, so be sure to check out our event roundup and coverage of specific devices you're interested in, but there are things we're still eagerly awaiting that were notably absent.
Where's the iPad?
The most notable absence in today's event was news about upcoming models of the iPad. The update to iPadOS 16 was expected to arrive in September but has already been delayed. The rumors are that this postponement, and part of the reason for the delay in the announcement of new iPad models, is due to Apple needing more time to work out issues in Stage Manager, one of the prominent new features for iPadOS 16.
Check out our October event rumor article for our expectations for new iPads, but in short, we're expecting iPad Pros with M2 processors, an updated camera system, and MagSafe charging. There are also rumors that the new iPad Pro may allow for wireless charging, or even "reverse wireless charging," allowing the new iPads to serve as power sources for other devices like iPhones or Apple Watches to charge. It is also expected that we'll see a tenth-generation model for the basic version of the iPad.



Leaked CAD renders by MySmartPrice of the upcoming 10th generation iPad.
Unfortunately, there are reasons to believe that even October may be too early to expect the release of new iPads, though hopefully, we'll at least have news by then. There have recently been significant natural disasters in the region of China where iPads are produced, and it seems entirely possible, if not likely, that this will result in production delays or supply chain issues.
Of course, there is another possible reason for the iPad announcement being pushed back that is more positive. As the processor chips used in the iPad continue to improve, the tablet is becoming more and more like Apple's laptops in terms of internal architecture. Because of this, it makes a lot of sense to announce, and release, new iPads at or around the same time as new Macs.
What About the Mac?
While it was expected that today's event would focus on the iPhone and iPhone-adjacent devices like the Apple Watch and AirPods, we are still expecting news of new Mac and MacBook models later this fall, especially since macOS Ventura is expected to release to the public in October. This is, of course, in addition to all the "new" Macs that Apple launched at their spring event and WWDC earlier this year, like the new MacBook Air and updated 13-inch MacBook Pro with the M2 chip.
Check out our October event rumor roundup for more details on the main expectations for upcoming Macs, but in short, we think we're likely to see a new Mac mini with an M2 chip and an updated Mac Pro. We might hear news about new models of MacBooks as well, but given the previously mentioned issues possibly affecting production facilities and supply lines, it seems quite possible that many of these new Macs won't be available until late this year or even 2023.
Virtual Reality Goggles from Apple?
The last thing we had hoped might be revealed today that failed to manifest is Apple's entry into the world of Virtual Reality headsets. There have been a lot of rumors about a possible Apple VR headset for some time, but there's relatively little in the way of concrete information. For a more in-depth look at what we do know, check out this roundup of rumors. In short, we're expecting at some point to hear about either full VR goggles, similar to the Meta Quest line, that would cover your eyes completely to give an immersive virtual reality experience, or possibly Augmented Reality glasses, something that would allow you to see the normal world with additional information and visuals displayed on the glasses.



A speculative render of Apple VR goggles by Ian Zelbo, based on reportedly leaked information.
Current rumors estimate that a full VR goggle headset from Apple might cost upwards of $2,000, which would be significantly more than any of the major gaming VR headsets on the market today. Rumors put the potential AR glasses around $499. Personally, I'm eager to hear an announcement from Apple on either of these products as I'm curious to know what might justify such a steep price for a VR headset, and I'd love to hear about AR glasses available to everyday consumers. The only other AR glasses I'm aware of are Google Glass, something currently only available in an enterprise model to businesses.