By

Amy Spitzfaden Both
Updated 09/13/2022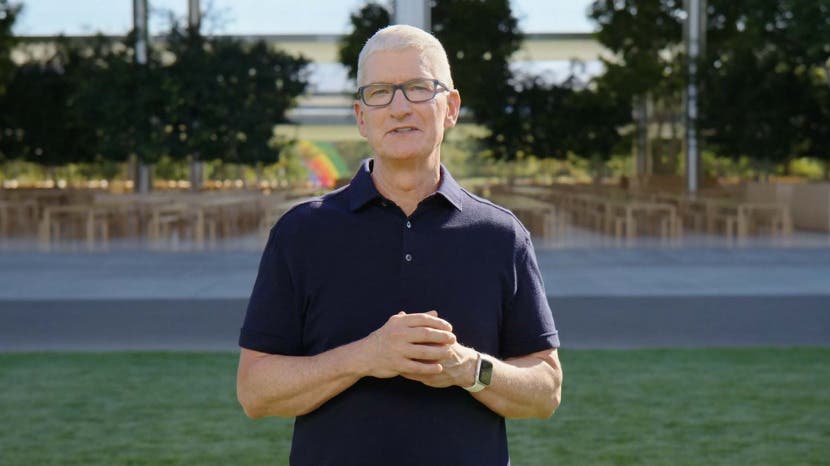 Apple's September 7 "Far Out" event didn't bring us many surprises, but it did bring us some impressive new devices. We got the iPhone 14 line, including the biggest non-Pro iPhone model ever in the new iPhone 14 Plus (which has taken place of the mini). Apple also announced a brand-new Apple Watch Ultra aimed at hardcore athletes, the Apple Watch Series 8, the second generation of Apple Watch SE, and the next generation of AirPods Pro. Let's take a look at each of these new devices and when they'll be available.
Phone 14 & iPhone 14 Plus

Pricing
iPhone 14: From $799
iPhone 14 Plus: From $899
Availability
Pre-order September 9
iPhone 14 Available September 16
iPhone 14 Plus Available October 7
The iPhone 14 family made its debut, and 2022's iPhone refresh is fairly modest in terms of the two lower-priced models. While the iPhone 14 is the same size as last year's iPhone 13, there is one large difference: Apple replaced the mini with the iPhone Plus, which features a whopping 6.7-inch display! Both the iPhone 14 and iPhone 14 Plus maintain many of last year's upgrades (including last year's A15 processor), but Apple has thrown several improvements and new features into the mix. These include an OLED display (usually reserved for Pro models), better battery life, camera updates, emergency satellite SOS, Crash Detection, and eSIM replacing the physical SIM card and tray. Color options include purple (a big hit in the iPhone Life office), midnight, starlight, blue, and PRODUCT(RED). Curious to see what Apple has added to the iPhone 14 and 14 Plus? Here's what's new!
iPhone 14 Pro & Pro Max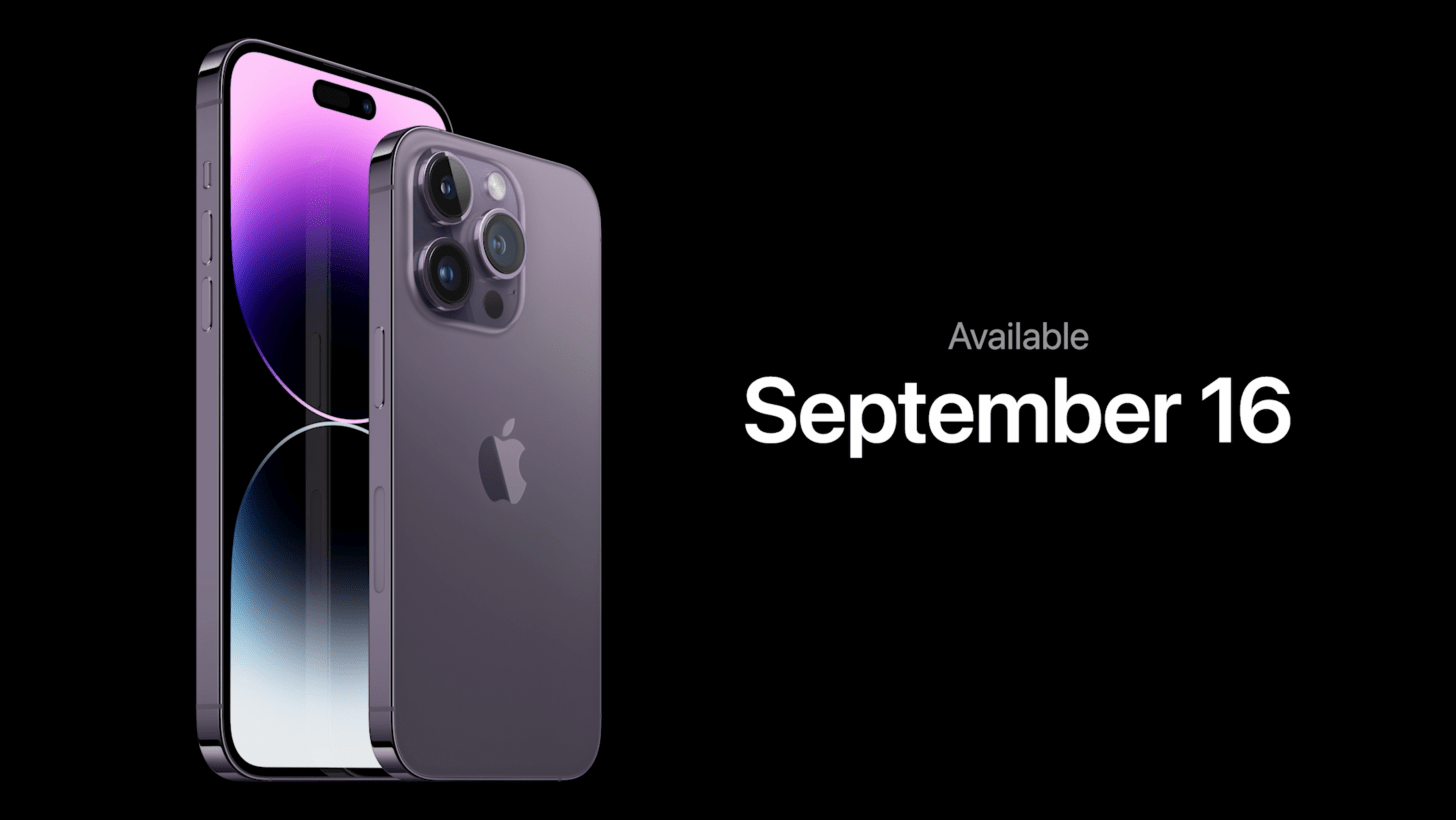 Pricing
iPhone 14 Pro: From $999
iPhone 14 Pro Max: From $1,099
Availability
Pre-order September 9
Available September 16
The new iPhone 14 Pro says goodbye to the notch and hello to an all-new Dynamic Island. It is smaller than the notch and floats near the top of the iPhone, hence being called an 'island.' What makes this so unique is that the Dynamic Island is smaller than the iPhone 13 notch, and it changes shape depending on what you do on your iPhone, which apps you use, etc. Another change to the iPhone 14 is an impressive upgrade to a 48-megapixel camera, a massive jump from the 12 MP on older models. This means higher quality, better low-light shots, and other improvements to the overall iPhone camera experience. A little more controversial is the move to an Always-On display, which makes it easier to always see the time and notifications with just a glance at your iPhone. Always-On display skeptics worry that this could pose privacy concerns and lower battery life, which Apple claims will last all day. Finally, many are excited that the new iPhone Pro models will be available in a deep purple color! Other color options include space black, silver, and gold. Read more about the iPhone 14 Pro and Pro Max.

Discover your iPhone's hidden features
Get one daily tip each day (with screenshots and clear instructions) so you can master your iPhone in just one minute a day.
Apple Watch Series 8, Apple Watch SE & Apple Watch Ultra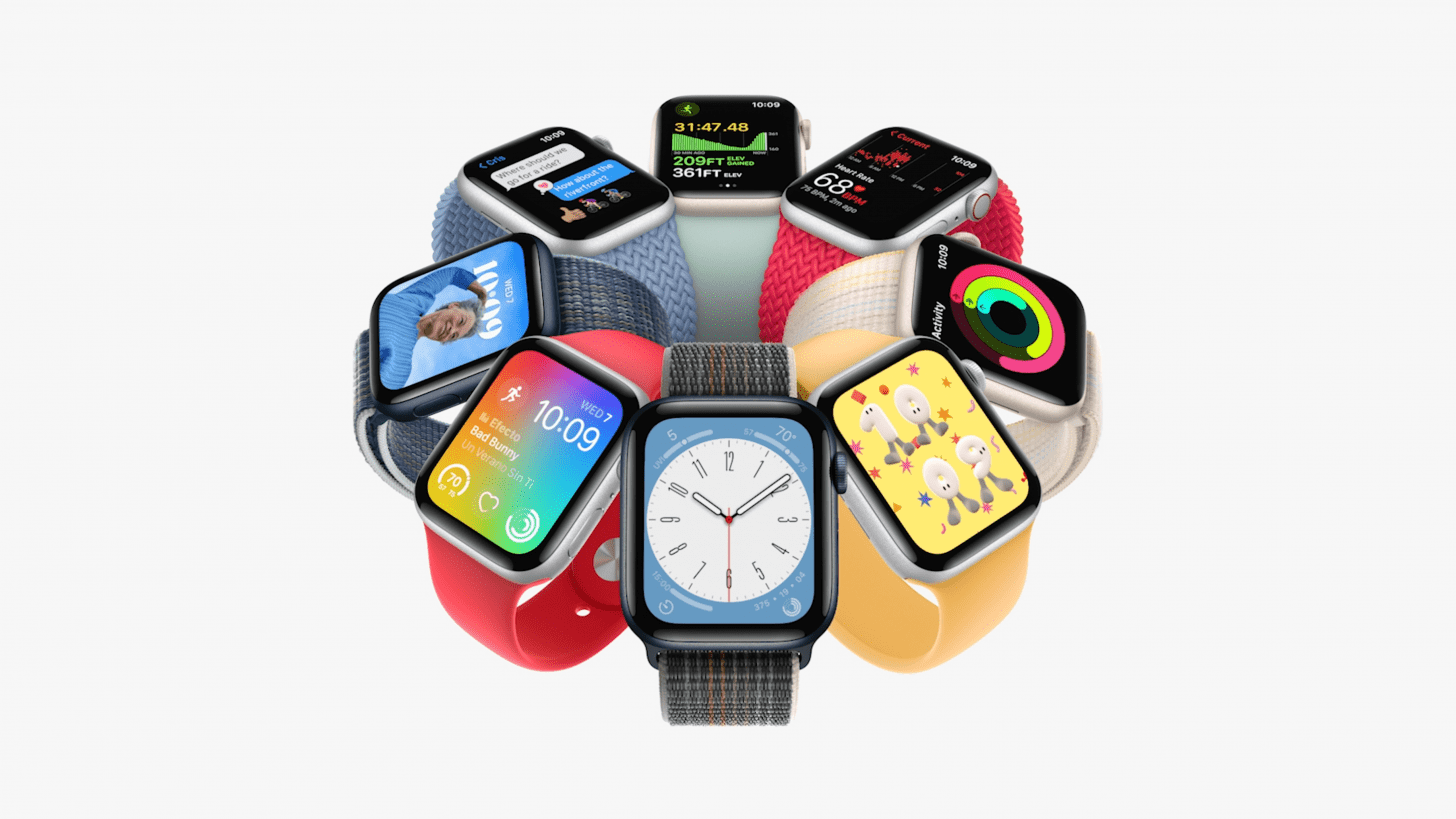 Pricing
Apple Watch Series 8: From $399
Apple Watch SE (2nd generation): From $249
Apple Watch Ultra: From $799
Availability
Pre-order September 9
Apple Watch Series 8 SE Available September 16
Apple Watch Ultra Available September 23
Three new Apple Watches dropped: the Series 8, SE (2nd generation), and the Ultra. Some of the best new features include Car Crash Detection and Low Power Mode, as well as a Temperature Sensor for women's health (only available on the Series 8 and Ultra). The Ultra takes all the new features available on the Series 8 and then maximizes them, increasing durability, water resistance, and depth pressure. The second-gen Apple Watch SE maintains its more affordable price tag by omitting Series 7 features like the Always-On display, Blood Oxygen, and ECG app. There are a lot of details you don't want to miss in Apple's latest Apple Watch releases!
AirPods Pro 2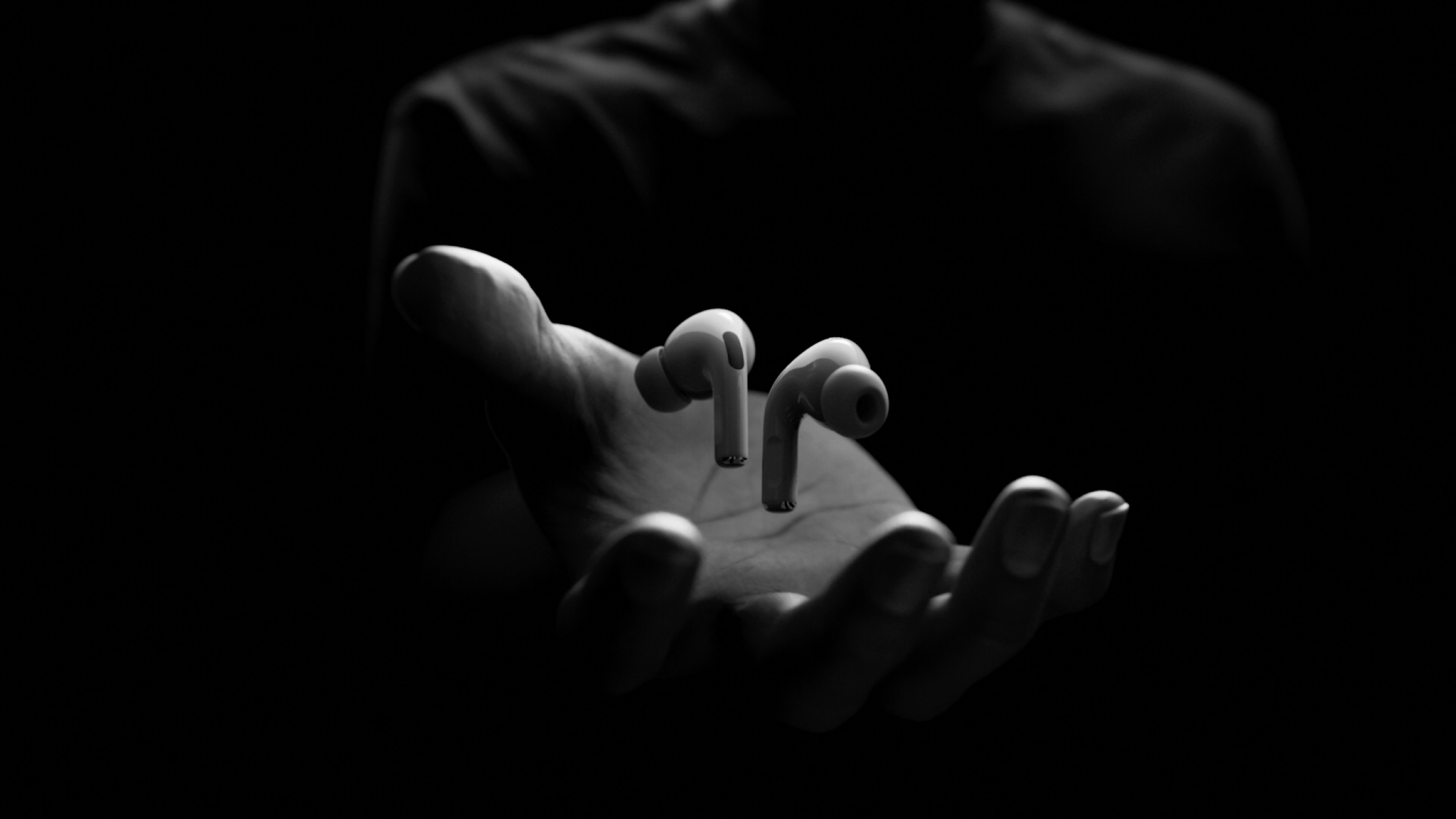 Let's talk sound quality! With the new H2 chip, the second-generation AirPods Pro have twice the noise-cancelation power (to reduce outside distractions) and new audio upgrades that allow for richer bass and even clearer sound. Apple also introduced Adaptive Transparency, a feature that automatically reduces loud external noise in your environment (like intermittent construction equipment) for those who want to reduce distractions while still maintaining an awareness of their surroundings. Intriguingly, this model also offers Personalized Spatial Sound, a feature that creates theater-quality surround sound tailored to the specific shape of your head, making it seem as if your audio is coming from realistic angles all around you—front, back, side, and above. Apple doesn't stop with sound upgrades, though, and also includes a host of convenient features, such as the new Touch Control, allowing you to swipe up or down on the stem of your AirPods Pro to adjust the volume. Your charging options have also expanded, as you can now charge your AirPods Pro via your Apple Watch charger (though we're still stuck with a Lightning connector instead of the rumored switch to USB-C). And in perhaps the most convenient update of all, Apple (finally) introduced the ability to track your lost AirPods Pro charging case via the Find My app. Read all about the AirPods Pro 2.
Everything Apple Didn't Announce
Apple didn't tell us anything about new models of Macs, MacBooks, iPads, or the rumored Apple AR/VR headset at today's event. We've heard a lot of rumors and have some guesses about the likely upgrades and features the new models will bring, but there will almost certainly be another event to tell us all about these later this fall, most likely in October. While Apple generally staggers releases of its new devices, the delays of the iPad and iPadOS 16 are believed to be due in part to significant natural disasters in China where iPads are produced, as well as Stage Manager still needing to get some bugs worked out.  Additionally, as iPads continue to become closer to MacBooks in their internal hardware, it makes sense that they would be announced and released together. Read more about what to expect at the October event.
Thinking about Getting a New iPhone?
With eight iPhone models still available on the Apple Store, there's an option for nearly everyone. The new iPhone 14 base model debuted with Crash Detection (for emergency assistance in the event of a car wreck), an OLED display (previously limited to the exclusive Pro and Pro Max models), plus upgraded camera capabilities for better low-light photography, brighter colors, and clearer action shots. Do you love the larger iPhone screens but hate the high Pro and Pro Max price tag? In a break from tradition, Apple is offering an iPhone 14 Plus, which has the coveted 6.7-inch display that sets it apart from the 6.1-inch iPhone 14 base model. If you're after the ultimate iPhone, you should jump for the iPhone 14 Pro or the iPhone 14 Pro Max. While these models come with the heftiest price tag, these phones offer the largest and brightest screens, the most advanced camera features and highest definition photographs, the largest amount of storage, and a battery life that can survive a whopping 29 hours of video playback. The iPhone 14 Pro and Pro Max are Apple's most expensive models, however, so if you're looking for a mid-priced option, the popular iPhone 12 and iPhone 13 base models have the standard 6.1-inch display, offer 5G capabilities, and have early versions of Apple's Bionic chip for faster processing speeds and longer battery life. Finally, if having a pocket-sized iPhone is important, the budget-friendly iPhone SE with the Home button or the iPhone 13 mini (sans Home button) is likely your best fit. Still wondering which iPhone is best for you? We've got you covered.