If you want iPhone Safari Extensions, iOS 15 has you covered. Here are the best ones.
By

Amy Spitzfaden–Both
Wed, 10/27/2021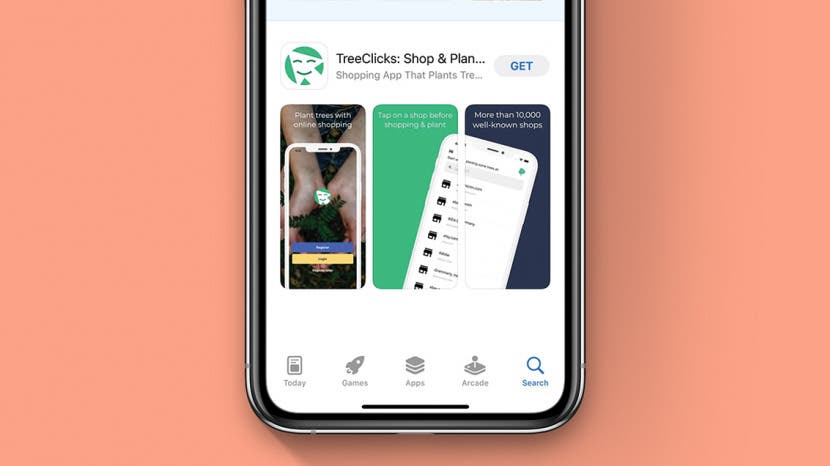 Safari extensions can boost your browsing in many ways, from blocking adds, to finding deals, and even to doing good things for the environment. Now that Safari extensions are available on your iPhone and iPad in iOS 15 and iPadOS 15, you may be wondering what's the best way to use them on your device, and which extensions are reliable and worthwhile. Here are the best iOS Safari extensions and what each one can do for you.
Best Safari Extensions iPad & iPhone
Safari extensions on iPhone and iPad are an excellent new iOS 15 and iPadOS 15 feature, but you might be a little lost on where to start. Here are the six best Safari extensions for iPhone and iPad and what each can do for your browsing. Never added a Safari extension before? Check out our article on how to use Safari extension on iPhone and iPad to learn how to find and enable extensions in Safari Settings.


1. TreeClicks
TreeClicks is my personal favorite Safari extension. It partners with online retailers all across the Web to plant trees every time you make a purchase. Most sites let you see how many trees you've planted through the app (with a notable exception being Amazon, which doesn't provide the numbers) and a surprising number of sites has joined in on this project. Just add the TreeClicks extension and it'll pop up when you go to a site it partners with and give you the option to plant a tree for free with any purchase from that site. Online shop and do some good! 
Related: How to Find Lost iPhone: Dead, Offline, Turned Off, or Otherwise

2. Microsoft Translator
Apple's native translating software leaves much to be desired. Language options are limited, and the ways to translate are pretty minimal. So, on this one, we're going to send you over to Microsoft. Microsoft Translator is one of the most popular translating options, and rightly so. It offers seventy language options, and can translate text on a webpage easily by activating the extension. Some browsers have a certain amount of built-in language translation, but I highly recommend getting the Microsoft Translator to make your life a lot easier.

3. AdBlock
This is a simple one - it blocks ads for you! There are a lot of ad blocking options out there, and most will get the job done for your one way or another, but AdBlock is simple, straightforward, and free. Blocking ads helps pages load faster and cuts down on the general annoyance of browsing, but some web pages won't let you load their content unless you disable your ad blocker, so you'll want to make sure to get one that's easily turned off. AdBlock is easy on/easy off, and that, combined with the fact you don't have to pay for it, is a win for me.

4. Pinterest
Pinterest is a great way to gain inspiration and collect DIY project ideas, but I regularly forget about its existence for months at a time. The Pinterest extension, however, not only keeps Pinterest in the forefront of my mind as a way to conveniently save recipes, projects, and beautiful images, but it also reminds me to actually go back and review these things next time I'm looking for something to cook or make, or just to vibe with. Even if you're not a regular Pinterest user, this extension is definitely worth checking out, because having all your inspiration in one place is excellent.

5. Grammarly
Ever have an argument derailed by a typo? Or maybe you've reread an email sent late at night only to realize your opening sentence made no sense. Whether you're aiming for professionalism or just competence in your written online presence, Grammarly has your back. This extension will scan your writing and alert you of misspellings, grammatical inaccuracies, and other points in your work you may need to correct. Whether you need help with the same few mistakes or just want to make sure nothing goes undetected, Grammarly is perfect for cleaning up your writing.

6. Honey Smart Shopping Assistant
I feel a little uneasy every time I leave the Discount Code box empty when I'm checking out online. Is there something I'm missing? Could I be saving money? Honey takes this anxiety away, by automatically scanning for deals and discount codes for a website. If Honey finds a discount or coupon for the website you're browsing, a notification will pop up and allow you to automatically apply that code. It takes the legwork out of bargain hunting and ensures you're getting the best prices for those online stores.