The best chore apps to manage your house cleaning list.
By

Amy Spitzfaden-Both
Wed, 06/02/2021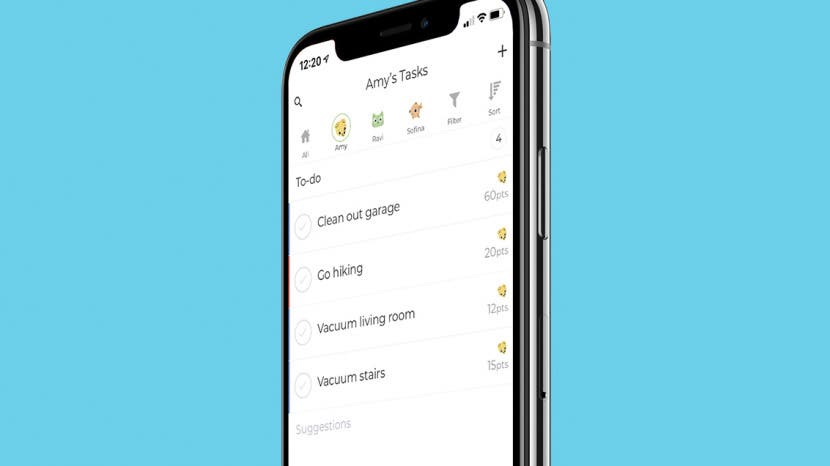 A good house cleaning app can be a lifesaver when you're trying to keep your home organized. Not only can it remind you to clean those spots you keep forgetting, but it can also help break down what can seem like insurmountable tasks into bite-sized pieces. Better yet, many can be shared with other household members so that the app can pester them to do their chores and save you the trouble. Here are the best cleaning apps we've found to keep your household running smoothly.
Jump To:
1. Sweepy
Sweepy offers an animated "cleaning agent" that helps you organize your home room by room. For each room, you can select from a checklist different chores specific to that space, such as change bed sheets for the bedroom, and then let you set the frequency you want to do that task. You can also use a slider to indicate the current state of that chore on a spectrum from dirty to clean. A handy little Effort indicator helps you track how challenging that task will be (or feel) to complete, helping you with energy management. Build a streak to increase motivation. Notifications help you stay on task, and the premium version offers widgets, the ability to share tasks with other household members, and a special system for kids to keep track of their chores.
2. Spotless


Unlike Sweepy's detailed setup, Spotless gets right to the point. In a similar format, you can add chores to rooms and set the frequency of those tasks. The app generates a To Do list which tells you what you need to do that day in one window. There aren't many bells and whistles to this one, but its simple format is very appealing to those who simply want a running list of what they need to do to keep their house clean. There is also no premium version for this one, so you won't be pushed into making any purchases once the app is downloaded. A minimalist's dream!
3. Our Home - Chores and Rewards


Our Home is great for families! The first thing you do is create a family account, complete with choosing a cute avatar and preferred color scheme. The chore categories here go beyond cleaning your home and include things such as spirituality (for those looking to integrate regular meditation practices, spiritual studies, etc.), health, creativity, study, and more. It also integrates healthy eating, by offering a whole grocery category. Once you have your family members entered in and your categories set, you can assign them personalized chores to build a fully customized household management experience. You can add rewards for specific family members upon the completion of tasks, which is great for kids or even adults looking for some extra motivation!
For more great ways to use your iPhone for motivation, check out our free Tip of the Day.
4 Dirtfree - Smart Home Cleaning


Dirtfree allows you to set chores by room with varying frequency, but with a creative twist. You can gain achievements, keep track of your cleaning streaks, and even read trending articles with cleaning tricks and recommendations. The app also keeps track of what percentage clean your house is, encouraging you to close your ring in a way reminiscent of an Apple Watch. The only way to share your house on the app with another person is to subscribe to the premium version, though, so if you're looking to manage more than just yourself for free, another app might be a better way to go. But if you're willing to pay for the service, you can find some fun extra features.
Related: The Best Reading Apps for iPhone & iPad Users
5. Homey - Chores and Allowance


If you have a household that offers allowance in exchange for chores, this app makes it easy. Not only can you build a family account and assign out chores to family members, but you can also link your bank account to create automatic payments. No more receiving invoices from your kids with all the missed payments (I used to keep a running total I'd send to my mom quarterly). Besides money, you can offer other kinds of privileges in return for chores and responsibilities, such as extra screen time. A chat function allows your family to discuss pertinent things right in the app and save your other venues for the fun stuff.
Do you use a household management app? Let us know in the comments!